November 8, 2014 - 5:00 am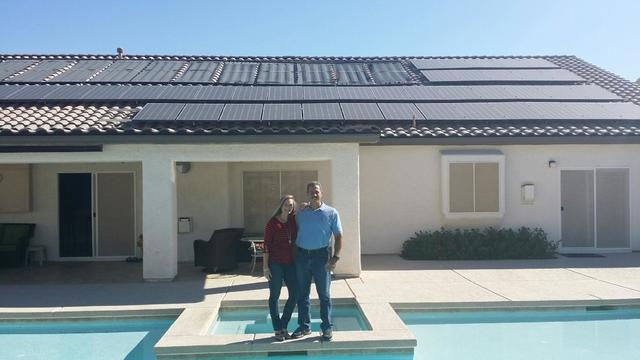 Las Vegas-based American Patriot Solar, aka AP Solar, has a new solar-energy champion, and it is someone who made his living investigating facts. Stan Hyt and his wife, Danette, recently installed a 42-panel AP Solar system, light-emitting-diode lighting and two programmable thermostats at their Las Vegas home.
The couple, which has lived in Las Vegas for more than 20 years, researched several options before choosing its system.
"We don't make any spur-of-the-moment decisions," Danette Hyt said. "It has always been an interest, and we did look at another solar company before we saw an article about AP Solar in the newspaper. From the very beginning, we knew they were very knowledgeable and customer service oriented. They called us back on the weekend and we were very impressed with that. When we met with them, we knew they had the best systems and equipment at the best price available."
Hyt said she found getting more than one estimate helped in comparing solar companies' knowledge and service capabilities.
"The sales person who came out from AP Solar was like night and day from the other company we spoke with," she said. "It turned out that the first quote we got was for equipment that would not have been appropriate for the size of our home."
Hyt said the couple's 3,500-square-foot home was generating up to $400 per month in electric bills, so the solar energy system couldn't have come at a better time.
"We got our bill yesterday for mid-September through mid-October and it was $25.59," she said. "It felt great! The very first month we had the system was during the summer, and our bill has continually gone down since then."
One benefit of working with AP Solar was how easy they made the process, said Hyt. "Not only was it a better value, but they made it very easy for us," said Hyt. "We have already benefited with lower energy bills, and with a $500 check we received for referring a friend to AP Solar," said Hyt of the company's referral program.
American Patriot Solar also helps its customers apply for federal tax credits currently available for U.S. homeowners that install solar systems.
"A tax credit of 30 percent of the cost of your system is available from the federal government," Chief Operating Officer Andrea Vigil said. "We help our customers apply for that and for local rebates when they are available. Now is the perfect time to install that solar system you have been looking into, because if they are installed by the end of the year you can apply the tax credit to this calendar year or take it over two years."
"I would totally recommend American Patriot," Hyt said. "They were diligent about keeping us informed and stayed with us throughout the entire process. They were always on time and great to work with."
With the AP Solar system is up and running at their home, the Hyts can monitor their energy use via an app on their smartphones.
"I really like how we can look at our phones and see how many kilowatts our system is generating each day," Hyt said.
AP Solar and its installation company, U.S. Renewable Energy Development, handle permitting and installation for all AP Solar systems. "Installing a solar energy system in your home is now easier and more affordable than it has ever been," Vigil said. "Not only can you apply for local and federal rebates, but you can also get $500 for every new customer you refer. The savings can continue long after your system is installed!"
American Patriot Solar, a Southern Nevada-based solar energy company, is committed to providing Americans with energy independence … one rooftop at a time. American Patriot Solar systems are installed by its installation company, U.S. Renewable Energy Development (license #0075882), also a Las Vegas-based company. To schedule a free in-home consultation and analysis of your solar energy opportunities, call American Patriot Solar at 702-227-9205 or visit www.apsolar.com.
All customers who schedule an in-home solar energy consultation will be entered in a monthly drawing for a five day-four night cruise for two to Mexico, the Bahamas or the Western Caribbean, along with local dining certificates.