Son: Tammy Meyers was 'the mom people would want to have'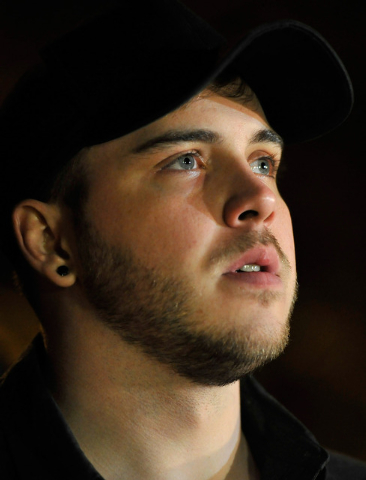 Tammy Meyers, a mother of four, was shot in the head on Feb. 12 and died two days later.
Since then, as attorneys for defendant Erich Nowsch have elbowed into the press on behalf of their client, you'd almost think Meyers was on trial. Wicked rumors and innuendo to the contrary, the 44-year-old was a victim of homicide.
Nowsch, 19, is charged with first-degree murder and lesser felonies in a case that, according to grand jury transcripts, arose out of a nightmarish case of mistaken identity. Whether you buy the version of events presented in testimony and given under oath, or presume the facts as known are part of a much more tangled web, the inescapable fact is that one life is ended and others are changed forever.
In that light, Meyers' oldest son, 22-year-old Brandon Meyers, finds himself defending his mother in death as he tried to come to her aid in life. He accompanied Meyers on the ill-fated ride-along that ended in a shootout and tragedy.
Although not charged with a crime, in a Tuesday morning interview he clearly was shouldering the collective weight of events. It's a weight he said he'll carry a long time.
"What they're trying to do is they're trying to knock her down so no one feels bad for her," he said. "It's not right. It's not right at all."
He strongly encouraged his mother to stay home after she and his 15-year-old sister, Kristal, had received a death threat while practicing parallel parking at a local junior high. But the mother, protective and angry, refused. And so he did what most oldest sons would probably do: He accompanied her.
Instead of encountering the stranger who'd made the threat, they ran into Nowsch, who supposedly confused them with persons intent on harming him. Which, by anyone's measure, is a lot of mistaken identity outside of a play by Shakespeare. What might sound like a comedy of errors became a tragedy when Tammy Meyers was hit in an exchange of gunfire.
Contrary to the portrait that's been painted by the Nowsch defense team, Conrad Claus and Augustus Claus, her eldest son said Tammy Meyers was a hardworking, stay-at-home mom who kept the family together through tough times.
"Basically growing up, we'd gone through some struggles like every other family does," Brandon Meyers said with attorneys Samuel Schwartz and Frank Flanzburg present. "My mother was always the go-to person for me. … My father (Robert Meyers Sr.) got into a really bad accident when he was working. He destroyed his leg, lost his (landscaping) company, and we were hurting for a while. He finally got another job, I want to say at Goodyear, and that's when things started picking up. We had everything, we lost everything, we gained it back. And we became a normal family, making a good income. My mom took care of all of us, made sure all our homework was done, made sure the house was clean, bedrooms done, everything."
When he was at Bonanza High School, Brandon said his mother never missed a ballgame.
"When it came down to like school activities, she was always there," he said. "She was there to cheer us on in football. She always shined. Basically when we were at football and wrestling … she would always be the mom who brought the food and all that. And she always wanted to fatten us up."
But she also could be tough, and she was very protective. It wasn't the first time she'd experienced an altercation that turned into a confrontation.
"Basically, she hated bullying," Meyers said. "I guess there was another incident a little while before this that some guy was cussing at her and calling her bad names because she was driving too slow. She was following the law. … He was going off. He was a gang member. She followed him home. She just wanted to know why, what did I do to deserve all this? Why were you calling me all those names? Why did you say all that stuff, and why were you trying to swerve into me? And the outcome was, this guy was a lot bigger than her.
When she spoke to him, his wife came outside and asked what was going on. And guess what happened? He apologized.
The lady said I'm sorry. They live right down the street from us. She came to the candlelight (vigil)."
When little sister Kristal was being bullied on Facebook, Tammy Meyers attempted to solve the problem by taking down not only her daughter's account, but her own as well in solidarity.
"She was the mom people would love to have," he said. "She took care of everyone who came around the house, kids I've never even seen before. If they needed clothes, I would have to give up my clothes. … I made new friends just because of her. I made best friends, actually to this day because of my mom, because of the nice person she is."
Although it hasn't been discussed much, Tammy Meyers also knew Erich Nowsch. He had eaten at the Meyers home and had borrowed money from family members.
It's just one complication facing Nowsch, who told police he mistook her for someone else.
"What people are saying about her is just wrong," Brandon Meyers said. They're saying "that she was a drug dealer, that she was looking for this, that she deserved everything that she got.
"My mom didn't go looking for trouble. She keeps it away from the family. That was her goal that day, to keep it away from her family. And as her son, I didn't want her to go. I didn't want her to go by herself. She asked me … so I went. That's the duty of being a son. You're going to protect your mother. You're going to protect your family. She did that to protect our family."
And Brandon Meyers plans to do his best to protect her memory even as he relives the events of that awful night over and over again.
John L. Smith's column appears Sunday, Tuesday, Wednesday, Friday and Saturday. Email him at Smith@reviewjournal.com or call 702-383-0295. Follow him on Twitter @jlnevadasmith.