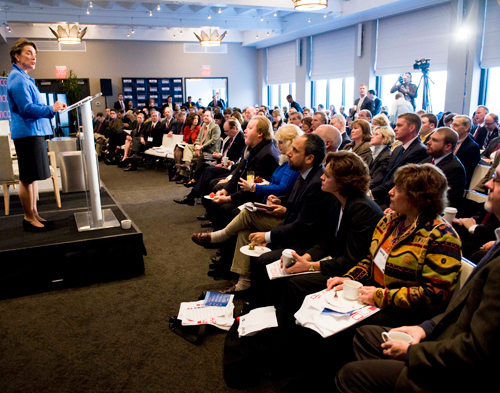 Former senator Blanche Lincoln, D-Ark., chair of Small Businesses for Sensible Regulations, speaks at forum sponsored by National Federation of Independent Business (NFIB) and Politico on Tuesday in Washington. (Kevin Wolf/The Associated Press)
Several Nevada business owners in Washington on Tuesday joined a campaign by the small-business lobby calling on President Barack Obama to ease up on new regulations they said are adding to the squeeze of a bad economy.
The National Federation of Independent Business called on Obama in a letter to halt issuing new regs until the administration enacts a series of changes including giving small businesses a voice at the earliest stages of writing health, safety and finance rules.
"In recent years, small business' ability to grow and continue to create two-thirds of the net new jobs annually has been threatened by a growing number of burdensome regulatory requirements handed down from Washington," wrote NFIB president Dan Danner and former senator Blanche Lincoln, D-Ark., who heads a "Small Business for Sensible Regulations" coalition backed by NFIB.
The groups urged the administration to waive fines and penalties for first offenses involving minor paperwork. Also, they said regulations should undergo more rigorous cost-benefit studies, and their underlying data, models and risk assessments should be made public.
Henderson dentist Diane Stacey, her husband, Las Vegas contractor Buddy Byrd, and Valerie Clark, president of Reno insurance brokerage Clark & Associates, took the message to meetings with Republican lawmakers from the state.
"My OSHA manual right now weighs nine pounds," Stacey said between meetings. "We had to take OSHA classes to figure out what the regulations were, and then I pay a compliance (consultant) $3,600 a year to come in and make sure I am in compliance with OSHA."
As an example of a regulation she believes is questionable, Stacey said the Occupational Safety and Health Administration is proposing rules for sterilization of dental implements that offer little protection for patients and dental techs beyond standards set by the American Dental Association.
She said OSHA was overreacting to public fear and "media hysteria" following the 2008 hepatitis C outbreak in Las Vegas that was traced to lax procedures at the Endoscopy Center of Southern Nevada.
"OSHA looks at that and goes, 'Wow, maybe we need more regulations' when in fact those people at the one clinic broke the law," Stacey said. "If they had done what they were supposed to do we would be fine."
"If they increase those regulations it would be cost prohibitive," Stacey contended. The American Dental Association has developed billing codes for the work "but no insurance company will pay it. So either we absorb the cost or pass it on to our customers."
Byrd, who operates Byrd Underground LLC and employs 20 people, said Environmental Protection Agency rules for diesel fuel emissions that go into effect in 2014 "will completely shut down my business."
As well, Byrd said he anticipates a strain from health care requirements that take effect in 2013. "Unless I take out a loan, which you can't right now, by the way," he said.
"They need to just back off," Byrd said of the government. "They should just let us continue to try to work and continue to make jobs. If they want us to make jobs they need to get this big monkey off our back, or else figure out a way to support the rest of America because we will not be here."