Southern Highlands Boys & Girls Club unveils 28,000-square-foot space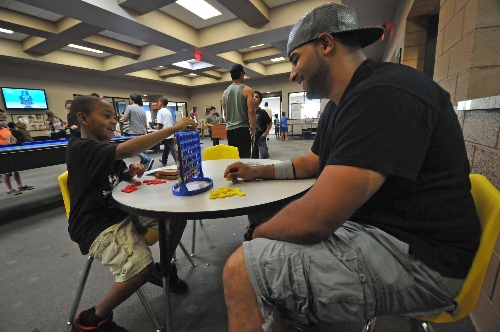 Hundreds of kids got their first glimpse of what will be a home away from home this summer and after school.
The Southern Highlands Boys & Girls Club, 10900 Southern Highlands Parkway, opened last week and already has more than 400 members.
One of them is 7-year-old Jaiden Randolph. He and his dad, Ross Randolph, attended the club's open house June 25 and enjoyed some competitive games of Connect Four, one of Jaiden's favorites. He even signed up for a club-hosted Connect Four tournament.
"I just want to make new friends," said Jaiden, a Fine Elementary School student.
Ross Randolph said he'll take his son to the club a couple of days a week when he has to work.
"I like him to be active with other kids," Randolph said. "I'm just really excited to have something on this side of town."
The 28,000-square-foot club is the largest of the five Boys & Girls Clubs of Henderson stand-alone locations.
The Southern Highlands Charitable Foundation raised more than $6 million to build it, and Olympia Companies LLC donated the land.
The epicenter of the club, the game room, features table tennis, foosball, pool and bumper pool. On the wall are childhood photos of former Boys & Girls Clubs members Denzel Washington, Shaquille O'Neal, Jackie Joyner and others.
Kids also can play tetherball in the club's outdoor plaza or, if they want to match wits, there's a giant chessboard complete with 2 -foot-tall pieces.
The hardwood floor gymnasium will offer kids leagues in soccer, volleyball and basketball. Jaiden has signed up for the basketball league.
The club also has an art room where kids will have the opportunity to paint, sculpt, draw, dance and perform theater.
Club director Bart McFadden plans to offer children a "tour around the world" with themed activities for a different country every week through August. Countries featured will include Egypt, China, Japan, Great Britain, Mexico, Greece and more.
Each week will culminate with a Friday barbecue and movie screening in the club's back plaza.
Frias Elementary School student Jacqueline Rhodes, 9, spent time coloring in the art room with her mom, Carla Parker.
She would normally have to spend her days at her grandmother's house or at home. She's glad to have this option now, she said.
"It's fun," Jacqueline said. "I'm going to have stuff to do and not be lazy. I want to learn new stuff and meet new people."
Southern Highlands resident Bonnie Roseberry brought her two children , Abby, 5, and Ethan, 7, to the open house. Abby was busy tracing her hand and signing her name, along with dozens of other kids, on a 10-foot-long piece of paper.
"It's a beautiful facility," Roseberry said. "I love the art room because it's a dedicated space for art and not just a multipurpose room. It's a good social place to be with other children."
Once school starts, tutoring services from Andson Academics will be available in the club's learning center, which also gives kids access to computers.
Boys & Girls Clubs of Henderson CEO Ken Rubeli said he and his staff will do the best they can to get kids to complete their homework before playing.
The club will be open during the school year from 1:30 to 7 p.m. Monday through Friday, with extended hours for teens, who have their own room.
The teen lounge has a separate computer lab, pingpong table, video game consoles and an 84-inch TV.
Annual club memberships are $20 for ages 5 to 12 and $10 for ages 13 to 18. The Southern Highlands Club's summer camp will be open from 7 a.m. to 6 p.m. Monday through Friday. It's $89 a week for ages 5 to 12, $25 for ages 13 to 15 and free for ages 16 to 18.
For more information, visit bgchenderson.org or call 534-0504.
Contact View education reporter Jeff Mosier at jmosier@viewnews.com or 224-5524.
More information
Southern Highlands Boys & Girls Club, 10900 Southern Highlands Parkway
Summer camp: 7 a.m. to 6 p.m., Monday-Friday
During school: 1:30 to 7 p.m., Monday-Friday, plus extended hours for teens
To register, call 534-0504 or go to bgchenderson.org