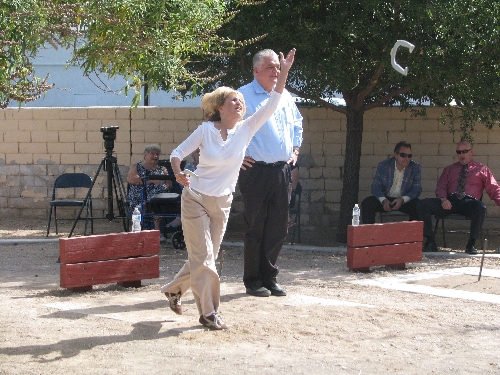 BETTER BUSINESS BUREAU PLANS
SENSITIVE DOCUMENT SHREDDING EVENT
The Better Business Bureau serving Southern Nevada invites the community to BBB's Secure Your ID Day from 9 a.m.-1 p.m. Saturday to dispose of sensitive documents and electronic waste properly at 6040 S. Jones Blvd. Items that can be disposed of or recycled at the event include:
CDs, disks, hard drives, fax machines, computers, laptops, printers, CPUs and copiers (memory drives will be punctured and wiped with a magnet)
Cardboard, plastic, aluminum, wood and metal to be recycled
Old cellphones will be wiped and refurbished through 911 Cell Phone Bank to be used for emergency services
The first 10 boxes of items are free. It is $10 per additional box.
Consumers who cannot attend the event are encouraged to drop their items off from 9 a.m. to 3 p.m. through Friday in a secure bin at the BBB offices. Documents will be shredded daily. Any donations will go to help UNLV Dental School's class of 2015, which will be volunteering at the event.
For more information, call Katie Robison at 702-440-3020.
clark county BUILDING DEPARTMENT PLANS TOWN HALL MEETING
The Clark County Building Department invites residents to its town hall meeting set from 4 to 6 p.m. Saturday at the department's presentation room, 4701 W. Russell Road.
For more information, email gjs@clarkcountynv.gov.
JEWELRY CENTER PLANNING BENEFIT PARTY
The National Jewelry Liquidation Center, a luxury jewelry retail store operated by Cash America/SuperPawn, is planning a Gold Digger party to benefit the Orion Foundation, set for 6-8 p.m. Wednesday at the center, 3021 Business Lane.
The foundation is a nonprofit organization of Comprehensive Cancer Centers named for former Nevada Gov. Mike O'Callaghan and Carolyn O'Callaghan. The event features cancer patients and survivors as models, cocktails and hors d'oeuvres, as well as drawings for gold, diamond and gemstone jewelry throughout the evening. The center is to donate 20 percent of the evening's sales and gold purchases to the Orion Foundation.
Guests are invited to bring their old or outdated gold jewelry to receive cash or to trade it in. To RSVP, email cciocca@casham.com.
SMILES FOR SURVIVORS PLANS
BLOW OUT BREAST CANCER FUNDRAISER
The Smiles for Survivors Foundation plans to host its second annual Blow Out Breast Cancer fundraising event from 4-11 p.m. Saturday at Square Colour Salon + Spa, 1225 S. Fort Apache Road, Suite 160.
The event is open to men and women and is set to include cocktails, food, a silent auction, live entertainment and beauty treatments.
Tickets are $35 in advance for event admission and $50 for admission and a blowout and can be purchased at Square Salon. Admission is $40 at the door. Appointments for salon services are highly recommended and can be made by calling 702-255-7050.
All proceeds will benefit Smiles for Survivors, a Las Vegas-based nonprofit organization that raises awareness of potential oral side effects from cancer treatment and provides dental treatment for breast cancer patients and survivors through a network of dentists.
For more information, visit smilesforsurvivors.org.
SOUTHERN HIGHLANDS PLANS
FALL FESTIVAL, FITNESS CHALLENGE
Southern Highlands is planning its eighth annual Fall Festival, debuting a fitness challenge, set from 10 a.m.-2 p.m. Saturday at Stonewater Park in the 3800 block of Stonewater Lane. Admission is free to the festival, and fitness challenge registration is $20 for adults and $10 for children 13 or younger.
The festival is set to feature a pumpkin patch, a kids' zone, carnival games, raffle prizes, a costume contest, a coloring contest, trick-or-treating for children, food and drinks, and other activities. The fitness challenge includes two components: the fitness course and the competition zone. The course includes eight obstacles with a range of difficulty to fit every age and experience level. Participants are to receive a T-shirt and Fall Festival dog-tag necklace for completing the course. The competition zone is composed of six fitness stations with challenges such as push-ups and sit-ups. Professional trainers are to monitor form and track scores. Awards are planned.
The event is sponsored by the Southern Highlands Charitable Foundation and Southern Highlands Community Association with proceeds benefiting Southern Highlands Boys & Girls Club and Down Syndrome Organization of Southern Nevada.
For more information, visit shfallfestival.com or call the Southern Highlands Charitable Foundation at 702-220-6565.
COMMUNITY DAY OF SHARING TO ASSIST
FIVE NONPROFITS
Albertsons Sav-on's CommUNITY Day of Sharing will combine five nonprofit groups for a donation drive, culminating Saturday.
The effort will unite Catholic Charities, The Salvation Army, Three Square food bank, United Way of Southern Nevada and Goodwill of Southern Nevada, with the goal of impacting the lives of those who need help with shelter, food, employment or other basic needs.
Donate gently used clothing, home goods, nonperishable food items and new hygiene products to any Albertsons location from 9 a.m.-4 p.m. Oct. 20.
The Albertsons store at 4055 S. Durango Drive at Flamingo Road will serve as the main event site from 11 a.m. to 3 p.m. that day, with music, prizes and a community barbecue planned.
CHURCH PLANS COSTUME EVENT
The First Presbyterian Church of Las Vegas is planning A Christ Centered Family Event, set from 6-8 p.m. Oct. 25 at the church, 1515 W. Charleston Blvd. The event includes a $3 dinner, a chili cook-off, carnival-type game booths and activities for children. Attendees are encouraged to come dressed in costumes, but no gory, scary costumes or costume weapons are allowed.
To sign up for the chili cook-off or for more information, call 702-384-4554.
SOUTHERN NEVADA CLEANS UP
SCHEDULES OCTOBER EVENTS
The first Southern Nevada valleywide community beautification project, Southern Nevada Cleans Up, plans to host events throughout October, leading up to Make A Difference Day on Oct. 27.
Volunteer opportunities will be hosted by Southern Nevada businesses and organizations from Mount Charleston to Lake Mead.
A desert site cleanup is planned for the area of Maule Avenue and Pearland Street from 8-11 a.m. Saturday. Join The Howard Hughes Corp. in sweeping the area and removing trash items that impact safety and the aesthetics of the desert environment.
Other cleanups Saturday include 9 a.m.-1 p.m. at Durango High School, 7100 W. Dewey Drive, and 8 a.m.-noon at Riley Street and Ford Avenue just south of Rhodes Ranch.
Advance registration is required. To register or for a list of upcoming events and maps, visit donttrashnevada.org/make-a-difference-day-events.
HEALTH CARD PROCESS CHANGES
As of Oct. 1, the Southern Nevada Health District has streamlined the health card process for most applicants, who will no longer be required to receive hepatitis A immunizations.
As part of the restructuring of the program, the health district will also discontinue providing TB tests for health card applicants as of Nov. 1. Individuals who require a TB test for licensing or other purposes will be referred to other resources for their tests. For more information, visit snhd.info.
As a result of the changes, the cost of the health card has been reduced by $10, with the exception of the child care card, which remains the same at $40. Food handlers and child care staff members must complete the online training before they come to the health district to apply for the card. The cost of the online training is $20 and must be paid at registration, and the $20 balance must be paid at the health district when applying for the card.
DIVORCE INFORMATION GROUP PLANS MONTHLY MEETINGS
Second Saturdays Las Vegas is offering workshops from 8 a.m.-1:30 p.m. at CoBiz CoWorking Space, 6445 S. Tenaya Way. The group held its first meeting Oct. 13. The workshops offer information to women seeking or going through a divorce.
Following the business model of wife.org, the originator of the Second Saturday Divorce Workshops program, Second Saturdays Las Vegas has created a monthly seminar featuring financial advisers, divorce attorneys, family therapists and mediators to guide women through the next steps of divorce.
Professionals presenting information include: the divorce process and legal fees; protecting yourself legally and financially; child custody and child and alimony support; information about dealing with a hostile spouse; helping your family cope with the stress of divorce and rebuilding self-esteem; preparing for divorce; dividing property and the tax consequences of divorce; and avoiding divorce court and the benefits of the collaborative law process.
For more information about Second Saturdays Las Vegas and upcoming workshops, visit secondsaturdayslv.com.
FLU VACCINATIONS AVAILABLE
ACROSS THE VALLEY
The Southern Nevada Immunization and Health Coalition and its partners plan to host no-cost flu immunization and health clinics from 7-10 a.m. Oct. 23 at St. Rose Dominican Hospitals Barbara Greenspun WomensCare Center, 7220 S. Cimarron Road, Suite 195; 9 a.m-noon Nov. 14 at the St. Rose Dominican Hospital San Martin Campus' Aljian Conference Center, 8280 W. Warm Springs Road; and noon-3 p.m. Dec. 8 at the Clark County Fire Department Station 26, 4030 El Capitan Way.
The Centers for Disease Control and Prevention's Advisory Committee on Immunization Practices recommends that everyone 6 months or older receive the flu vaccine each year. The clinics will provide shots on a first-come, first-served basis. Children older than 6 months, adolescents and adults are eligible for the inoculations.
For more information, visit snicnv.org.
WINDER FARMS PLANS FARMERS MARKET
Southwest area-based Winder Farms plans to hold a farmers market from 4 to 8 p.m. Fridays through Oct. 26 in the south parking lot of Galleria at Sunset mall, 1300 W. Sunset Road in Henderson.
Companies are encouraged to sign up and become a vendor at the Winder Farms Farmers Market. For more information on how to become a vendor, email Sean McCrady at sean.mccrady@winderfarms.com.
For more information, visit winderfarms.com.
TOYS 4 SMILES PLANS 24-HOUR
VOLUNTEER EVENT
Nonprofit Toys 4 Smiles plans to open its doors at 3170 Polaris St., No. 17 and 18, for 24 hours to accommodate all shift workers for a Make A Difference Day volunteer event Oct. 27.
Toys 4 Smiles normally makes simple wooden toys to give to children in need. During the 24-hour volunteer period, its saws and drills will not be running for safety reasons, but anyone can donate $1, apply mineral oil to a toy and take the toy with them and give it to a child who needs a smile.
Shop tours are available for those who want to come back and volunteer more.
For more information, visit toys4smileslasvegas.org.
LOW-COST MAMMOGRAMS AVAILABLE
IN OCTOBER
Southern Hills Hospital, 9300 W. Sunset Road, is offering $75 digital screening mammograms through Oct. 31.
Approximately one in eight women are diagnosed with breast cancer in their lifetime. The best way to reduce the risk is through a combination of regular mammograms, routine breast exams by a health care professional and monthly self breast exams.
To schedule an appointment, call 702-731-2888.
RED ROCK CANYON ANNOUNCES FALL HOURS
Red Rock Canyon National Conservation Area plans to close Scenic Loop Drive at 7 p.m. through October. Beginning Nov. 1, the drive will close at 5 p.m.
The drive opens daily at 6 a.m., and the Visitor Center is open from 8 a.m. to 4:30 p.m.
For more information, visit blm.gov/nv or friendsofredrockcanyon.org.
WINDER FARMS USING STRAWBERRY MILK TO RAISE FUNDS FOR BREAST CANCER RESEARCH
Winder Farms, Las Vegas' "Farmers Market on Wheels," continues to raise money and awareness for Susan G. Komen for the Cure through sales of its pink strawberry milk. Through October, a portion of strawberry milk sales will benefit breast cancer screenings, treatment programs and research. For more information, visit winderfarms.com.
SOLARI HOSPICE CARE SEEKING BEREAVED LOVED ONES FOR MEMORIAL SERVICE
Solari Hospice Care, 5550 S. Jones Blvd., is planning its annual Celebration of Life memorial service in which loved ones of the hospice's deceased clients may gather to mourn their passing, scheduled from 1 to 3 p.m. Nov. 4 at the Springs Preserve, 333 S. Valley View Blvd. The hospice has sent invitations to those on its records, but any member of the public is welcome to attend the nondenominational service, which is set to include comments from administrators and staff members, words of inspiration, a message of comfort and the reading of patients' names. For more information, call 702-870-0000, visit solarihospice.com or email info@solarihospice.net.
COATS FOR KIDS DRIVE SET THROUGH NOV. 3 AT ALBERTSONS
The 13th annual Coats for Kids drive is scheduled through Nov. 3 at Albertsons stores across the valley.
Bring gently used coats to any Albertsons store and place them in the marked box at the front of the store. Aramark Uniforms will pick up the coats and drop them off at Al Phillips The Cleaner, which has cleaned all the coats free for the past 13 years. They are distributed to children in need by The Salvation Army's Family Services.
As part of the Lucky 13 theme for this year, anyone who donates a coat can enter a drawing for one of 13 pairs of free tickets to see Carrot Top's show at the Luxor. Entry forms are available at the Albertsons service desks.
HELPING HANDS SURGICAL CARE PLANS SECOND ANNUAL CHARITY SURGERY DAY
Dr. Kevin Petersen and his wife, Kelly, co-founders of Helping Hands Surgical Care, plan to host the second annual Charity Surgery Day Nov. 13.
Helping Hands Surgical Care is a nonprofit organization with the mission to fund and facilitate surgeries for uninsured Nevadans without the means to pay for medically necessary procedures. HHSC doctors will provide 10 free surgeries Nov. 13 to uninsured Nevadans without the means to pay and who do not qualify for government assistance.
HHSC is seeking patients who may qualify. Applicants must qualify both financially and medically. To review patient eligibility requirements and apply, visit helpinghandssurgicalcare.com and click on the "How to Apply" link.
FREE BEREAVEMENT SESSIONS OFFERED
FOR TEENS
The Center for Compassionate Care division of the Nathan Adelson Hospice is offering a series of free bereavement support groups for teens 13 to 18 who have experienced a significant loss.
The support group plans to meet from 6 to 7:30 p.m. Wednesdays, ending Nov. 14, at The Center for Compassionate Care, 4131 Swenson St.
The program will explore grief, loss, emotional responses to memories and events surrounding loss, and coping skills.
To register, call 702-796-3167 or Christine Zazzeri at 702-796-3126. For more information, visit nah.org.
IN PURSUIT OF EXCELLENCE GALA
TO RECOGNIZE NOBEL PRIZE WINNER WIESEL
The eighth annual In Pursuit of Excellence Gala is planned for 6:30-11 p.m. Nov. 17 at The Venetian, 3355 Las Vegas Blvd. South.
It will honor Holocaust survivor, Nobel Peace Prize winner and "Night" author Elie Wiesel for his literacy and activism in human rights. Live and silent auctions, a dinner and dancing are planned.
Tickets start at $250 per person. To purchase tickets or make a donation, visit adelsoncampus.org or contact Davida Sims, Adelson Educational Campus director of development, at 702-515-8203.
HELP OF SOUTHERN NEVADA SEEKS
HOLIDAY VOLUNTEERS
HELP of Southern Nevada is calling for volunteers to assist with a number of programs this holiday season. Assistance is accepted from individuals who can donate any amount of time.
Areas where volunteers are needed include: assisting clients with their applications for holiday programs at HELP's main campus, 1640 E. Flamingo Road; assisting in receiving donated Thanksgiving turkeys at various locations (turkeys will be given to more than 1,200 families); and assisting in receiving holiday gifts for selected clients in the Adopt-A-Family program.
To volunteer, contact Joan Lima at jlima@helpsonv.org or 702-369-4357.
HELP OF SOUTHERN NEVADA DISTRIBUTES DONATED WATER BOTTLES
HELP of Southern Nevada, in partnership with Whole Foods Market and Real Water, acquired 14,784 bottles of water, 616 cases, during its HELP2O bottled water drive this summer.
From June through August, the nonprofit teamed up with all four Whole Foods Market locations in the Las Vegas Valley for the effort. Real Water, a Las Vegas-based bottled water company sold at Whole Foods Market, matched all Real Water purchases made during the campaign.
HELP of Southern Nevada staff members are regularly distributing the bottles to homeless citizens around the valley. The inventory is expected to last into the winter season.
For more information, call HELP of Southern Nevada at 702-369-4357 or visit helpsonv.org.
AARP TAX-AIDE SEEKING VOLUNTEER HELP
AARP Tax-Aide NV, which prepares free personal income tax returns for residents in the lower- to middle-income brackets, is seeking unpaid volunteers to prepare taxes, greet clients and program computers in early 2013. Training is scheduled for Jan. 7-11 on the west side of the Las Vegas Valley and Jan. 21-25 on the east side. For more information or to volunteer, email taxesbarb@cox.net or jerrytaxes@cox.net.
MAMMOVAN SCHEDULED TO OFFER
LOW-COST BREAST CANCER SCREENING
Thanks to a $10,000 grant from Food 4 Less, Nevada Health Center's Mammovan is scheduled to offer its last low- to no-cost breast cancer screening from 8:15 a.m. to 3 p.m. Nov. 21 at 2255 Las Vegas Blvd. North. For more information, visit nvhealthcenters.org.