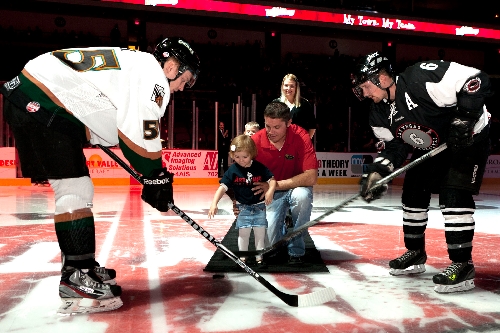 LOCAL RESTAURANT PLANS STUDENT AWARD CEREMONY FRIDAY
Cheeburger Cheeburger, 8390 S. Rainbow Blvd., has planned an awards ceremony for the students of William V. Wright Elementary School, 8425 Bob Fisk Ave., at 8:15 a.m. Friday. One student from each class will be recognized, and Cheeburger employees are set to hand out the awards. For more information, visit lasvegascheeburger.com/events.php.
LEAP YEAR CELEBRATION PLANNED
Palace Station has scheduled a free celebration for people born on leap day and their families at 6:30 p.m. Wednesday at Cabo Mexican Restaurant, 2411 W. Sahara Ave., inside Palace Station. In addition to cake and a champagne toast, those celebrating their birthdays will have the opportunity to test Leap Year trivia skills. Challenges will include Leap Year traditions, the likelihood of being born on Feb. 29, history and matching news events to the right year. Winners will get special prizes. For more information, call 367-2411.
EVENT TO LOOK AT DEMENTIA CONCERNS
A special presentation, "Alzheimer's Disease and Dementia: The Impending Tsunami," is planned for 6 p.m. today at Heritage Springs Assisted Living & Memory Care, 8720 W. Flamingo Road.
The speaker will be Dr. Upinder Singh, an expert on Alzheimer's disease and dementia. The event is free and open to the public. RSVPs are requested by calling 360-6023. A one-hour continuing education unit credit for nurses and certified nursing assistants is available.
EARLY CAMP REGISTRATION PLANNED
Registration for Clark County Parks and Recreation's summer overnight camps in July is set to open Thursday at Mountain Crest Neighborhood Services Center, 4701 N. Durango Drive.
The cost of registration is $400.
This fee includes all meals, snacks, activities, supplies and an official camp T-shirt. Omni Discovery Camp, for ages 8 to 12, is set to take place from July 22-27, and the On the Edge Camp, for ages 13 to 15, is set for July 15-20.
Both camps take place at Camp Lee Canyon, about 45 minutes north of Las Vegas. For more information, call 455-1905 or visit clarkcountynv.gov/parks.
HOSPICE FOUNDATION PLANS BEREAVEMENT CAMP FOR KIDS
Solari Hospice Foundation has established Camp Solari, a weekend-long bereavement camp for children and their surviving guardians.
This year, Solari Hospice Foundation is partnering with Las Vegas-based Clear View Counseling, which will be orchestrating and leading all camp activities. The camp's mission is to teach children and teens, ages 6 to 18, healthy ways to work through their grief, meet others who have experienced similar losses and continue life as positively as possible while honoring their lost loved ones. The next Camp Solari is scheduled for May 18-20 at the Mount Charleston Lodge, at the end of state Route 157. Applications will be accepted through March 30. All weekend activities — including lodging, meals and materials — are free to camp participants. Solari Hospice Foundation covers these costs through fundraisers and charitable donations. Camp Solari attendees are chosen based on need and prioritized on a first-come, first-served basis. To request an application for Camp Solari, call 870-0000. To learn more about the camp, or to make a donation to the Solari Hospice Foundation, visit solarihospice.com and click on the link for Camp Solari.
To learn more about Clear View Counseling, call 254-4883 or visit clearviewcounseling.com.
MAMMOVAN SCHEDULED TO OFFER LOW-COST BREAST CANCER SCREENINGS
Thanks to a $10,000 grant from Food 4 Less, Nevada Health Center's Mammovan is scheduled to offer low- to no-cost breast cancer screenings at selected Food 4 Less locations. Stops are scheduled from 8:15 a.m. to 3 p.m. March 6 at 4965 E. Sahara Ave.; March 7 and May 1 at 8180 Las Vegas Blvd. South; June 5 and Sept. 4 at 1301 S. Boulder Highway; June 14 at 4001 S. Decatur Blvd.; Aug. 16 at 1955 N. Nellis Blvd.; and Nov. 21 at 2255 Las Vegas Blvd. North. For more information, visit nvhealthcenters.org.
IT'S ALL ABOUT KIDZ RECEIVES DONATIONS
Nonprofit group home It's All About Kidz has received several anonymous donations, allowing the group to remain functional until government grants become available later this year. To date, the group, which helps mothers kick drug addictions while living in a stable home environment with their infants, has received more than $10,000 in monetary donations as well as a new washer and articles of clothing. Several donations were in the $50 to $300 range.
For more information or to help, visit aakidz.org or call 445-0203.
SPLASH CANYON WATER PARK OPENING DELAYED
Officials of Splash Canyon Waterpark, 7055 S. Fort Apache Road, announced recently that the $20 million family waterpark will open in the spring of 2013. The waterpark was expected to open Memorial Day weekend this year.
Reasons for the delay included offering passholders a full year and adding more amenities. Splash Canyon is offering those who purchased 2012 season passes a full refund or a conversion to a 2013 season pass for half price — $49.50 per person — plus two Buddy Day Passes. They will receive an email with specific instructions on refunds or conversions. New 2013 season passes are expected to go on sale in 30 to 60 days. For more information or for employment information, visit splashlv.com.
WINDER FARMS ANNOUNCES FRIENDS OF THE FARM INITIATIVE
Winder Farms has announced its Friends of the Farm, a charitable initiative to help local nonprofits raise money. Winder Farms will donate $25 back to the organization from each new customer sign-up at local nonprofit events. To become part of the "Friends of the Farm" initiative or for more information, email regional sales director Sean McCrady at sean.mccrady@winderfarms.com.
CHESS GROUP MOVES
The World Chess Federation Inc. has moved its meetings to a new location. It now meets from 1 to 5 p.m. Sundays inside Family Practice Urgent Care-Amazing Chiropractic, 3120 S. Valley View Blvd.
For more information, visit wcfchess.com or call 418-4687.
AREA PET RESCUE SEEKING FINANCIAL AID FOR MICROCHIPS
Due to microchip upgrades and other factors, Adopt A Rescue Pet is facing doubled costs for microchips for its adoptable animals. The nonprofit rescue is asking the public to donate $10 to sponsor a pet's microchip. This will allow the rescue to provide a registered microchip to every dog being adopted. Of the 1,292 animals adopted last year, 126 were relocated and returned to their owners or to the rescue due to their microchips. Secure donations can be made at adoptarescuepet.org or mailed to Adopt A Rescue Pet, 1500 E. Tropicana Ave., Suite 105, Las Vegas, NV 89119. Adoptions can also be made in person at the weekend adoption events at PetSmart, 2140 N. Rainbow Blvd., or Petco, 2340 E. Serene Ave.
THE ANIMAL FOUNDATION OFFERING DISCOUNTS FOR SENIORS
The Animal Foundation, 655 N. Mojave Road, is launching its Seniors 4 Seniors program, offering local seniors (60 or older) $50 discounts on adoption fees for dogs 3 years or older and cats 1 year or older. The shelter receives more than 50,000 animals annually. Younger cats and dogs find homes quickly and easily while older pets frequently get passed over. Animals that are a bit older are often calmer and gentler, which can be a better match for less active people. Additionally, senior citizens often spend more time at home, which can be ideal for an older pet. The program is sponsored in part by nonprofit The Pets for the Elderly Foundation. For more information, call 384-3333, ext. 131 or email adoptions@animalfoundation.com.
ZAPPOS CEO TO MATCH FUNDS FOR THE LAS VEGAS LITTLE THEATRE
As part of a fundraising effort to support community theater, Zappos CEO Tony Hsieh has promised to match all donations made to the Las Vegas Little Theatre by June 1 up to $15,000. To donate, visit lvlt.org or mail donations to 3920 Schiff Drive, Las Vegas, NV 89103. For more information, call 362-7996.
CLEANUP SET AT RED ROCK CANYON FRIDAY
A cleanup effort for Red Rock Canyon is planned for Friday. Volunteers can choose a trail to clean up as a team. The walking will be easy and good for all ages.
For more information or to register, call 515-5367.
During February, Red Rock Canyon's hours are from 6 a.m. to 5 p.m. for the Scenic Loop Drive and 8 a.m. to 4:30 p.m. for the Visitor Center. Visitors are encouraged to check the weather before they go.
For more information about Red Rock Canyon National Conservation Area, call 515-5350.
DAVID BARTON GYM PLANS PREVIEW AT TIVOLI VILLAGE
David Barton Gym plans to host a wine and champagne happy hour from 6 to 8 p.m. Monday at Petra Greek Taverna inside Tivoli Village, 302 S. Rampart Blvd. The evening is set to include hard hat tours of its newest gym, which is slated to open March 15.
Charter memberships at special rates will be offered. RSVP by emailing or calling 331-7773.
E BUNNY GEARING UP FOR EASTER OUTREACH PROGRAM
For 22 years, the E BUNNY, a grass-roots community outreach program, has helped make Easter fun for thousands of children in need. The E BUNNY delivers Easter baskets to facilities such as the Las Vegas Rescue Mission, Sunrise Children's Hospital, Clark County Social Services and Straight from the Streets. In addition, baskets are given to children living in temporary housing and shelters in the poorest areas of Las Vegas and Henderson.
Donations of pre-packaged Easter baskets, which can be purchased at any grocery, drugstore or general department store, are needed. The community group does not accept monetary contributions, only Easter baskets to pass directly to the children.
Be part of the One Special Basket … for One Special Child program and donate a basket by April 2. For details and drop-off locations, email barbarakenig@aol.com or call 498-9808.
REGIONAL TRANSPORTATION COMMISSION ANNOUNCES DISCOUNTS
The Regional Transportation Commission of Southern Nevada's Club Ride Commuter Services is offering new discounts to enrolled commuters who choose an alternative mode to get to and from work, such as carpooling or taking transit, through its Club Ride Rewards program.
Discounts and promotion details for Club Ride members can be found online and include Golden Spoon, Krispy Kreme, Papa Murphy's, Tropical Smoothie, Boulder Dam Brewing Co, Sassy Sal's BBQ, Red Mango and Chef Fleming's Bake Shop. There also are entertainment discounts and discounts for services.
For more information, visit rtcsnv.com and click on Club Ride.
PHOTO CHALLENGE BENEFITS FAMILIES
Show off your photogenic child for a cause with local photographers Portraits to You and Now I Lay Me Down to Sleep, a nonprofit that provides free photography sessions to families suffering an early infant loss.
Participants pose for a session with Portraits to You for a $39 fee. Families also receive a print.
Families rally support and votes via charitymodelsearch.org. Votes are $1 each, and proceeds benefit Now I Lay Me Down to Sleep.
Voting is to be conducted through March 23.
The top 25 vote-getters are judged by a panel of photography experts, and the top three are to receive awards including a camera, gift cards and savings bond.
For more information, visit charitymodelsearch.org, portraitstoyou.net or call 499-9930.
SHOW SUPPORT FOR RED ROCK CANYON THROUGH LICENSE PLATE
The Red Rock Canyon license plate has been approved by the Nevada Department of Motor Vehicles and is now available at any DMV office. Those who wish to support Red Rock Canyon do not need to wait for their current plate to expire. Exchanging your existing plate for a Red Rock Canyon one costs $61, plus a transfer fee of $5. Bring your ID and vehicle registration.
Annual renewals are $30 and can be handled through the mail or online.
Friends of Red Rock Canyon will receive $25 (first year) and $20 for renewals.
For more information, visit dmvnv.com.
CONTRACTORS BOARD, ASSOCIATION TO OFFER FREE AIR-CONDITIONING UNITS
The Nevada State Contractors Board and nonprofit Southern Nevada Air Conditioning Refrigeration Service Contractors Association have announced the start of the seventh annual Mission Cool Off program. The program provides selected individuals and families in Southern Nevada a free air-conditioning unit that has been donated by licensed contractors who are also members of the contractors association.
The first 100 applications received by Wednesday will be considered for selection. Selections are made by a committee of individuals and are determined based on a person's or family's special circumstances. The program is not open to tenants, landlords, owners who do not reside at the residence or mobile homeowners. All applicants who qualify must complete and submit all required forms, including the application and media release form, in order to be considered. The forms can be downloaded at nscb.nv.gov or by calling Ranya Botros at 486-1165.
LEUKEMIA & LYMPHOMA SOCIETY RECEIVES WALMART FOUNDATION GRANT
The Southern Nevada chapter of the Leukemia & Lymphoma Society was given a $50,000 grant from the Walmart Foundation to fund an in-depth educational series called Educating and Empowering Southern Nevada, which is open to anyone in Clark, Lincoln, Nye and Esmeralda counties.
In 2011, the chapter provided $178,665 in medication co-pay assistance and financial aid to local patients. It is estimated that doctors will diagnose approximately 800 Southern Nevada residents with a blood cancer in 2012.
For more information, visit lls.org or call 800-955-4572.
COCKER SPANIEL RECOVERY FOUNDATION JOINS PETFINDER.COM
The Cocker Spaniel Recovery Foundation, Las Vegas, has joined other animal welfare organizations in the area that list their homeless pets on petfinder.com, the oldest and largest database of adoptable animals on the Internet. The site currently has more than 359,000 homeless pets listed and is updated continuously.
Cocker Spaniel Recovery Foundation pets may be viewed at petfinder.com/shelters/NV159.html.
UNITED WAY APPROVES FUNDS ALLOCATION
United Way of Southern Nevada's Immediate Needs Council approved the allocation of $1 million to 12 local agencies providing rent and nutritional assistance. The funding distribution is a part of the nonprofit's mission to ensure that families in need receive support so they can work toward becoming financially independent.
Catholic Charities of Southern Nevada was allotted the largest amount of funding, receiving $355,178 for its food pantry services. HELP of Southern Nevada acquired $165,864, and Lutheran Social Services of Nevada obtained $103,119 for food and rent assistance.
The Salvation Army Clark County received $159,825 for food services. Other agencies receiving financial aid include: American Red Cross Southern Nevada Chapter, Las Vegas Area Council Boy Scouts of America, Boys & Girls Clubs of Las Vegas, Emergency Aid of Boulder City, HopeLink, Jewish Family Service Agency, The Shade Tree and United Labor Agency of Nevada.
For more information about United Way's Immediate Needs initiatives, visit uwsn.org.
YOUNG PHOTOGRAPHERS CAN ENTER LIBRARY DISTRICT'S ART COMPETITION
Clark County youngsters from grades six through 12 can enter the Las Vegas-Clark County Library District's Visual Poetry, a photographic art competition for teens.
Submissions are due by Wednesday. Awards are $150 for Best of Show, $100 for first place, $75 for second and $50 for third.
The awards reception is planned for 5 to 6:30 p.m. April 5 at the Sahara West Library, 9600 W. Sahara Ave.
For more information, visit lvccld.org/teen/specialprograms/visual_poetry.
WALK AROUND NEVADA WITHOUT LEAVING TOWN
The Southern Nevada Health District offers the Walk Around Nevada program, which helps participants track their physical activity online as they trek around the state and clock in 1,442 miles.
Anyone can sign up for this free online program and start a tour of Nevada. Track mileage online via a red line that marks your tour of the state. It also offers tips about staying hydrated, stretching and healthful hiking basics.
Walk Around Nevada maps include the entire state, a Lake Mead map and a Lake Tahoe to Pyramid Lake map.
For information on any health district online programs, visit gethealthyclark county.org.
TAKE CARE CLINICS HAVE ONLINE COMPONENT
Take Care Health Systems, a subsidiary of Walgreens, announces new scheduling options for its Take Care Clinics. Now, appointments can be made online through takecarehealth.com.
The site offers access to a comprehensive cost menu to quickly evaluate the cost of services, as well as local and up-to-date information on patient satisfaction scores and market-specific quality of care scores. The site includes estimated wait times at each clinic.
UNITED WAY OFFERING SCHOLARSHIP ASSISTANCE FOR PRESCHOOLERS
United Way of Southern Nevada is offering Tuition Assistance Preschool Scholarships for children 3 to 5 years old to attend high-quality school readiness preschool programs in Southern Nevada. United Way is providing copays ranging from $17.25 to $57.50 to low-income, unemployed and foster families that do not receive state assistance. Limited scholarships will be provided with a sliding fee for those experiencing financial hardship from unemployment. Scholarships are valid at any partner United Way Child Development Center. For more information, call 892-2361.