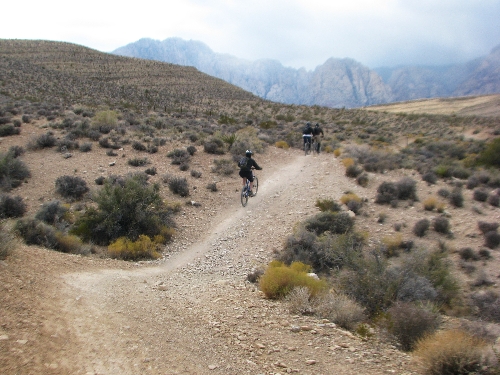 Sell your gold to benefit charities
The public is invited to sell gold jewelry at a Gold Digger event from 6 to 9 p.m. Thursday at National Jewelry Liquidation Center, 3021 Business Lane. The center plans to donate 20 percent of the evening's sales to the Candlelighters Childhood Cancer Foundation and Boys & Girls Clubs of Las Vegas. Cocktails, hors d'oeuvres and raffle drawings are planned. RSVP by emailing cciocca@casham.com or call 378-6200.
Big Give Day to be day of online donation for state's charities
Nevada's Big Give is planned Thursday. It's a day of online giving to benefit charities in the state. This annual initiative, launched by NevadaGIVES, with United Way of Southern Nevada as lead sponsor, is designed to bring new donors and dollars to nonprofit groups.
Every registered 501(c)(3) organization in Nevada automatically will receive donations through the website nvbiggive.org. The goal is to raise $1 million in one 24-hour period for nonprofit groups across the state by encouraging Nevadans to give where they live.
Catholic Charities in need of donations for Thanksgiving
Catholic Charities of Southern Nevada is in need of turkeys for Thanksgiving. The Social Service program is providing turkeys and groceries to families in need. This holiday season, Catholic Charities expects more than 4,000 families will come seeking Thanksgiving baskets. The organization needs turkeys and traditional Thanksgiving dinner fixings.
Individuals or organizations who would like to help by donating turkeys, canned or non-perishable food can call 385-2662 or deliver donations to Catholic Charities, 1501 Las Vegas Blvd. North.
For more information about Catholic Charities, visit catholiccharities.com.
Residents invited to learn about job searches and refinancing
Residents looking to rebuild their lives by saving their home, connecting to a job, or finding housing, are invited to attend the Rebuild Southern Nevada Expo from 10 a.m. to 4 p.m. Saturday at Palace Station, 2411 W. Sahara Ave., inside the Grand Ballroom on the second floor. Check-in begins at 9:30 a.m.
Free services and workshops will be available, including down payment assistance programs, rental assistance, child care assistance, youth services, adult and dislocated worker training, job placement information and state foreclosure mediation program. For more information or to register, call 229-4663.
Day of empowerment planned
Transgender Day of Empowerment is planned from 10 a.m. to 3 p.m. Saturday at the College of Southern Nevada, Charleston campus, 6375 W. Charleston Blvd. Marci Bowers is the planned keynote speaker, and topics throughout the day will address the basics of transgender experience, knowing your rights and a forum to address community needs.
Food and beverages will be provided, and local artists are scheduled to provide entertainment. To RSVP, visit eqnv.org/tdoe2011.htm.
Rio scheduling monthlong toy drive
The Rio, 3700 W. Flamingo Road, has planned a November toy drive during which guests will receive 10 percent off any spa service when they bring a new, unwrapped toy to the Rio spa through Dec. 1.
A complimentary spa or salon treatment is offered with a new bike donation on selected days.
All toys and bikes collected will be donated to HELP of Southern Nevada.
Selected days are: Monday, receive a complimentary 50-minute Swedish massage; Nov. 22, receive an express pedicure; Nov. 30, receive a complimentary men's or women's haircut; and Dec. 1, receive a complimentary deep-cleansing facial.
For more information, call 777-7779 or visit riolasvegas.com.
Rio Spa & Salon is open daily from 6 a.m. to 7 p.m.
Church seeking seamstresses for impoverished nations
Seamstresses across the Las Vegas Valley are invited to help sew dresses and washcloths for children in impoverished nations.
Volunteers will sew as many T-shirt and pillowcase dresses as possible for children ages 2-14 to pack as gifts for Operation Christmas Child.
Good Samaritan Lutheran Church, 8425 W. Windmill Lane, is collecting pillowcases, young girls' tank tops or T-shirts, thread, elastic, binding, lace and towels. Bring your sewing machines. Non-seamstresses are also invited to help cut, pin and pack.
Operation Christmas Child is the world's largest Christmas project. Contact project coordinator Jil Gertz at 275-4458 or ask for her at the church.
Mule Deer Foundation plans annual banquet Saturday
The Las Vegas Chapter of the Mule Deer Foundation plans to host its annual banquet and auction Saturday at the Elks Lodge, 4100 W. Charleston Blvd. Doors are set to open at 5:30 p.m., with dinner to start at 7 p.m. The event will feature a social hour and dinner followed by a benefit auction. The door prize will be a gun. Tickets start at $50. Proceeds will benefit the Nevada Department of Wildlife and Wildlife Habitat Restoration in Southern Nevada. Visit muledeer.org and click on "Nevada" to download a registration form or call 888-375-3337.
Ms. Wheelchair Nevada seeking aid
A division of the Ms. Wheelchair America program, Ms. Wheelchair Nevada is a disability advocacy program that seeks to select the most articulate and accomplished spokeswoman to represent people with disabilities in Nevada and at the national level.
Candidates are judged on their accomplishments since the onset of their disability, involvement with their respective communities, ability to relate to the media and the general public, their self-perception and self-projection, poise and personal appearance. Ms. Wheelchair Nevada is a symbol of the dignity and productiveness of disabled people. The selected candidate must communicate both the needs and the accomplishments of the disability community to the general public, the business community and the government.
State coordinator Tammy Wilber is seeking contestants, volunteers, sponsorship and a location to hold the first Ms. Wheelchair Nevada Pageant 2012. To help, email her at mswheelchairnevada@yahoo.com or call 206-714-1253.
HELP of Southern Nevada launches holiday programs
HELP of Southern Nevada, 1640 E. Flamingo Road, is launching three of its annual programs this holiday season. Donations to HELP's Thanksgiving program provides a holiday meal for a family of four.
The group's Adopt-a-Family program allows people to assist needy families in giving them clothing and toys for the holidays.
Lastly, the Holiday Assistance/Toy Drive benefits more than 16,000 families with its donations.
To donate, volunteer or for more information, call Lisa Laudadio at 369-4357, ext. 1246, or visit helpsonv.org.
Kraft and Sussman funeral services to host discussion on aging
A healthy aging seminar is set for 7 p.m. Dec. 6 at Kraft & Sussman Funeral Services, 3975 S. Durango Drive, Suite 204. Lisa Rosenberg, M.D., is scheduled to speak. Learn what to expect and ways you can be proactive in managing these changes and easing the effects of aging on your body.
Las Vegas Rotary Clubs collecting clothing for children in need
Las Vegas-area Rotary Clubs are asking for donations for the 16th annual Gift of the Holidays program, which provides winter clothing to children in need. On Dec. 8, children identified by local charitable organizations will be driven to JCPenney stores, where each child will be paired up with a Rotarian or a volunteer to shop for shoes, socks, underwear, pants, shirts and a jacket.
The day includes supervised sports activities with college athletes and cheerleaders and a pizza party.
In order to reach its goal, the Rotary Clubs need to collect more than $30,000. To make a donation, contact Jim Hunt at 498-7787 or Tom Krob at 498-2259.
Reiki healing circle planned at funeral services location
Reiki masters the Rev. Peggy Ashman and the Rev. Karen Jackson have scheduled a Reiki healing circle at 7 p.m. Dec. 7 at Kraft and Sussman Funeral Services, 3975 S. Durango Drive, Suite 204. The circle is intended to help those who have experienced a loss and desire some gentle assistance in moving through the stages of grief. This relaxation technique is intended to be calming and help relieve the body of emotional distress and sorrow.
Travel Club to meet at Tap House
The Las Vegas Single Social and Travel Club for Mature Adults invites prospective members to its meetings, which are scheduled for 6:30 p.m. the fourth Tuesday of the month at the Tap House, 5589 W. Charleston Blvd.
The meet-and-greet portion is set to start at 6 p.m. Meeting discussions focus on day trips, local events, in-state and out-of-state traveling, cruises and international traveling. A guest speaker frequently is featured. The meeting closes at about 7:30 p.m., and appetizers are served as the group mingles.
The next meeting is set for Nov. 22. For more information, call 888-324-2028.