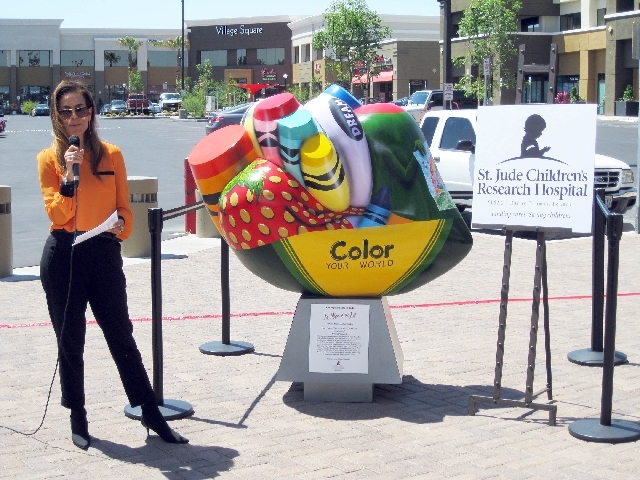 SOUTHERN HIGHLANDS PLANNING MEMORIAL DAY CELEBRATION
Southern Highlands is planning its 11th annual Memorial Day Celebration from 4:30 to 8:30 p.m. May 27 at Stonewater Park, 11501 Goett Golf Drive. The family-friendly event is free and open to the public. To kick off the event, the Nellis Air Force Base Honor Guard plans to present colors while Jolie Cope sings "The Star-Spangled Banner."
Residents and guests will be able to purchase tickets to a barbecue and drinks for adults and kids, with live music throughout the evening. Kids will also have plenty to do at the kids zone, which is to include water slides, bounce houses, a rock climbing wall, water tag, carnival games, face painters and field games. Prizes are planned.
Attendees will also have the opportunity to purchase raffle tickets. All proceeds from the raffle and the food and beverage sales are to benefit Operation Warm Heart, a Nellis AFB charity. The event is to conclude with a fireworks display at 8:15 p.m. For more information, visit southernhighlands.com.
OVEREATERS ANONYMOUS PLANS MEETING
Nonprofit Overeaters Anonymous is planning a support group from 2 to 3:30 p.m. June 8 at the Serenity Club, 3990 Schiff Drive. The group offers a holistic approach to weight loss with desired results of a physical, emotional and spiritual healing. The free meeting is open to the public. For more information, visit lvoa.org or call 702-593-2945.
YES! AIR CONDITIONING & PLUMBING
SENDS OUT CALL FOR SUBMISSIONS
One local homeowner could win a new HVAC air conditioning system valued at $8,900 from Yes! Air Conditioning & Plumbing. The company's Help A Home initiative invites residents to nominate friends, relatives or neighbors in need of a new system. Email submissions with short descriptions of the homeowner's needs will be accepted at helpahomelasvegas@theyesmancan.com through May 31. Yes! technicians plan to visit the top five homes before selecting a winner to be announced the first week of June.
BANK OF AMERICA CARD HOLDERS CAN RECEIVE FREE MUSEUM ADMISSION
Anyone with a Bank of America or Merrill Lynch debit card or credit card can gain free admission to three Las Vegas museums June 1 and 2. The Museums on Us program offers the cardholder complimentary admission to the Las Vegas Natural History Museum, 900 Las Vegas Blvd. North; the Discovery Children's Museum, 360 Promenade Place; and the Springs Preserve, 333 S. Valley View Blvd. For more information, visit museums.bank
ofamerica.com.
AREA GROCERY DELIVERY SERVICE
OFFERS PINK MILK
Winder Farms, a grocery home delivery company based in southwest Las Vegas, will go pink for Susan G. Komen for the Cure by raising money and awareness for breast cancer screening, treatment programs and research. Through Oct. 31, Winder Farms is set to donate a portion of the proceeds from its Strawberry Milk to the local affiliate of Susan G. Komen for the Cure. October is Breast Cancer Awareness Month.
Winder Farms Strawberry Milk is made with reduced fat milk and comes from cows not treated with artificial growth hormones or antibiotics.
For more information, visit winderfarms.com. Sign up using the promotional KOMENSN13, and Winder Farms will donate an additional $25 to the charity.
BRIDGE GROUP PLANNING FREE LESSONS
Las Vegas Bridge World is offering free Easybridge! lessons for beginners and people returning to bridge or for social players who want to learn modern bridge. The lessons are set from 6:30 to 9 p.m. May 22 and 29 at Las Vegas Bridge World, 5580 W. Flamingo Road, Suite 101. Easybridge! books are to be available for purchase on site at cost.
The lessons are open to all ages and open to the public, and partners are to be available. Parking and refreshments are free. For more information, call Las Vegas Bridge World at 702-478-7200 or visit learnbridgelv.com.
TRAVEL CLUB TO MEET AT TAP HOUSE
The Las Vegas Single Social Travel Club for Mature Adults invites prospective members to its meetings, which are scheduled for 7 p.m. the fourth Tuesday of the month at The Tap House, 5589 W. Charleston Blvd.
The meet-and-greet portion is set to start at 6:30 p.m. in the meeting room. Discussions focus on day trips, local events, in-state and out-of-state traveling, cruises and international traveling. A guest speaker frequently is featured. The meeting usually closes at about 8 p.m., when appetizers are served and the group mingles. For more information, call 888-324-2028.
SOLARI HOSPICE SEEKING VOLUNTEERS
Solari Hospice Care, 5550 S. Jones Blvd., is looking for volunteers to aid with day-to-day operations and patient well-being. Volunteers bring companionship to people in the final months and weeks of life, often at a time when people find themselves cut off from the community, isolated and alone. They bring respite to family caregivers who are caring for dying loved ones. Sometimes volunteers share a special knowledge or hobby, such as speaking a second language or playing music. Solari also uses volunteers to answer phones, assist with receptionist duties or perform light secretarial work.
For more information, call Shari Diebold at 702-870-0000.
THEATER ANNOUNCES CLASSES FOR YOUTHS
The nonprofit and nonprofessional Las Vegas Little Theatre has announced its LVLT Summer Youth Theatre Academy. Weekly classes for students ages 7 to 13 are set to start in June. Students may register for one or more sessions to gain hands-on experience in one or more facets of theater and acting. Each week is to end with a performance by the students in the LVLT Black Box theater.
Classes are set from 8 a.m. to 4 p.m. Monday through Friday on the following topics:
n June 17-21: Improvisation: Whose Line Is It Anyway?
n June 24-28: Theater 101: There is No Business like Show Business!
n July 8-12: Musical Theater: Triple Threat Theater
n July 15-19: Comedy: Make 'Em Laugh
n July 22-26: Drama: Why the Long Face?
n July 29-Aug. 2: Mystery: Who Done It?
n An Audition Workshop is planned for July 1-3 and is open to students ages 7 to 18.
The LVLT Summer Youth Academy is conducted by Emily Fagan, a certified speech, theater and English teacher. Classes are $250 per week for each student; three weeks are $350; and all six weeks (excludes audition workshop) are $1,300. The three-day workshop is $150 per student.
For more information, call 702-362-7996 or visit lvlt.org.
solari HOSPICE OFFERING FREE BEREAVEMENT SESSIONS
Solari Hospice Foundation, 5550 S. Jones Blvd., offers free weekly bereavement support groups from 5 to 7 p.m. Tuesdays.
For more information, call 702-870-0000 or visit solarihospice
foundation.org.
MEN'S CHORAL GROUP PLANS
WEEKLY MEETINGS
The Silver Statesmen Chorus invites men of all ages to join its group. The chorus rehearses at 7 p.m. each Thursday at Christ The King Catholic Community, 4925 S. Torrey Pines Drive.
For more information, visit silverstatesmen.com.
HOSPITAL NEEDS VOLUNTEERS
Spring Valley Hospital Medical Center, 5400 S. Rainbow Blvd., is looking for volunteers to help at its facility. For more information, contact marketing director Naomi Jones at 702-853-3308 or naomi.jones@uhsinc.com.
NONPROFIT IT'S ALL ABOUT KIDZ
RUNNING SPONSORSHIP CAMPAIGN
Nonprofit It's All About Kidz launched a sponsorship campaign calling for any company, organization or individual to sponsor a mother and child who is enrolled in the sober living program. The southwest-area group focuses on providing a sober living environment to women and their children while providing services for them to become self-sufficient. The nonprofit also serves as a foster care agency to provide temporary living arrangements for children. September marked the organization's one-year anniversary, and people looking to get involved can participate by becoming a foster parent, offering financial support and/or participating in the New Beginnings Coat and Shoe Drive started Dec. 1 at the Behavioral Treatment and Foster Care Agency at 3450 W. Cheyenne Ave., Suite 500. For more information, call 702-631-0230 or visit aakidz.org.