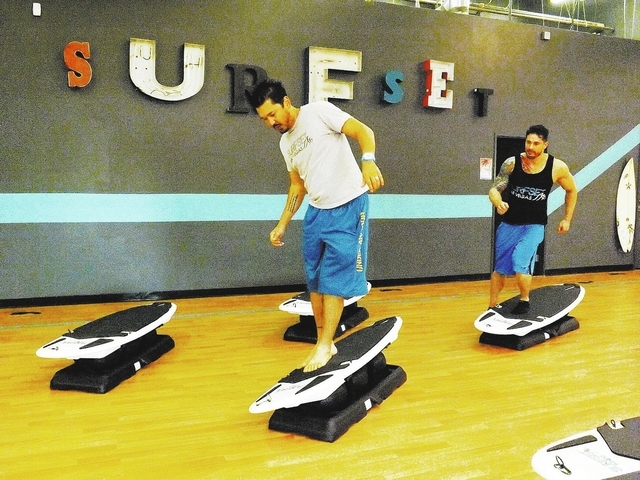 The idea of surfing in warm water with a cool breeze is finally possible for Las Vegas residents thanks to business owners Jason Laricchia, 34, and Jason Santiago, 31.
The men recently opened SURFSET Las Vegas, an exercise studio that teaches fitness classes on a surfboard, through its mother company SURFSET Fitness.
The concept was broadcast on ABC's "Shark Tank" in September 2012 when two entrepreneurs pitched the idea and sealed a deal with wealthy investor Mark Cuban.
"We saw it on the show and thought it was a good idea," Laricchia said. "It sparked our interest so we reached out to them to open a location here."
However, clients must be warned the only water they'll feel is sweat, and the only cool breeze is the air conditioner. But the washboard abs and surfer body can be real with a little elbow grease and determination.
SURFSET Las Vegas offers 45-minute classes conducted on a modified surfboard balancing on bosu exercise balls. Four different types of classes are available based on various fitness goals.
According to Santiago, "balance" is a Pilates and yoga class that increases stability and flexibility; "burn" is a high-intensity cardio class that targets body fat and strengthens the core; "build" is a weight-training class that uses resistance bands and kettle bells; and "blend" is a combination of the three.
"Any kind of motion or movement you can do at the gym, you're able to do on the board," Santiago said, "but it's different because you're hitting stabilizer muscles while on the board that you don't hit on a day-to-day basis."
According to Santiago, a full-body workout requires less time at SURFSET Las Vegas than a traditional gym.
"I've been working out for years and years," he said. "I'd say that a 45 on the board is equivalent to a solid hour or hour and a half at the gym, possibly even more."
Santiago also said he plans to buy a heart rate monitor and take each instructor's class to get an idea of how many calories each class burns.
"I'm going to do Facebook shoutouts saying, 'Hey, I burned 800 calories in Jason's blend class today,'" he said. "You know, just to give people an idea of what they could possibly burn in each class."
Joe Cabe, a SURFSET Las Vegas client, said he takes about four classes a week after he heard about the program through word of mouth. He chose to join after being dissatisfied with long wait times at the gym.
"Sometimes you can be at the gym for two hours because you always have to wait to use a machine," he said. "I like SURFSET because I'm done in 45 minutes."
Cabe also said the program was easy on his injured knee, and instructors accommodated him until it healed.
"They're there to push you, but they're not trying to hurt you," he said. "If you're having difficulties or have any injuries, they'll help you out until you get stronger."
Cabe said the classes are challenging but he keeps coming back because it's fun.
"After a few classes it was pretty much like riding a bike," he said. "I remembered how to do the same movements to keep my balance."
Although the classes use surfboards, the idea is not to simulate surfing but create a unique workout, according to Laricchia.
"It will help you build the right muscles, so when you eventually go surfing in real life, it will make the transition a little easier," he said. "But there's no way to simulate actually being on a board in the water."
Despite never surfing in real life, Cabe said he is content with sticking to the fitness classes.
"The biggest thing is you don't ever have to worry about sharks," he said. "That's always a plus."
Classes are designed for all ages and all activity levels. SURFSET Las Vegas clients range from professional boxers to 60-year-olds, according to Santiago.
"I had a class of eight people who religiously do CrossFit, and it was even challenging for them," Laricchia said. "I had them sweating and falling off their boards."
SURFSET Las Vegas also offers a nutrition program using Vitabot, an online meal planning and food diary website. According to Santiago, it has pre-made meal plans available for different fitness goals. The program also grades users based on how they eat for the day.
"We have ability to log on and look at all our clients' profiles and see what they're inputting," Laricchia said, "so there's some accountability for someone who comes in and says they want to lose a couple pounds and tone up."
SURFSET Las Vegas, 8665 W. Flamingo Road, No. 126, offers classes from about 6 a.m. to 10 a.m. and 5 p.m. to 8 p.m. Monday through Friday and from 8 a.m. to 1 p.m. Saturday. Children's classes are also available on Saturday. Afternoon classes are available throughout the week by appointment only.
Single drop-in classes are available for $20 each. A SURFSET 6-Pack offers any six mix-and-match sessions for $100. A monthly membership costs $150 and includes unlimited classes and the Vitabot nutrition program.
"People should expect a challenge with good music and a lot of sweating," Laricchia said. "They'll leave class like they just had fun and didn't work out, but later their body will be asking them, 'What the heck did you do to me?'"
Visit surfsetlasvegas.com or call 702-503-4780 for more information.