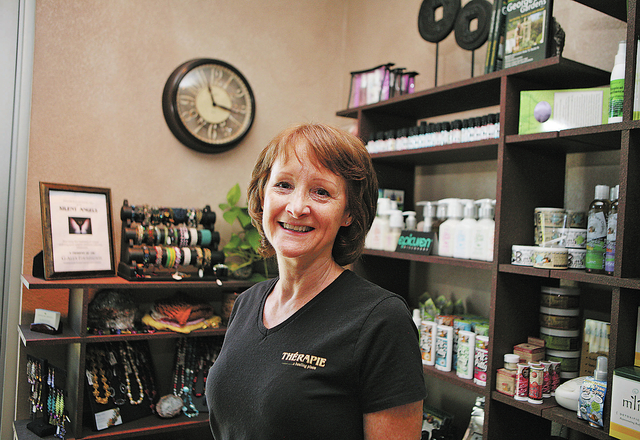 While many locals celebrate Breast Cancer Awareness Month in October, business owner Sally Spurgeon celebrates breast cancer awareness every day.
Because of the healing benefits, Spurgeon offers breast massages at her massage therapy office, Therapie, 6819 W. Tropicana Ave., Suite 200, for women who suffer post-surgical conditions and other breast-related ailments. This includes surgery pains, menopause tenderness and pregnancy discomfort.
"The most important thing is once these women start to get well, they need to maintain their health," she said. "These programs help cleanse, detox and rebuild."
Originally from Cheltenham, England, Spurgeon learned about the healing benefits of massage therapy when her employer provided free massages while she worked in New York City.
In 1990, she moved to Las Vegas and worked in the wardrobe department for the Siegfried and Roy show. She used her knowledge of massage therapy to heal performers who complained of being sore.
"The thing I noticed over the years was if a costume didn't fit right, it was a lot easier for me to work the muscle to get it straight than it was to have the costume altered," she said.
One of the performers was a massage therapist and convinced her go to school and become certified.
"While I was going to school, I would practice my techniques on the performers," Spurgeon said. "It was kind of like my side job."
In 1995, Spurgeon began working at her husband's audio and video company and sponsored a paraplegic man who raced in NASCAR event and off-road trucks using hand controls.
"All the (activities) took a toll on the muscles in his arms. I started working on him, and he started to heal," she said. "It made me realize how beneficial massages are for someone like him."
Spurgeon was inspired by the experience and opened Therapie in October 2007 with the intention of working on people with spinal cord injuries.
But when she was diagnosed with breast cancer in 2008, she changed the direction of her business to help other breast cancer survivors.
"Different massage therapists worked on my chest after all my tests and surgeries," Spurgeon said, "and my surgeons couldn't believe how well I was healing and how much range of motion I had compared to other women."
While volunteering at the Caring Place, a program of the Nevada Childhood Cancer Foundation, Spurgeon practiced massage therapy on breast cancer survivors.
"In one session, they were able to raise their arms over their head for the first time in years," Spurgeon said. "They would just be in tears of happiness. I knew I had to do something to get these women the treatment they needed."
In order to perform breast massages legally, Spurgeon was advised to contact the Nevada State Board of Massage Therapy for approval and proper consent forms.
However, the board didn't have consent forms for Nevada because the idea was so taboo, Spurgeon said. So she sent them her own form to have approved.
"The next day, they called back and asked if they could use my form for the official consent form for Nevada," she said. "As far as I know, we're the only business offering this type of massage."
According to Spurgeon, breasts are fat tissue lying on top of muscle that lack a lymphatic pump to push fluid through and keep tissue clear. Massaging the breasts and upper torso can drain lymph, relax muscles, increase circulation, reduce scar tissue and promote healing.
"At first, it was a little awkward. I was raised a good Catholic girl," Spurgeon said. "But honestly, when you've been through all the surgeries and doctors looking at your chest, you don't even think of it as something to be embarrassed about anymore."
Although her therapists are trained to be gentle, Spurgeon said the massages can be painful and the rate at which clients heal depends on their tolerance.
"Everyone is going to get amazing results, but we don't want to hurt somebody so badly they don't want to come back." Spurgeon said. "We do it enough that they can push past it and release."
According to therapist Jennifer Denman, 60 percent of her clients receive massages due to surgical and medical conditions.
"These women are warriors," she said. "They'll do whatever it takes to breathe, sleep and raise their arms over their heads again, and they deserve it."
Depending on the client, Denman uses a variety of techniques, including energy work, neuromuscular therapy and massage cupping.
"It's not just the body we work on," she said. "It's also the mind and spirit."
Denman said new clients generally show signs of improvement after the first session and need only about six to feel "normal" again.
"They tell me it's the first time they've been out of pain in years," she said. "(One client) told me she felt like she finally got her life back. It was very touching."
In May 2012, Spurgeon started Silent Angels, a nonprofit program through the G Alex Foundation that provides free breast massages to women with low incomes.
About 15 clients have received treatment through the program, according to Spurgeon.
"Most people who apply are approved," she said. "Those who don't qualify will still come in and pay for the sessions."
Because cancer survivors can isolate themselves from the community, Spurgeon started the Beads for Boobs program through The Bead Shack, 4750 W. Sahara Ave.
Spurgeon purchases the beads and reserves a class for breast cancer survivors who make pieces of jewelry to donate to the Silent Angel program.
"Everybody wins in this program," Spurgeon said. "It's a really good way to get survivors back into the world. They're usually more willing to do it for someone else."
By next year, Spurgeon plans to host classes to teach therapists how to conduct breast massages. She also wants to hold cancer seminars with her doctor, Anne O'Neill.
In the meantime, women interested in learning the importance of massage therapy and how to prevent breast cancer can schedule a free consultation by calling Therapie at 702-202-1400.
"If you can teach a woman how to massage her breast and keep the tissue clear before a problem ever arises, it's hugely beneficial," Spurgeon said. "Women who have never had a problem are probably never going to get one if they can keep their lymphatic system moving."
Despite the stigma of massage parlors in Sin City, Spurgeon said Therapie maintains an excellent reputation, even while offering services that sound risque.
"It's so sad that in Nevada we have this misconception between a massage therapy office and a massage parlor," she said. "It's the oldest form of healing in the world. It's not all about sex."
Spurgeon has undergone 15 surgeries since her diagnosis, but she doesn't let it interfere with her spirited-yet-gentle sense of humor.
"I've had ups and downs, like everyone else, but I'm still the same person," she said. "Besides, I used to do wardrobe so I can make these things look real."
Through October, new clients can receive receive half off a breast massage and one free BioMat heat session. Clients also will receive gift bags with information on breast cancer.
Therapie offers 50-minute breast massages for $75. A package of six massages is available for $375. Other services such as sports massages, spa treatments and wellness programs are also available.
Therapie is open from 10 a.m. to 7 p.m. Monday through Friday and 10 a.m. to 6 p.m. Saturday. For more information, call 702-202-1400 or visit therapielv.com.
Contact Southwest/Spring Valley View reporter Caitlyn Belcher at 702-383-0403 or cbelcher@viewnews.com.