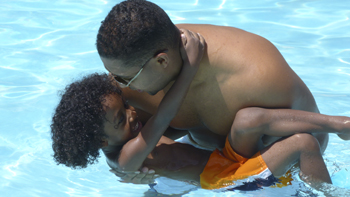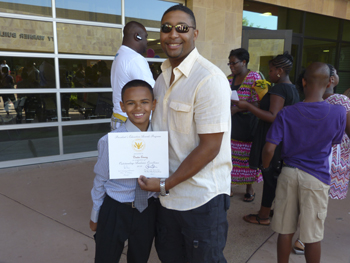 Dad's a caretaker
My father takes care of me in a variety of ways. One reason I know he loves me and will always take care of me is because he is always there to support me. If I say I am hungry, he makes sure I am fed. He cares about me being healthy too. At night-time, he reminds us to brush our teeth. Whenever I get awards at school, which is a lot, he always rushes from work to make sure he is there to be with me. My dad is the best dad out of the three dads I have had before. I know how it's like to have a father who doesn't really care. My dad cares about me. I know it because he proved it to me by raising me for half of my life already. That's why I love my father.
Ron Drake, 14 years
Best dad ever!
I am Ramsay Drake and I am the happiest 5 year old because I have the best dad ever! My dad is nice to me. He's the best in Vegas because he drops me off at school and take care of me and he makes sure I eat. He tells me to use the bathroom before I go somewhere because the bathrooms are not clean. And when we are out he takes me to the bathroom if i have to go really bad. He tells me to brush my teeth all the time. He doesn't want them to fall out. He helps me with my homework that is so hard. I love my dad and I love playing with him.
Ramsay Drake, 5 years
Have a fantastic day, Dad!
Today our dad is going to have a fantastic day ever! He cares about us. He makes us food, he makes sure we're okay, and he does everything special for us, even though it is not our day.
He works all day to make sure we're okay. He even brings us home stuff when we are at home, and most of all he loves us! Happy Father's Day dad!!! I hope you enjoy this. I hope my brothers and i make you very proud when we grow up and we are adults. Just to make it special, you deserve a triple happy Father's Day since there are three of us and one of you!!!!!
Your son forever, Dexter