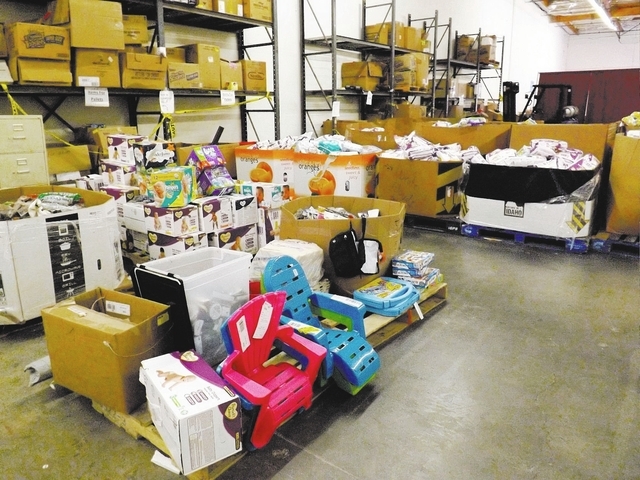 The Rev. LaDonna Tapplin wheels a pallet full of diapers and baby wipes to the garage door of the Back 2 Basic Global Outreach warehouse, 4445 S. Valley View Blvd., Suite 4, for pickup.
She passes clothing, toiletries and household goods that are discounted 60 to 80 percent off the retail price.
"We have $100 Nike shoes for $20, T-shirts for $1 and electric toothbrushes for $3," Tapplin said. "The money we collect is then used to purchase more items."
Tapplin and her husband, the Rev. Michael Tapplin, operate Back 2 Basic Global Outreach, a nonprofit organization that supplies nonperishable items to other nonprofits and individuals.
"We are partnered with 78 organizations," Tapplin said. "We sell items, and we also donate items."
Every three months, the organization donates three pallets of items to three nonprofits. The Women's Resource Medical Centers of Southern Nevada, 100 Academy of Excellence and Catholic Charities of Southern Nevada were selected Nov. 16.
"We've been with Back 2 Basic for about two years now," said Jean Jones, human resource manager at the 100 Academy of Excellence. "We received a donation of about 1,000 art supply items from them. We also buy toiletries, sanitizers and Ziploc bags. They have everything. It's wonderful."
Back 2 Basic Global Outreach is partnered with Walmart and receives about two truckloads of nonperishable items each month. According to Tapplin, each truck costs $1,300.
"It's definitely a strain, but we're blessed that we can meet the needs of people even at such a big cost," Tapplin said. "Even if it gets tight, we still find ways to donate."
Back 2 Basic Global Outreach started as a food pantry five years ago at the Tapplins' ministry, Believers in Christ, 894 S. Valley View Blvd.
"When we had (the pantry) at the church, 200 to 300 people came at a time," Tapplin said. "Then they found out where we were living and started ringing the doorbell until like 11 at night."
The couple started storing overflow supplies from the church at their home to help individuals who showed up at their doorstep. They supported about 1,000 families from their garage every month, according to Tapplin.
"Even with buying $300 worth of supplies each month, we would run out in like two days," Tapplin said. "Cars would just stop in the middle of the street. It was rough, but the need was so great."
About three years ago, the couple moved their organization to a warehouse. With the help of Las Vegas City Councilwoman Lois Tarkanian, they partnered with Good360, an organization that helps nonprofits receive corporate product donations.
"She did back-to-school fairs at our church, so she wrote letters of recommendation to the community," Tapplin said. "She's been a powerful force in everything we've done. I can't say that enough."
Back 2 Basic Global Outreach also helps individuals who are referred by nonprofits.
"We either donate items to (individuals), or the charity they were referred by purchases a voucher," Tapplin said. "We can't take (the individual's) money."
According to Michael Tapplin, the organization helped 50,000 people last year and hopes to serve 100,000 this year.
"Here, they don't have to pay taxes, and it's a third of the cost," he said. "That extra money can be used for other things. It works out a whole lot of good for our community."
For more information or to volunteer or donate to the organization, call 702-221-0037.
Contact Southwest/Spring Valley View reporter Caitlyn Belcher at cbelcher@viewnews.com or 702-383-0403.