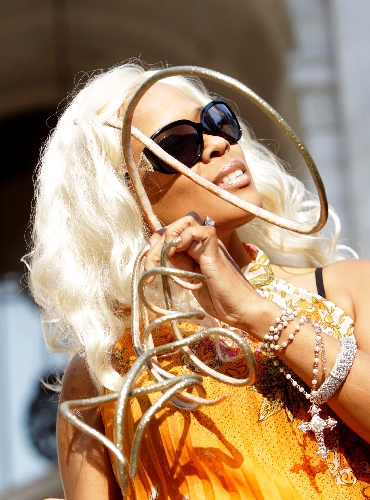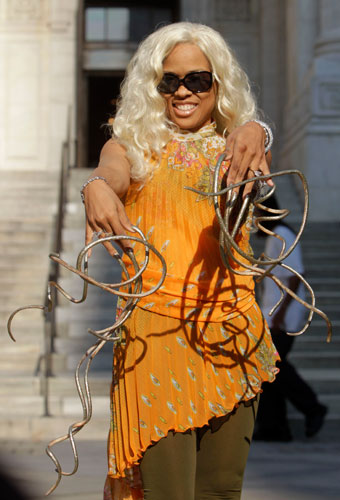 It's been 18 years since the Southwest- area woman clipped her fingernails, and that dedication — or indifference, from her point of view — landed her worldwide fame.
Chris Walton, who goes only by her nickname, "The Dutchess," is listed in the Guinness World Records 2012 book as the woman with the world's longest fingernails, at a combined length of 19 feet, 9 inches.
Her left thumbnail is the longest single nail at nearly three feet.
The former female record holder, Lee Redmond of Salt Lake City, had 28 feet of nails broken off during a 2009 car accident.
Walton always hated her given name, she said, and gave herself "The Dutchess" name long before she started growing her nails.
Walton said she never intended to have the record, either.
"I started growing them in the early '90s, and I taught myself how to do my own nails," she said. I kept filling the acrylic in but wasn't clipping the nails back. You walk past a mirror years later, and you go, 'Wow.' "
She said she's not too attached to trim them if they become a nuisance.
"They're just fingernails," she said. "When they get in my way, I'll start cutting them down."
Walton said it's not as difficult as people may think, as she's had years to become acclimated to her nails, inch by inch. She compared it to a woman with very long hair or a man with a long beard.
She sometimes has shirts and jackets altered with zippers or buttons to accommodate her nails. She also doesn't put things in her pockets because it's difficult to retrieve them. Other than that, she said she does everything herself, including maintaining and decorating her nails.
She used to paint her nails red, she said, but stopped after a young girl sitting on her lap once confused them for licorice and tried to take a bite.
For all the attention she's received recently, she wants people to know that's not who she is. Behind the curls of keratin is an artist.
Walton is — and always has been, for as long as she can remember — a songwriter and vocalist. She records her own rock music, which she distributes on her website, thedutchess1.com. She also writes a comic book that she distributes with her CDs.
Walton was born in Colorado and grew up in San Diego, where she also raised her five daughters, one of whom, Chantel JazUrel, is her manager. They lived in Atlanta before moving to Las Vegas about four years ago.
JazUrel said there never has been anything unusual about her mom having long nails.
"It was just normal," JazUrel said. "My friends thought she was the coolest mom in the world. It's such a cool factor with people."
She also said she has witnessed her mom get preferential treatment from TSA officials at airports.
The Guinness organization flew Walton on promotional trips to Italy and New York City for the release of the book on Sept. 15. She has been in print and online news and TV, but Walton said she wasn't so thrilled when Guinness contacted her nearly a year ago about it.
"It was weird that Guinness even wanted to talk to me," Walton said. "Not one person has ever interviewed me about my nails before Guinness.
"At first I was reluctant because I want to be known for my music, not for my nails. "But I'm glad I did it."
Contact View education reporter Jeff Mosier at jmosier@viewnews.com or 224-5524.