Southwest Las Vegas gyms offer a wealth of nontraditional workouts
February 5, 2016 - 3:45 pm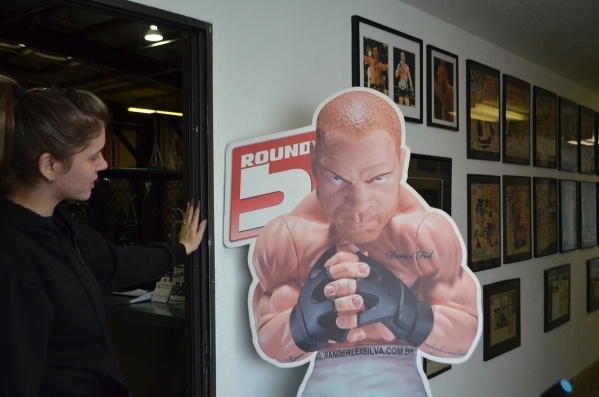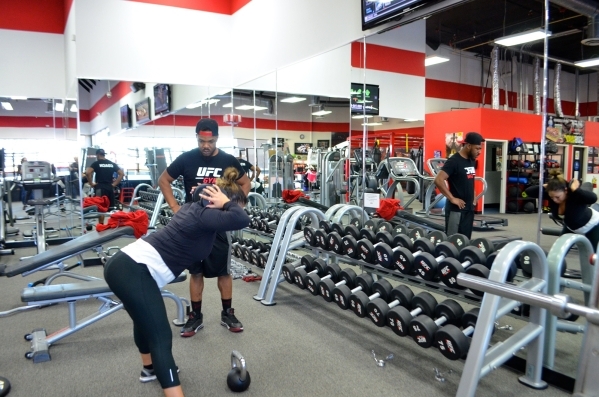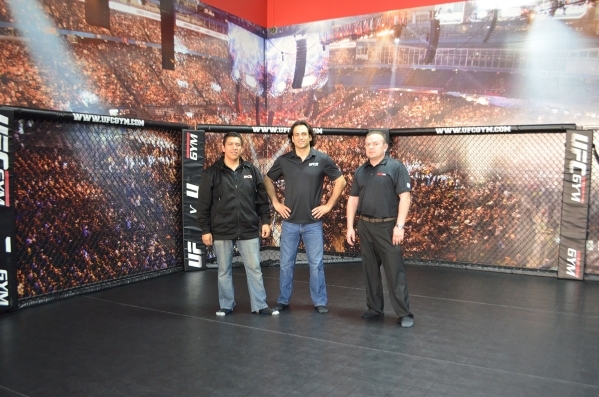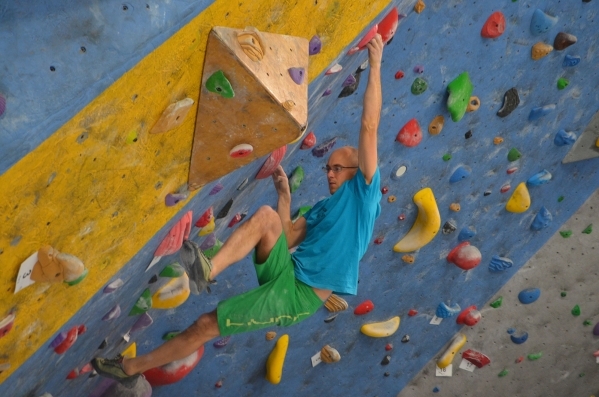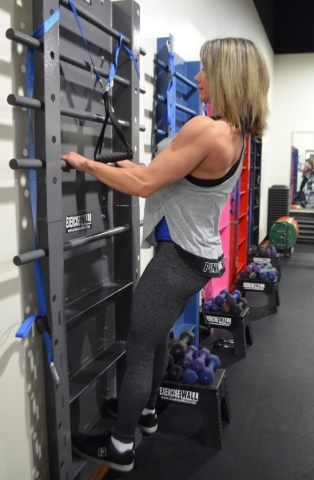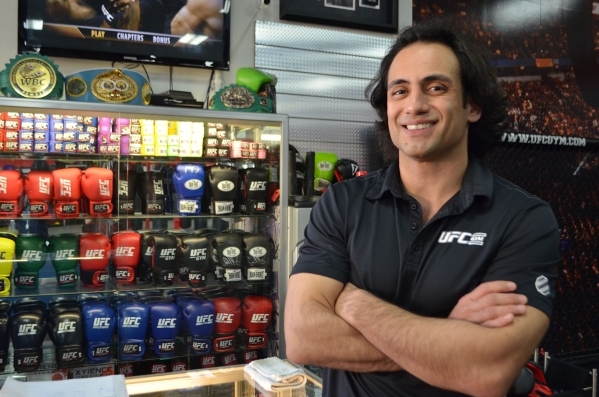 Still clinging fast to those New Year's fitness resolutions? Or maybe you're just looking for a way to get your heart pumping in time for Valentine's Day?
Regardless of the reason, there are plenty of places to shape up in Spring Valley and southwest Las Vegas. Southwest View recently visited four locally owned gyms in search of athletic inspiration.
Yak's Fitness
Chris and Shelly Yakimchuk's boutique gym at 7375 S. Durango Drive, No. 101,may not be a big-box facility with a pool, but Shelly said they do quite well, and they're not afraid of the big chains.
"We just signed our second five-year lease," she said. "We're not scared at all. We're doing very well. We have a nice clientele, a healthy membership base, yet we're not overcrowded. We're a lot different from other gyms in the sense that we keep it super clean in here, and our members do appreciate us, and Chris and myself, we basically live here."
The couple ran a Yak's Fitness gym in their native Canada, and the place was popular.
"But we decided to move where it's warm," Yakimchuk said. "We took a chance, and it paid off. We're really happy here."
The gym, built in a former Hollywood Video, features cardio equipment, weight machines and free weights.
"Our equipment comes from Montreal, all Atlantis, very smooth stuff," Yakimchuk said.
She added that her health department inspector said they were the cleanest gym in town, and that keeping things clean and inspected means no broken cables or out-of-order equipment.
About six months ago, the couple expanded the gym, adding a cross fitness space and a series of Exercise Walls — a ladder and cable apparatus invented by local trainer Marcus Niemo. Yakimchuk said Niemo teaches several classes at the gym.
"People just love him," she said. "It offers members something extra. For those who don't want to lift weights, they can come in here and try his class."
Also popular is Chris Yakimchuk's Butt Blaster class.
"He does it twice a week, and the ladies love it," his wife said. "He limits it to four to six people, so he can really work with them. Some people need one-on-one interaction."
The Yakimchuks are also big supporters of local high school athletics, with Chris putting in plenty of time training young football players.
Visit yaksfitness.net or call 702-483-5412.
Wand Fight Team — Martial Arts & Fitness
Tucked behind a jewelry liquidation center and an outdoor kitchen store at 3061 Business Lane is a refuge for athletes hoping to train in a mix of martial arts and fighting styles. Walk in the front lobby, and the legacy of the gym's founder covers every wall. Wanderlei Silva — whose nickname is the Axe Murderer — has competed in the Ultimate Fighting Championship and is the six-time champion of Japan's Pride Fighting Championships.
"He's huge in Japan because he won Pride there," said Thaisa Monteiro, whose husband, Leandro Lorenco, is a manager and partner at the gym. "When he goes to Japan, he can't walk. Everybody recognizes him."
Newspaper covers, magazines and advertisements featuring Silva fill the walls. In one, his image is being used to sell a shrimp dish.
"We have one where he's selling razors, too," Monteiro said.
Inside, the gym is filled with caged-off mat areas, a full-size octagon fighting area, and cardio and weightlifting equipment. Outside, there are giant tractor tires for flipping and sledgehammering.
The gym offers kid's classes in Brazilian jujitsu, Muay Thai, judo and Olympic-style wrestling. Adult class options also include boxing and mixed martial arts.
Monteiro said unlike a lot of Ultimate Fighting Championship gyms, Wand Fight is friendly and designed to build camaraderie, not just competition. She explained that by building up your sparing partner, you become better, too.
"Everybody here is very generous," she said. "We get a lot visitors from all over the world, and they say the same. What happens with a lot of the MMA gyms or martial arts gyms with an MMA focus is it's intimidating. But we're different. I don't know if it's the way Brazilians are. We hug and say, 'Make yourself at home.' But I think it's also because our students are very generous. And when someone comes in and they're not of that same vibe, they don't last long."
Monteiro is a first-degree black belt in taekwondo and won a South American Championship, three Brazilian National Championships and eight state championships. She pursued a bachelor's degree in physical education specializing in assisting special groups: seniors, pregnant women, diabetics and people suffering from hypertension.
Her husband was inducted into the USA Martial Arts Hall of Fame as Black Belt of the Year for his contribution to the martial arts community in 2015. In addition to plenty of titles of his own in multiple martial arts, Lorenco has used his training, a bachelor's degree in physical education and a master's in human movement sciences to train many world and national champions.
Other gym stars include coach Michael Costa, who served as the Muay Thai coach for four editions of "The Ultimate Fighter."
Visit wandfightteam.vegas or call 702-538-8300.
The Refuge Climbing & Fitness
The climbing gym at 6283 S. Valley View Blvd., Suite C, was established in October 2014 by longtime climber Jeff Clapp who founded Rockreation Sport Climbing Centers in Costa Mesa, Calif., Los Angeles and Salt Lake City.
Inside the 10,000-square-foot, warehouse-style space, visitors will find weights and fitness equipment, a yoga studio and bouldering terrain for all ability levels.
"We have everyone from brand-new beginners who have never climbed anything to people who are pro climbers who have trained here," manager Cody Hidler said.
The facility is membership based but has day rates.
"We do get a lot of walk-ins, especially being close to the Strip," Hidler said.
Unlike many gyms, the weekends aren't the busiest.
"Tuesday and Thursday nights are generally busiest," Hidler said. "A lot of our members will go climb outdoors on the weekends."
And there's not much of an influx of New Year's resolution crowds in January and February.
"We may get a little bit of that, but not that much," he said. "It's nowhere near fitness clubs. For us, it's more seasonal. Summer pushes a lot of people in with the hot weather. Summer here is pretty brutal. It's hard to get out and climb. It's good for the summer or rainy days."
Even for everyday visitors, the gym is constantly changing. Hilder said about once a week, his team takes all the holds off, washes them, and then puts them back up in new configurations.
"It's just always changing," he said. "It keeps it interesting for all the members, so they're not climbing the exact course."
As Hidler talked about the gym, Clapp applauded the team's efforts.
"Really nice job on the cave," he said. "That's exactly what we needed."
In addition to open climb time, the gym offers classes in basics and advanced techniques for climbers and a competition youth team for climbers ages 9 to 19. It also does birthday parties and kids' time classes for children as young as 5.
"We let younger kids come in and climb, but we don't put them in classes. They're tough. I have a 2-year-old, so I know," Hilder said.
Visit climbrefuge.com or call 702-383-0175.
UFC Gym
Inside a Target- and Kohl's-anchored strip mall on Blue Diamond Road, an Ultimate Fighting Championship gym owned by Chris Fuchs trains fitness fans and professional fighters.
Assistant general manager Cesar Lazcano led a tour of the gym at 4360 Blue Diamond Road, Suite 101, showing off the mat area, the boxing ring, the cardio and weight training areas, and the 30-plus punching bag space designed for kickboxing and more.
"I tell people who come over here, and say, 'Oh, it's a small gym,' (that) we're a small gym, but we are the whole package," he said. He added that when people go to big-box chain gyms, sure, they have a pool, "but over here, it's always the same people here. We'll always remember your name, we'll remember what your goals are, and we'll know which coach is right for you. We mold people here. That's the difference. Instead of selling a membership where you just come in and hope you know how to work out, we guide people. This is kind of like a dojo. That's the way we look at it."
Membership in the gym includes two fitness assessments a month where body fat and muscle tone are analyzed.
The gym hosts tournaments and has a bevy of professional coaches, many of whom are title holders and international competitors.
"The thing about our coaches here, they're all badasses, but they have the greatest hearts," Lazcano said. "We have nobody here who has an ego. That's what I love. They all look like mean polar bears, but they're teddy bears on the inside. That's why I love our coaches. They're smart people, too. They're not meatheads. They're not here to hurt people and put down people. They're here to to change people's lives."
Lazcano added that the gym can be fun, too.
"We even had an exciting professional wrestling show between Santa Claus and the Grinch. I dressed up as Santa Claus, and my old professional wrestling nemesis (from his days as a World Wresting Federation prospect), he volunteered his time to put on a show for the kids. The idea was if Santa Claus won, Christmas is saved, but if the Grinch won, Christmas is canceled. It was really fun."
Visit ufcgym.com/bluediamond or call 702-834-7055.
— Contact View contributing reporter Ginger Meurer at gmeurer@viewnews.com. Find her on Twitter: @gingermmm