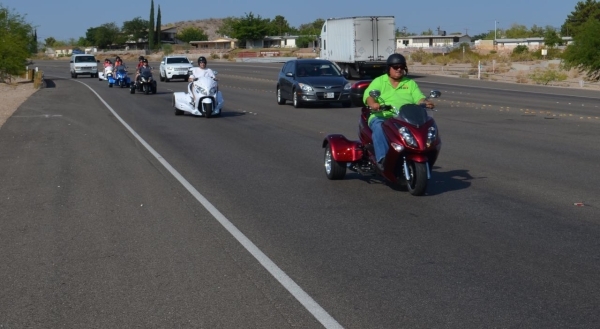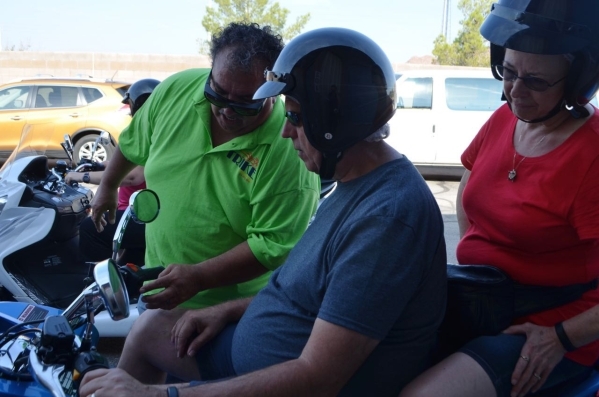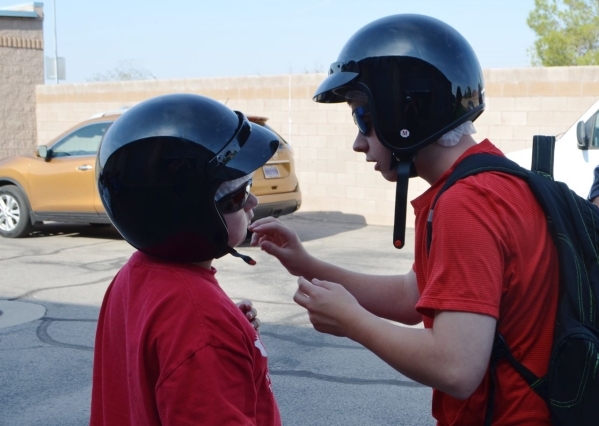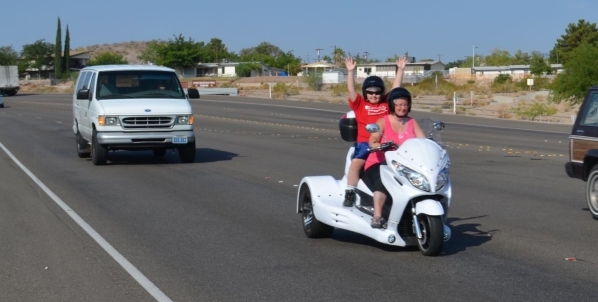 Southwest Las Vegas entrepreneur Marilyn Irizarry had always been curious about motorcycles.
"I was kind of scared of motorcycles, but I always kind of wanted to ride one," she said.
Her husband, Zion Irizarry, brought home a trike — a three-wheel, 300cc, automatic motorcycle.
"And I loved it," she said. "We fell in love with trikes."
As founders of Annie Bananie Las Vegas Tours, the Irizarrys already offer tours of Red Rock Canyon National Conservation Area, Mount Charleston, and area car and movie attractions, so adding trike tours seemed like a natural progression.
Vegas Trike Adventures, 5375 Cameron St., Suite M, was born after months of processing, which included getting the Nevada Department of Motor Vehicles to agree that the vehicles didn't require a special motorcycle license certification and figuring out what type of business license was necessary.
"It's been a long haul," Marilyn said. "The DMV didn't know where to put us."
In the end, they were declared a short-term lease company, which Marilyn said is a blessing in disguise because later, they'll be able to lease the trikes or sell them.
She said the tours are common in Europe, but not in the United States, and anyone with a standard driver's license could hop on a trike and ride with only a few minutes of instruction.
"They're so simple because they're automatic, and there's no balancing because it's a trike," she said. "Usually everyone is comfortable within 10 to 15 minutes. That's the beauty of them: They're so simple, and people feel safe."
So far, the company has a fleet of 23 trikes and offers two tours, one of Hoover Dam and the other of Grand Canyon West. They're hoping to add a few more, with possible tours of the Las Vegas Strip, Valley of Fire or Red Rock Canyon. Tour prices run around $250 for one trike, which can accommodate a driver and one passenger. Drivers must be 21.
A recent tour of Hoover Dam drew Vancouver tourists J.F. and Fiona Legault and their sons Breandan and MacKenzie and Chicago visitors Tom and Dawn Kurowski and their son Tom Jr.
Marilyn started the group off with the safety basics. No swerving, no trick riding, no slowing down and then speeding up. Try to maintain a safe driving distance, and no tailgating. Just drive the way you would drive in a car, she said.
But don't forget: It's different when you're outside versus in a car, she added. You have to remain aware of your surroundings.
"And you have to give pedestrians the right of way at crossings, especially at Hoover Dam," she warned. "They have a lot of crossings there, and believe me, they will be watching."
"We don't get points for pedestrians?" Fiona Legault asked playfully.
"No, you can't run over them," Marilyn answered.
Riders were informed that their helmets must stay on while they were on the trikes and that safety comes first.
"So no popping wheelies, right?" Fiona said.
"No, not this time," Zion answered.
"She's going to be protecting us," Zion said, pointing to his wife who was set to drive a support van behind the group. "She'll be behind us. So when she sees me blinking, she's going to pull over first and block anybody who will come in front of us. That's the idea. Be safe. So you don't have to worry about the kids."
He said the fastest the trikes would go is about 45 mph, and at the dam, they would be limited to 15 mph.
"What we want to do is go about 25 miles an hour for the beginning," he said. "And then I'm going to stop and ask everybody if you're doing OK because when it's your first ride, even 5 miles an hour seems like you're just crazy. Then you get used to the speed."
Zion said the plan was to stop plenty to allow riders to take pictures and so he could share information about the history and geology of the surrounding area.
"Please, feel free to ask questions," he said to the group. "I've been touring out here for many, many years. And If I don't know the answer, she will," he said, pointing to his wife.
"Or I'll make it up," Marilyn said, quickly adding, "just kidding."
Visit vegastrikeadventures.com or call 702-685-9825.
— Contact View contributing reporter Ginger Meurer at gmeurer@viewnews.com. Find her on Twitter: @gingermmm.
Vegas Trike Adventures
5375 Cameron St., Suite M
Call 702-685-9825 or visit vegastrikeadventures.com