Special license proposed for LV 'smoking' lounges
October 15, 2014 - 2:23 pm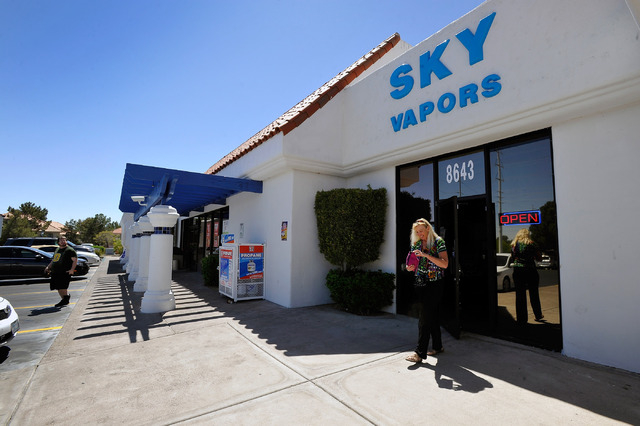 You could soon need a new license to sell most things that puff in Las Vegas.
City leaders on Wednesday took first steps toward passing a bill that would require the city's tobacco purveyors and "smoking lounge" operators to pony up for a new city-issued privileged business license starting next year.
The ordinance, meant to snuff out sales of synthetic hallucinogens known as "spice" or "bath salts," takes aim at smoke shops and lounges that sell salvia divinorum — a legal hallucinogen that's native to Mexico — or anything that might aid in the consumption, production or preparation of the drug.
It also targets any and all smoking lounges where a substance with "biologically active" amounts of nicotine — excluding U.S. Food and Drug Administration-approved stop-smoking aids — might be consumed.
Dozens of area businesses sell one such product as-yet unapproved by the FDA: Electronic cigarettes, the liquid nicotine-vaporizing tobacco alternative that Goldman Sachs recently pegged as one of the world's eight "most disruptive" new technologies.
Las Vegas has long been a thriving part of the exploding $2.5 billion e-cig market, according to Sky Vapor owner Lonnie Paulsen.
Paulsen, one of an estimated 100 area e-cig purveyors, hopes the city's newly proposed smoking lounge rules won't snuff out that growth.
A preliminary version of the smoking lounge bill advanced by city leaders this week would force Paulsen's employees to obtain a Clark County health card and would make him post a sign barring minors from the premises without a parent or legal guardian.
Violations of the draft ordinance, which was passed on to the City Council's recommending committee for consideration later this month, could see operators who don't adhere to the law face up to a $1,000 fine or as many as six months in jail.
"It's totally overkill," Paulsen said of the bill. "I'm classified as a tobacco shop, but I don't sell anything that burns, so I don't know what (the ordinance) has to do with me."
Bill sponsor Steve Ross said the bill is simply meant to stop the sale of "crack pipes" and bath salts at area smoke shops.
He hopes to see it go up for final City Council approval by early November.
"I'm less concerned about the vape places," the councilman said Tuesday. "It was the spice and the bath salts that were the source of complaints over the past several years.
"This (ordinance) just gives us the ability to go into these places and say 'Hey, play nice.'"
Business Licensing Director Karen Duddlesten, the city staffer charged with issuing and collecting fees on the newly proposed smoke shop license, agreed that it was never the city's intent to go after e-cig retailers.
"They are just a general license with us, not a tobacco shop," Duddlesten said of the city's e-cig business owners. "The issue we have here is with businesses that have products that appear to be marketed specifically to minors.
"The councilman's concern is that we make sure we have the right operators here in town."
The ordinance doesn't specify how much new privileged smoke shop licenses might cost. A business impact statement attached to the new bill projects that if it passed, city officials would spend $13,000 a year enforcing the new rules, and expect to collect $6,000 in additional annual revenue.
Contact James DeHaven at jdehaven@reviewjournal.com or 702-477-3839. Find him on Twitter: @JamesDeHaven.