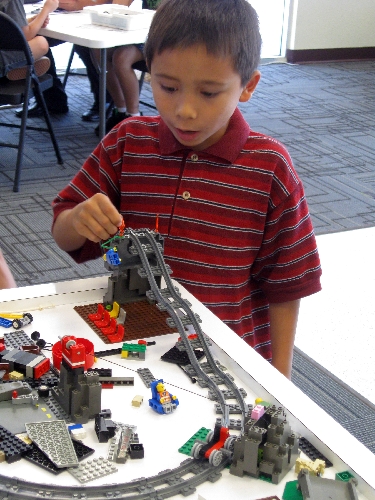 Message to Centennial Hills kids — remaining idle during spring break won't be made easy.
However, staying busy at a close-to-home camp will.
Several Centennial Hills organizations plan to offer day camps for youngsters on school leave.
Wranglers wanted
J.R. Pony Farm is looking for 15 wannabe cowpoke campers.
From 9 a.m. to 1 p.m. Monday to April 6 , campers in first through fifth grades are to learn the ins and outs of farm life.
Participants get to buddy with one of the farm's animal inhabitants , which include ponies, donkeys, llamas, sheep, pigs, goats, chickens and rabbits and one horse. The youngsters then care for their animal of choice for the week.
Tasks including grooming, feeding, picking up waste, cleaning stables, picking hooves and saddling, which are planned alongside fun and educational activities on the 3-acre farm at 1753 Fairhaven Ave. , manager Kathleen Meehan said.
"They are going to learn responsibility," she said. "It takes a lot of responsibility to take care of animals and a lot of time to feed and care for them and be gent le with them."
The farm has hosted camps for four years and invited guest speakers such as a farrier to instruct participants on how to trim horse hooves and avian experts to lead bird safaris.
Space is limited to 15 campers. The fee is $175 per session , and a sibling discount is available.
Spots are available for summertime sessions, set for June 11-15, June 25-29 and July 9-13 .
For more information, visit jrponyparties.com or call 631-4142 .
Fun to play at the YMCA
New activities and camp favorites — group games, swimming and character development activities — await youths ages 5 through 14 for Spring Break Camp, set for 7 a.m. to 6 p.m. Monday to April 6 at the Centennial Hills Community Center YMCA , 6601 N. Buffalo Drive .
Registration is open for a range of camps planned at the center.
General camps are to include: Kinder Camp for 5-year-olds, $145 for the week; Adventure Camp for ages 6-11, $136 for the week; and Teen Camp for ages 12-14, $148 for the week or $46 per day.
Field trips for these camps are in store, too. A Sloppy Sundaes event for all ages is planned for April 4 for an additional $5 charge . A trip to a laser tag center is planned for 10 a.m. to 2 p.m. April 3, and the fee is $35 .
Week long specialty camps tap into the culinary or competitive interests of participants.
A football and cheerleadin g camp for those ages 5-14 is planned. Campers are to learn drills and skills and perform for fellow campers at the end of session. The fee is $166.
Top Chef Camp is to put campers ages 5-14 in the kitchen to make creative and healthy recipes. The fee is $180.
For more information, call 478-9622 .
Building leadership
Campers looking for a constructive spring break can turn their focus to the Movie Making Camp at Bricks 4 Kidz Creativity Center , 7910 W. Tropical Parkway, Suite 150 , from Monday to April 6.
Girls and boys ages 5-12 are to create a movie idea and finish a stop-motion production with mostly Lego- or Duplo-brand products, a digital camera and computer software, center director Erin Radke said.
"They take all the technology they learn and create," she said. "The kids have a lot of fun, and they're learning as they're building."
Staff members lead builds and instruct on architectural and engineering fundamentals. The pieces are then used in the mini movies, Radke said.
"It engages them to have math and science in mind," she said. "When they're building, you can see their minds moving. Parents know they are having fun and getting an experience you can't get anywhere else."
A souvenir DVD of their work is given to campers, Radke said.
Full-day camp is planned from 8 a.m. to 5 p.m. and costs $225 for the first child and $200 for the second. Half-day camp is set for 9 a.m. to noon or 1-4 p.m. and costs $140 per child .
For more information, call 998-4400 or visit bricks4kidz.com/nevada-lasvegas .
More horsing around
Another option for horseback riding and care is Sagebrush Ranch, 10141 Azure Drive .
From 8 a.m. to 4 p.m. Monday to April 6 , campers ages 5 or older are to learn the fundamentals of horsemanship and Western riding.
The fee is $160 . Registration is required. A printable release is available online.
Memorial Day and summer camps are planned , too. For more information, visit sagebrush-ranch.com or call 645-9422 .
Day stays
The city of Las Vegas invites parents to enroll children in day camp at Cimarron Rose Community Cente r, 5591 N. Cimarron Road .
The program is open to kids 6-11 years old only . The sessions are 7 a.m. to 6 p.m. Monday to April 6 .
Cost is $75 per child for the week and $70 for additional children per week .
For more information, call 229-1607 .
Contact Centennial and North Las Vegas View reporter Maggie Lillis at mlillis@viewnews.com or 477-3839.