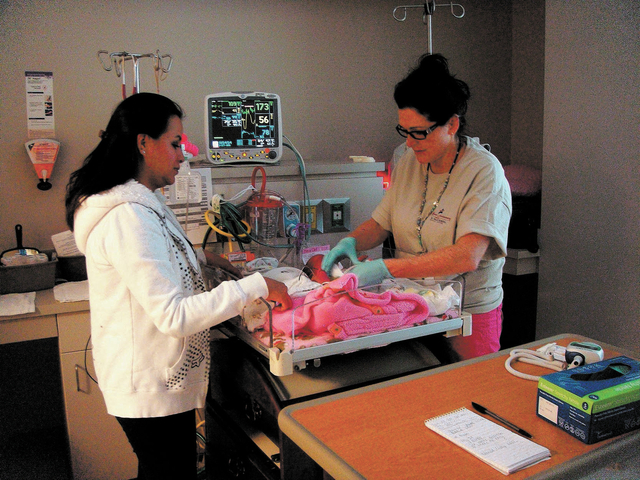 Leonard Freehof, the CEO and managing director of Spring Valley Hospital, stands before a sea of tan T-shirts, scrubs and hairnets in the tiny hospital lobby at 5400 S. Rainbow Blvd.
More than 100 employees and physicians gathered to celebrate the hospital's 10th anniversary on Oct. 2. The celebration included former CEO Karla Perez, Assemblyman Jason Frierson and Dr. Peter Sculley, chief of staff.
"It's kind of like watching your baby grow up," said Perez. "It's incredibly hard for me to believe that 10 years ago we opened these doors for the first time. Time really does fly by."
Perez, who is the vice president of Universal Health Services, said she remembers standing in the emergency room as the hospital's CEO and waiting for the first patient to arrive.
"We opened our doors at 3 p.m. Oct. 2, 2003, and our first patient arrived at 3:01 p.m.," Perez said. "They were circling the hospital just waiting for us to open."
According to Freehof, the hospital started out with about 300 staff members and 178 beds. Ten years later, the hospital staffs about 950 employees and 237 beds.
"We have the largest amount of complementary services in any hospital in the southwest part of the city," Freehof said.
Since opening, the hospital has added a number of services, including neurosurgery, open-heart surgery, cardiac catheterization labs, an inpatient acute rehabilitation center and a level II and III neonatal intensive care unit.
"It's exciting to see how much we've grown and progressed," said Dr. Kathleen Cornia, medical director of the emergency room. "We improved the care and safety of our patients with the services we offer."
Despite her circumstances, patient Nadia Killen, a West Las Vegas resident, described the patient care at Spring Valley Hospital as "wonderful."
On July 24, Killen gave birth to her daughter, Summer Jewel Russell, who was immediately admitted to the hospital's level III NICU.
Summer, who was 16 weeks premature, weighed only 1 pound, 13 ounces.
"It was scary, let me tell you," Killen said. "It was overwhelming to come in and see all these machines and wires and needles. It was more equipment than baby."
According to Killen, her pregnancy wasn't easy. She was constantly sick to her stomach and was rushed to the emergency room six times.
"Name the problem, and I had it," she said. "The last problem I had was severe preeclampsia. That's what made me have (Summer) so early."
But after a week in the NICU, Killen said she was able to rest assured knowing her daughter was well taken care of.
"The best thing here is that they still have a human touch," she said. "Even though some have been doing this for so long, they don't act like a robot, and that's important to me."
Killen said she can call the hospital at any hour to check on her daughter. She said the doctor also regularly calls her at home to give updates.
"The staff has a lot of knowledge and gives a lot of support," Killen said. "They're attentive to all the babies. I see them rushing and running whenever an alarm goes off."
Killen said Summer has overcome a lot of obstacles in her short life. Within three months, she has been placed on a feeding tube and given two blood transfusions.
Every Monday, nurses check her blood count. Every Wednesday, she has eye exams.
"With every problem we could have with a premature baby, we've been very lucky," Killen said. "She's responded to everything perfectly."
On Oct. 2, Summer was taken off oxygen support to begin breathing on her own.
"She was on a ventilator for a long time, and she's been on oxygen since the day she was born," said NICU nurse Cissy Hannold. "This is a big step for her."
Hannold said doctors hope Summer will be able to go home around Oct. 29, her birth date.
"To put someone's pride and joy in your hands, it's a lot of responsibility as a nurse," she said. "You live and die in every moment with the parents. You're on the roller coaster together."
According to Freehof, the hospital has delivered about 20,000 babies, performed 60,000 surgeries, admitted 123,000 patients and tended to 365,000 patients in the emergency room since 2003.
"About 30 percent of our patients are tourists visiting Las Vegas," Cornia said. "Spring Valley Hospital is a community hospital, but we're not only serving the community. We're serving people from all over the world."
Cornia said the emergency room sees about 130 patients a day, nearly three times the amount in 2003.
"We gathered more nurses and doctors for assistance over the years as our volume and patient care increased," she said. "I hope we continue to add services to better serve our community."
In addition to improving patient care, the hospital continues to seek out new technology.
The hospital added the da Vinci robotic system in August 2012 to perform single-site surgeries using only one incision. A biplane angiography suite was also recently added to perform endovascular coiling on patients with brain aneurysms or strokes.
"It allows us to do treatment where they enter an artery and put in coils to stop bleeding in the brain," Freehof said. "It's phenomenal technology, and we've saved a lot of lives here because of it."
Since being recognized as a primary stroke center and an accredited chest pain center in 2009, Spring Valley Hospital has also continued to be awarded for its cardiovascular and neurological services.
It is only one of two facilities in Nevada that was recognized with a STEMI Receiving Center award, according to Freehof.
"Heart diseases and strokes are among the top five killers in the country," he said. "We put in a lot of training, processes and protocols so our patients get the best diagnosis and best care as quickly as possible."
If the hospital's walls could talk, Perez said they would share stories of joy and tears of the past decade.
"They would tell you of all the thousands of deliveries, the lives saved and the lives our staff has touched in the last 10 years," Perez said. "For those who have passed on within our walls, we hope they're in a better place."
For more information on the hospital, visit springvalleyhospital.com.
Contact Southwest/Spring Valley View reporter Caitlyn Belcher at 702-383-0403 or cbelcher@viewnews.com.