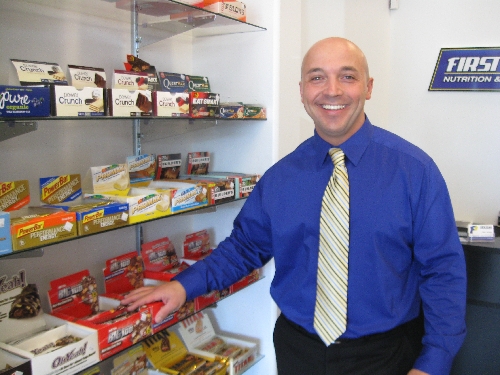 Darin Marques likes being in first place. He took that spot as the winner of the 1992 Mr. Teen Las Vegas bodybuilding contest.
He also took first in the 1997 Mr. Teen Nevada.
Now, he has opened First Place Nutrition and Diet Center, 9691 Trailwood Drive, Suite 109. His nutritional knowledge comes from hands-on work in the field.
"One of the things I try to bring back to health and fitness is, people want education, they want to learn about products," he said.
To that end, First Place Nutrition hosts free weight loss meetings at 5 p.m. Wednesdays and 11 a.m. Saturdays. The mini-seminars feature doctors, dieticians and fitness trainers. The first one Jan. 14 covered injury prevention and sports nutrition. Marques also plans to offer free yoga classes at 9 a.m. Saturdays.
Merchandise in the compact, 1,000-square-foot store is on wheeled racks that can be rolled aside to accommodate as many as 20 attendees.
The store plans to host a women's health fair at 5 p.m. Wednesday. Expect free samples, raffles and more.
He couldn't have chosen a better spot for his store. Not only is 24 Hour Fitness just steps away, but his neighbors include Curtis Body Shop Exercise Studio and Curves.
First Place opened in late December. On staff is Paul Goodman, a long-drive golf champion who trains athletes. Marques works with a board of advisers that includes doctors and nutrition specialists.
For a time, Marques worked as a distributor but grew tired of pushing for the bottom line. He said he missed retail and talking one-on-one with customers and helping them achieve their fitness goals.
"It's what drives me," he said. "There's nothing better than talking to the consumer and getting the feedback. There's nothing better than somebody coming in (for help), and two weeks later, they come back and say, 'You've saved my life. I feel so much better. I've lost 10 pounds.' "
Greg Brown, a personal trainer, has known Marques for about 10 years. Brown can be seen on "Pawn Stars," a reality TV show.
"He's very knowledgeable," he said of Marques. "I rely on him considerably … I'm ahead of the curve on anti-aging, so I go to him to learn about supplements and get the truth behind the advertising, so to speak."
Marques' background in manufacturing led to him having his own products.
He plans to start that facet of the industry again, introducing new products and testing the market here and gathering input from users. His products then will be sold at First Place. Besides supplements and nutrition items, the shop carries skin care for women and fitness apparel, including the popular Lucy brand.
Lexi Berriman, a personal trainer at 24 Hour Fitness, said Marques has helped out a number of her clients.
"He's teaching me things," she said. "Anything that I don't know, he always (has) the answer."
Marques said he can guide those on Jenny Craig, Weight Watchers or any other weight loss program with weigh-ins and fat monitoring through a special machine. From there, his nutritional training kicks in to suggest meal spacing and preparation tips.
"The thing that I do is teach them how to eat, how to read labels," he said. "I teach them how they can go into a Terrible Herbst and have a protein bar and the protein shake, and they get the right amount of calories, and they can continue on with their goals. It's not just 'here, eat this for lunch, eat this for dinner.' That's unrealistic … Lack of convenience is the No. 1 reason people's diets fail."
Hours are from 10 a.m. to 7 p.m. Monday through Friday and 10 a.m. to 6 p.m. Saturday.
For more information, call 255-0606.
Contact Summerlin/Summerlin South View reporter Jan Hogan at jhogan@viewnews.com or 387-2949.