Street names honor fallen Metropolitan Police Department officers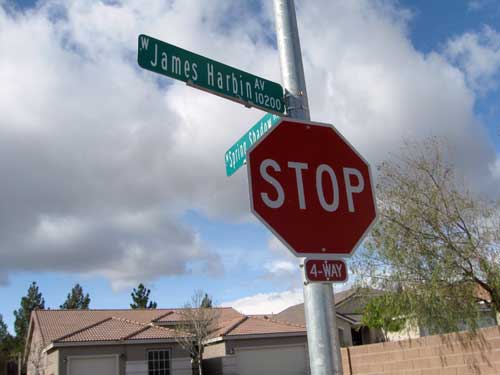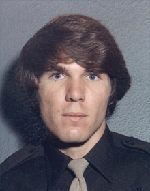 Sometimes a street is named for a hero. Sometimes a whole neighborhood is.
A gated neighborhood near Gowan Road and Hualapai Way, not far from the Metropolitan Police Department's Northwest Area Command, has its streets named for a handful of law enforcement officers who paid the ultimate price: John Bailey Street; Paul De Weert Court; Wilbur McGee Court; Donald Weese Court; and Clark Woolridge Court.
Helen Rawdin moved into the neighborhood about 10 years ago.
"It's so nice that they're honored," she said. "I was very proud to see Las Vegas do this. I'd never heard of it being done before … and it's a pleasure to live so close to the police department."
One of the streets is named James Harbin Avenue.
James Walter Harbin II was young to be a hero —- only 22 —- and had been with the department a mere six weeks. He was killed on March 18, 1979.
Harbin was a corrections officer who had joined the Metropolitan Police Department on Feb. 7, 1979. He attended Rancho High School, where he was heavily involved with the ROTC program. He quit school after his junior year to join the Marine Corps.
Almost immediately after being discharged from the military, he joined the police department .
"It takes real courage and commitment to be the one out there doing an incredible job in the face of danger, so I have the greatest respect for all (police) officers for doing one of the toughest jobs in the world," said Nancy Oesterle, senior judge.
That fateful day, Harbin stopped at a convenience store on his way to work and walked in on a robbery in progress. He was shot and killed almost as soon as he crossed the thres hold.
The store clerk had tried to warn Harbin of the situation, according to newspaper articles, but probably because the young corrections officer was in uniform —- one almost identical to a patrol officer's —- the robber opened fire.
Harbin never even had time to pull a weapon.
A fellow officer told reporters that Harbin had stopped to buy a pack of Life Savers. Harbin died on the way to the hospital.
The suspect was apprehended after holding police at bay for several hours.
Harbin was survived by his parents, who are both now deceased.
Officer Jay Rivera, with the department 's public information office, said the suspect saw Harbin as an immediate threat.
"When people take on the job of a police officer, when they put on the badge, everyone knows the risks that come with it, that they can be asked to pay the ultimate price," Rivera said. "So any time the community can come back and memorialize them is an honor, especially for their families."
The housing development is near the department 's Police Memorial Park, 2350 Metro Academy Way, which pays homage to all of the department's fallen officers.
For more information, visit lvmpd.com and click on "police memorial" at the bottom of the page and then "fallen officers."
Contact Summerlin and Summerlin South View reporter Jan Hogan at jhogan@viewnews.com or 387-2949.
Naming Las Vegas
The history behind the naming of various streets, parks, schools, public facilities and other landmarks in the Las Vegas Valley will continue to be explored in a series of feature stories appearing in View editions published on the first Tuesday of every month.
If you're curious about how or why something got its name, post a comment on our Facebook page, facebook.com/viewnewspapers, or email sblust@viewnews.com.
Thanks for reading View.