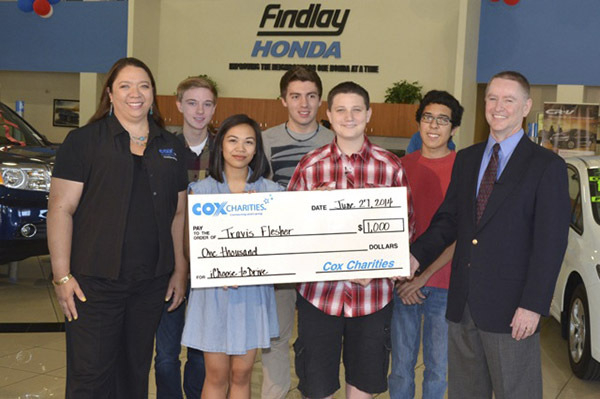 If production studios are interested in future employees, they need look no further than five talented students at Northwest Career and Technical Academy for talent.
The teenagers are team leader Travis Flesher and teammates Sandra Pena, Garrett Hunt, Erick Rodriguez and Chase Thelen, who combined their creativity to capture first place in the inaugural Findlay Automotive/Cox Communications iChoose to Drive Cox Safe Driving Campaign.
The award was presented at Findlay Honda Northwest, where the team and the school received checks for $1,000 each.
The initiative required local teens ages 13-18 to create a 30-second public service announcement about the dangers of distracted driving. With cellphone usage combined with texting, distracted driving is a huge concern.
Created, directed and produced in record time, the students addressed the cause in a behind-the-wheel education safety video, to gain first place.
In fact, Flesher wasn't even 16 years old when he and his classmates decided to produce the PSA. Using the theme "Don't Die to Send a Reply," the quintet generated a top-flight PSA. To borrow a line from the movie industry, the message is an award-winner.
"We edited, directed, shot and revised the PSA in four days, said Flesher, a 16 year-old who will enter his junior year at the school in the northwest valley. "When we learned of the contest, we were all in video production class, so we decided to enter."
Flesher's team plans to create more work like its latest effort. "We're just going to make short movies and enter more contests," Flesher said. "This is a huge deal for me and my entire team."
The winning spot will air July 7-Aug. 31 on Disney XD, ESPN, ABC Family, Lifetime, MTV, MTV2, Nickelodeon, TLC, TNT and Cartoon Network.
According to studies, an estimated 660,000 drivers in the United States use cellphones while driving. In many cases, texting, making phone calls or sending emails have resulted in serious — and sometimes deadly — automobile accidents.
The 15- to 20-year-old age group accounts for 6 percent of all drivers but 10 percent of traffic deaths and 14 percent of police-reported crashes with injuries. Each year in Nevada, there are more than 3,500 distraction-related crashes. Drivers under the age of 20 are the largest segment of distracted drivers.
Studies show that 21 percent of drivers 15 to 19 years old are distracted by the use of a cellphone. Texting creates a crash risk 23 times more likely than driving while not distracted. In addition, sending or receiving a text takes a driver's eyes off the road an average of 4.6 seconds — the equivalent of driving the length of a football field at 65 mph.
Findlay Automotive Group was founded more than 50 yeas ago by the late Pete Findlay, whose son, Cliff, now spearheads automobile dealerships in Nevada, Utah, Arizona and Idaho.
For more information, visit www. findlayauto.com.