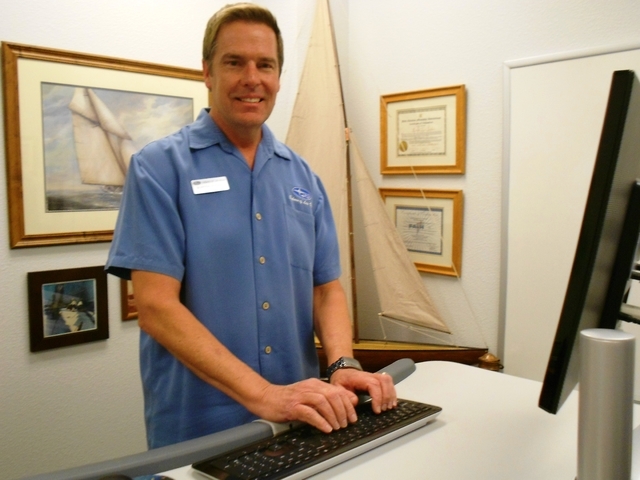 In the car business, general managers are known as being survivors in what can be a complicated and stressful industry.
However, in Subaru of Las Vegas General Manager Burton Hughes, the Findlay Automotive Group has a real survivor.
Hughes, who will be 57 in December, recently underwent open heart surgery to correct a Mitral Valve Prolapse, a failing heart valve that led to dizziness, weakness and light-headedness for about 10 years.
The trooper that he is, the native of California and Hawaii was back at work six weeks after the surgery at St. Rose Dominican Hospital Siena Campus. Conducted by Dr. Neel V. Dhudshia MD, a highly regarded thoracic and cardiac surgeon, Hughes experienced a life-altering and life-saving experience and knows first-hand about angels in his life.
"With the strong faith that I have and belief that God puts people into our lives when we really need them," said Hughes, who is a 15-year resident of Las Vegas and a 10-year member of Subaru of Las Vegas.
"When you go through something like this, I was supported by all of the Findlay people along with my family – and even by the executives with Subaru America as far away as Cherry Hill, N.J.
"I can't thank everyone enough."
Like so many others in the car business, Hughes had a tough time dealing with the time off and couldn't wait to get back to the dealership at 5385 W. Sahara Ave.
"I don't like to be idle," he said. "The last thing I wanted to do was sit around. Getting back to work was a real blessing. In fact, some people said I was coming back too soon, but in my case, I found that being at the dealership helped me heal."
Hughes especially praised his staff and co-workers at the dealership.
"I had such an awesome management team going into the surgery," Hughes said.
"Otherwise, I wouldn't have felt good about being away for six weeks."
Hughes said General Sales Manager John Ring and Parts and Service Director Ken Mnatsakanyan were especially helpful during the ordeal while he was on medical leave.
"From top to bottom, everyone at the dealership was a huge help, but Ken and John were especially helpful.
Hughes said that doctors predicted that it would take six months to recover and a year before the chest would totally heal.
"Everything will be completely healed in a year," said Hughes, an avid health enthusiast who loves to swim and probably did so well after the surgery because of his physical fitness. "I'm actually in better shape now than I was before the surgery."
Further information regarding Subaru of Las Vegas can be found by calling 702-495-2100 or by visiting www.subaruoflasvegas.com.
The Subaru dealership is one of the oldest franchises without Findlay Automotive Group.
Findlay Automotive Group was founded more than 50 years ago by the late Pete Findlay, whose son, Cliff, now heads operations in Nevada, Oregon, Utah, Idaho and Arizona.