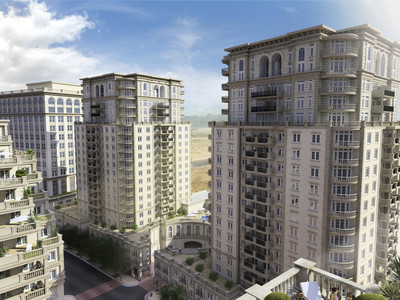 Sullivan Square's amenities have proven to be a popular feature for those looking to purchase a home in the new, 16.5-acre mixed-use community located in southwestern Las Vegas, according to Nick Summerville, project manager for GSG Development, the developer of the community.
"The amenities at Sullivan Square are designed with residents in mind," he said. "Conveniences such as our concierge service and 24-hour valet parking will make residents' lives easier, giving them more time to enjoy the things that are really important to them."
All residents will have access to community amenities including a 1.5-acre park; dog park; and a market street filled with 25 locally owned shops and services, including a full-service deli, neighborhood pub, fine restaurant, florist, fresh fish monger, wine shop, coffee shop and bakery.
Construction crews broke ground on the project July 31.
An exterior amenities deck will be available for residents. Features include walking paths, sitting areas and tennis courts. The pool area features cabanas, spa, sunbathing decks and outdoor barbecue areas.
Indoor conveniences include two movie-screening rooms, guest suites, lounges, billiards room and a party room with a full-service kitchen. Residents also will have access to a 16,000-square-foot fitness center with 50 exercise machines, free weight area and steam rooms.
Upon completion, Sullivan Square will consist of about 1,300 residences. Units in Sullivan Square's first phase range from 500 to 2,000 square feet with prices ranging from the low $300,000s to $1.8 million. In addition to Madison I condominiums, live/work spaces and brownstones, the development will offer mid-rise terraced condominiums, Chicago-style lofts and townhomes, completing the community's six options of urban living. Amenities for these additional living options are currently being designed.
Sullivan Square is located at Sunset Road and Durango Drive off Interstate 215, the Las Vegas Beltway. To visit the from 215 South, exit Russell Road and head north on Frontage Road. Turn east on Hacienda and south into The Park at Spanish Ridge.
The sales center is at 8930 Spanish Ridge Ave. and is open from 10 am to 6 p.m. daily. For more information, call 733-1108 or visit sullivansquare.net.
Sullivan Square is being codeveloped by Glen, Smith & Glen Development and Harcourt Developments.
Glen, Smith & Glen Development is a Las Vegas-based commercial and residential development firm, and Harcourt Developments is based in Dublin, Ireland.
Harcourt Developments has financed 100 percent of the project's building costs.