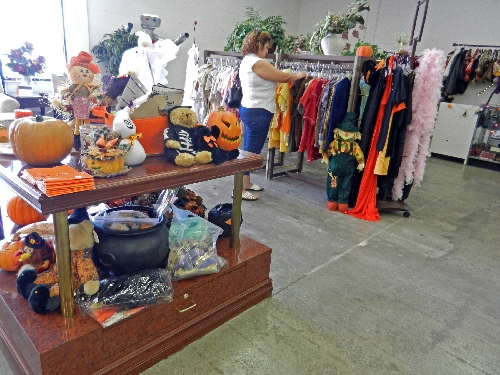 HAIRCUT-A-THON, BOWLING EVENTS TO SUPPORT CURE 4 THE KIDS FOUNDATION
The second annual Haircut-A-Thon is scheduled from 10 a.m. to 6 p.m. Sunday at Mosaic Salon, 8320 W. Sahara Ave., to raise funds for the Cure 4 the Kids Foundation.
Prices are $25 for haircuts, $25 for blow drys, $25 for pedicures and $15 for manicures. Appointments can be scheduled by calling 732-0232 or via email at info@cure4thekids.org.
The Cure 4 the Kids Foundation plans to host a Bowl-A-Thon at 1 p.m. Sept. 24 at the Suncoast Bowling Center, 9090 Alta Drive. The entry fee is $20 per bowler. To register, visit cure4thekids.org/currentevents.asp or call 732-0232.
The Cure 4 the Kids Foundation supports the Children's Specialty Center of Nevada, the state's only nonprofit pediatric cancer outpatient treatment center. The foundation also supports the Hemophilia Treatment Center, the state's only federally recognized treatment center that treats clients across Nevada.
FINANCIAL SEMINARS TO FOCUS ON SOCIAL SECURITY
Bartone Swinn Group Financial Advisors announce two free Social Security seminars, scheduled for 10 a.m. Thursday and 5 p.m. Sept. 20 at the Bank of America/Merrill Lynch offices at Tivoli Village, 400 S. Rampart Blvd., Suite 300.
Rita Meier, Nevada public affairs specialist from the Social Security Administration, is slated to be available to answer questions.
For more information or to RSVP, call Rich Bartone at 227-7034 or email richard_bartone@ml.com.
CAREGIVER ENCOURAGEMENT GROUP TO MEET SEPT. 25
A support group for caregivers is planned the fourth Sunday of each month at 3:30 p.m. at Desert Spring United Methodist Church, 120 N. Pavilion Center Drive (across from Palo Verde High School). The next one is set for Sept. 25.
For information, call Sandy Krug at 255-0318 or the Rev. Cameron Johnson at 233-3378.
GOLFERS, TENNIS PLAYERS CAN SIGN UP FOR CLUBCORP CHARITY CLASSIC
The 2011 ClubCorp Charity Classic is planned for 10 a.m. Sept. 30 at Canyon Gate Country Club, 2001 Canyon Gate Drive.
The day is set to begin a with a tennis tournament, followed by a golf tournament.
Since its inception in 2007, ClubCorp's Charity Classic has raised nearly $6.5 million benefiting charities including the Muscular Dystrophy Association's Augie's Quest, Susan G. Komen for the Cure, Boys & Girls Clubs and the ClubCorp Employee Partners Care Foundation.
The cost is $100 per person for golf and includes golf, lunch, prizes, an awards dinner and two drink tickets. Tennis is $50 per person and includes tennis, lunch, prizes and an awards dinner. Dinner is $25 per person and includes awards and a silent auction.
For more information, call 363-0303 or visit clubcorpcharityclassic.com.
JUSTIN TIMBERLAKE SHRINERS HOSPITALS FOR CHILDREN OPEN COMING SOON
The 2011 Justin Timberlake Shriners Hospitals for Children Open is slated for Sept. 25 through Oct. 2 at TPC Summerlin, 1700 Village Center Circle. A variety of well-known golfers are scheduled to participate.
Shriners Hospitals for Children is a health care system of 22 hospitals providing specialty pediatric care, research and teaching programs. Children up to age 18 with orthopedic conditions, burns, spinal cord injuries and cleft lip and palate are eligible for admission and receive care in a family-centered environment regardless of the patient's ability to pay.
The PGA Tour and its tournaments have given nearly $1.5 billion in overall charitable contributions.
For more information, visit jtshrinersopen.com.
CITY ACCEPTING YOUTH GRANT APPLICATIONS
The city of Las Vegas is accepting grant applications for youths looking to help improve their communities. As part of the Youth Neighborhood Association Partnership Program, the city is offering grants of up to $1,000 for young people to create and implement neighborhood-based service learning projects of their own design. Schools, school classes, churches and community and civic groups that are youth-driven are encouraged to apply.
Applications will be accepted through Oct. 10 by visiting lasvegasnevada.gov/apply/grants.htm.
YNAPP is designed to use the gifts and talents of young people while helping them grow into community leaders. The program challenges youths to take stock of their community, identify a community need or issue, and then develop a project to address that need, with the assistance of YNAPP funding provided by the city of Las Vegas.
Grants are available for projects that are developed and implemented by youth with adults serving as advisers, address a neighborhood need, occur within Las Vegas city limits, match grant funds with volunteer labor and partner with a neighborhood association in city limits. Donations of materials and in-kind services also are permitted. City staff can assist with locating a nearby neighborhood association.
For more information, contact YNAPP coordinator Lisa Campbell at 229-5406 or email lcampbell@lasvegasnevada.gov.
REGISTER FOR ADULT SOFTBALL LEAGUES
Adult Softball Leagues for players ages 18 or older are planned from 6:30 to 10:30 p.m. Monday through Saturday beginning Oct. 3 at Doc Romeo Park, Lorenzi Park and Veterans Memorial fields.
Registration runs through Friday.
The cost is $475 per team, plus umpire fees of $192.
Divisions include Coed Rec, Coed D, Men's D and Men's D+. The season includes seven weeks of regular play (one doubleheader per week) plus an end-of-season tournament or seeded play.
Teams can register online at clvbeyondtheneon.com or in person at the municipal sports office on the second floor of City Hall, 400 Stewart Ave., in the Parks, Recreation and Neighborhood Services Department. For more information go online to lasvegasnevada.gov/adultsports or call 229-1642.
NEVADA COOPERATIVE EXTENSTION OFFERS INFORMATION ON INVASIVE SPECIES
University of Nevada Cooperative Extension Master Gardener volunteers are working with community members to maintain the health of Nevada's urban forests. Through the Citizens Monitoring for Invasive Bark Beetles program, Master Gardeners provide information on maintaining tree vigor by recognizing problems as they first arise, before extensive damage occurs.
The information is offered free. Homeowners, landscapers and community groups can arrange to have a Bark Beetle workshop on their site or at the Cooperative Extension office in Las Vegas. For more information, contact Dr. Angela O'Callaghan at 257-5581 or email ocallaghana@unce.unr.edu.