Summerlin-area neighborhood news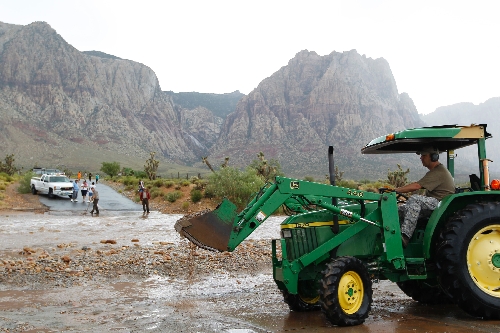 NEW FIRE STATION TO BREAK GROUND
Join the Las Vegas City Council and Ward 4 Councilman Stavros Anthony for the ground breaking of Fire Station 107 at 9 a.m. Monday at 9398 Sundial Drive in Sun City Summerlin.
The new 7,800-square-foot station is scheduled to open in spring 2012 and serve the residents of the surrounding area. Refreshments will be served while supplies last.
For more information, visit lasvegasnevada.gov.
TRAVEL CLUB TO MEET AT TAP HOUSE
The Las Vegas Single Social and Travel Club for Mature Adults plans to meet at 6:30 p.m. today at the Tap House, 5589 W. Charleston Blvd.
The club invites prospective members to its meetings, which are scheduled for the last Tuesday of the month
The meet-and-greet portion is set to start at 6 p.m. Meeting discussions focus on day trips, local events, in-state and out-of-state traveling, cruises and international traveling. A guest speaker is frequently featured. The meeting closes at about 7:30 p.m., and appetizers are served as the group mingles.
For more information, call
888-324-2028.
Kidville opens at Tivoli Village
Kidville has opened at 420 S. Rampart Blvd., Suite 130, inside Tivoli Village at Queensridge.
Specializing in early childhood development, the 10,000-square-foot facility offers a roster of class options for children ages newborn to 6.
Sample classes include: Little Maestros, an award-winning musical journey featuring four live musicians; Big Muscle Playtime, where tots jump, tumble, lift, swing, play and get excited about exercise; Run, Wiggle, Paint & Giggle, a pre-nursery program that uses stories, ball play, sensory play, block exploration, music and more; My Big Messy Art Class, where children are free to smear, squeeze, splatter and explore their artistic abilities ; Hip Hop Dance Party, a high-energy dance class aimed at improving rhythm; and Kidville Sports, a forum for kids to develop coordination and strength in a non-competitive environment.
Kidville also offers birthday parties with 16 different themes such as Jumpin' Gym Party, Dino-Mite Party, Sizzling Spectacular Science Party and Glamour Girl Party.
To view class schedules or to enroll, visit k idville.com or call 233-9253.
EVENT TO RAISE MONEY FOR high school student with cancer
Kassidy's Yard/Bake sale is scheduled for 8 a.m. to 3 p.m. Friday and Saturday at Centennial High School, 10200 Centennial Parkway.
The event is to raise money for Kassidy Merritt, who has cancer. She is a softball player and a classical violinist who will be a junior at Centennial High School this fall. Her brain tumor is inoperable. The family hopes DNA therapy at the Burzynski Clinic in Houston will help , but insurance will not cover it.
The family was the topic of a recent Las Vegas Review-Journal column by Ron Kantowski.
For more information, visit kassidys
roadtorecovery.blogspot.com.
timberlake's golf tournament
OFFERS CHANCE TO PLAY
The Justin Timberlake Shriners Hospitals for Children Open is hosting the inaugural Las Vegas Pro-Am Challenge, giving three local golfers the opportunity to participate in the 2011 Justin Timberlake Shriners Hospitals for Children Open Championship Pro Am.
Entry spots are still available in this citywide tournament.
Area golf clubs will host qualifying events at their club between now and Aug. 15. The winning teams from these qualifiers will be invited to play in the Pro Am Challenge Tournament Sept. 6 at TPC Summerlin, 1700 Village Center Drive.
The winning threesome of the Pro-Am Challenge will receive an invitation to play in the MGM Resorts International Championship Pro-Am Sept. 28 at the Justin Timberlake Shriners Hospitals for Children Open alongside PGA Tour players.
All participants of the Pro-Am Challenge also will receive two tickets for a single-day pass to the Justin Timberlake Shriners Hospitals for Children Open Sept. 25-Oct. 2 at TPC Summerlin.
More information can be found at jtshrinersopen.com/las-vegas-pro-am-challenge.
BABY ITEMS NEEDED FOR MILITARY FAMILIES
Cannery Casino Resorts is teaming with Operation Showers of Appreciation to host a large baby shower for local military moms. Often military wives and enlistees come to Southern Nevada as part of a relocation where they're away from family and friends. Others are pregnant while their spouse may be serving overseas.
Anyone can drop off of new baby items, clothing and diapers at the valet area at any Cannery Casino Resorts property, including the Rampart Casino, 221 N. Rampart Blvd.
Donations will be accepted through Saturday . About 100 expectant or recent mothers will be presented with the gifts during a shower planned for July 30 at the Eastside Cannery, 5255 Boulder Highway.
For more information, call 507-5900.
24-Hour Radiothon to benefit
The Caring Place
"The 24-Hour Radiothon," scheduled for 10 a.m. Friday , is set to be broadcast from the Palms, 4321 W. Flamingo Road.
The event will benefit The Caring Place, a local nonprofit organization dedicated to easing the journey of those affected by cancer. Local and national sports and entertainment celebrities along with ESPN Radio 1100/98.9 have confirmed their participation.
ESPN Radio listeners and others from around the country will have the opportunity to bid for a one-hour co-hosting spot with one or more of the participating celebrities, with most opening bids beginning at $100. Online bids can be placed at wearelv.com, with all proceeds benefiting The Caring Place.
A cocktail reception for the Sportsperson of the Year award will take place from 6:30 to 8:30 p.m., providing guests an opportunity to mingle with celebrities and sports figures. Tickets to the event are $75 per person or $600 for a table of 10 and can be purchased by calling 871-7333.
Teens invited to create recycled art
Teens are invited to a World Folk Art program at the Sahara West Library that is scheduled from 3 to 4 p.m. Saturday as part of the Summer Reading Program. Create your own recycled art. The library is at 9600 W. Sahara Ave.