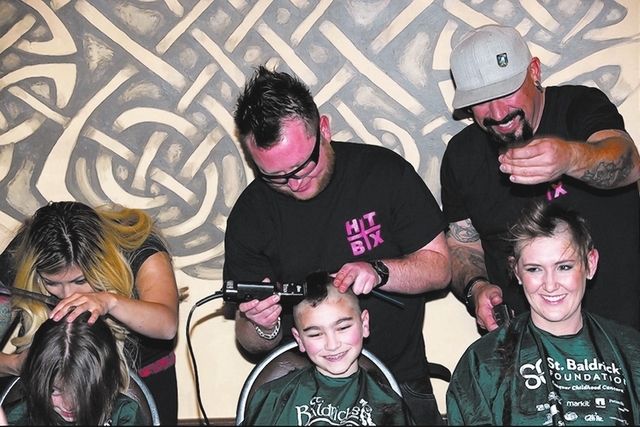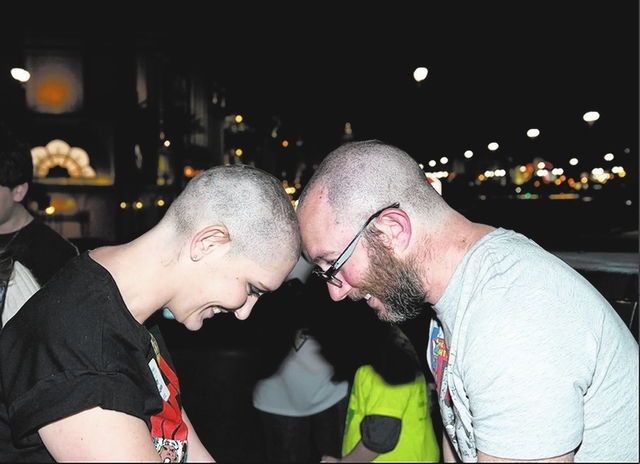 APRIL 5 HEALTH FAIR TO FOCUS ON WOMEN AND CHILDREN
A free Women and Children's Health Fair is set for 9 a.m. to noon April 5 in the main lobby at Summerlin Hospital Medical Center, 657 N. Town Center Drive.
Activities include more than 50 booths featuring health information, hospital tours, raffles and the opportunity to learn more about the hospital's new Women's Enlightened program. Children's activities are set to include Gymboree, face painting and balloon creation. Free height, weight and vision screenings for children also are planned.
Free physician lectures are scheduled for 9:30 a.m., "Breast Cancer … Your Risk After Age 50"; 10:30 a.m., "The Advantage of Single Site Robotic Surgery"; and 11:30 a.m., "When to Bring Your Child to the Emergency Room."
For more information, visit summerlinhospital.com/community-information.
FIBER ARTS GUILD TO HOST APRIL WORKSHOP
The Las Vegas Fiber Arts Guild plans to present Navajo Weaving, a workshop taught by Marilyn Geaves, April 10-13 in the home of Maurine Adrezin. The cost is $464 and includes all materials.
To sign up or for more information, call Adrezin at 702-363-5144.
READING WITH RASCAL SET FOR APRIL 12 AT DESERT SPRING CHURCH
The next Reading with Rascal program is slated from 10 a.m. to noon April 12 in the multipurpose room of Desert Spring United Methodist Church, 120 N. Pavilion Center Drive.
Children are invited to read to a certified therapy dog. Families do not need to be members of the church.
For more information, call 702-256-5933.
XYIENCE SEEKS APPLICANTS FOR POWER TO WIN TEAM
XYIENCE, a leading sports nutrition brand and the maker of Xenergy, the official energy drink of the UFC, is looking for amateur competitors, event organizers and/or instructors to be part of its inaugural Power to Win Team. Applications will be accepted through April 15.
Applicants must be older than 18 and participate in an individual sport such as CrossFit, cycling, mixed martial arts, parkour, rock climbing, running, skiing and snowboarding, swimming, triathlon or yoga.
Selected athletes will receive an allotment of XYIENCE gear, exposure on the brand's website and social media channels and will have the opportunity to apply for funds that can be used to cover expenses such as competition entry fees, travel, equipment and coaching.
Applications can be submitted at facebook.com/xyience. Details are available at xyience.com/powertowinteam.
SUPPORT GROUP FOR THOSE ON OXYGEN TO HOST MEETING
O2 On the Go, a support group for people with pulmonary diseases, is slated to meet from 10 a.m. to noon April 18 at the H2U MountainView Office, 3150 N. Tenaya Way, Suite 114. It schedules its meetings for the third Friday of every month.
For more information, call 702-233-5474.
SUMMERLIN HOSPITAL PLANS BABY-RELATED CLASSES
Summerlin Hospital Medical Center, 657 N. Town Center Drive, offers many baby classes — Baby Basics 1 & 2; Babywearing Workshop; Birth Basics; The Birth Plan Workshop; Breastfeeding Basics; Infant CPR; Infant Massage; Meditations for Healthy Pregnancy and Birth; Natural Birth Methods; Planned Cesarean Birth; Prenatal Fitness Class; Prepared Childbirth Education; and Twins/Multiples Preparation Class.
To learn more about dates, times and costs, visit summerlinhospital.com/community-information. To register for classes, call 702-233-7103.
SOUTHWEST MEDICAL LIFESTYLE CENTER TO HOST ADVANCED DIRECTIVES SESSION
An advanced directives information session is set for 9 a.m. April 24 at Southwest Medical Lifestyle Center-West, 8680 W. Cheyenne Ave. (the Social Club is next door at 8670 W. Cheyenne Ave., Suite 105). Medical directives for care of those who become incapacitated will be discussed.
To RSVP, call 702-677-3053. For more information, visit smalv.com or call 800-638-4113.
CARDBOARD BOX CITY TO RAISE AWARENESS OF HOMELESS POPULATION APRIL 26
Family Promise of Las Vegas plans to host its Cardboard Box City 2014 event beginning at 6 p.m. April 26 and concluding at 8 a.m. April 27 at Holy Spirit Lutheran Church, 6670 W. Cheyenne Ave.
To participate, attendees are asked to spend the night in a cardboard box. The goal is to raise awareness and money for homeless children and families in Clark County.
This year's goal is $30,000. All donations remain in Clark County and benefit programs provided by Family Promise.
For more information, visit familypromiselv.com.
RED CROSS LOOKING FOR BLOOD DRIVE SPONSORS
Since 2010, the American Red Cross has been providing blood services for nine of Las Vegas' 14 hospitals. To do that, it needs about 900 units of blood every week. The Red Cross is looking for sponsors of blood drives. Any business can sign on with minimal disturbance to its work environment.
There are two types of drives, on-site using the business' facility or the mobile unit. The latter is best when the goal is to collect blood from 25 or more donors.
Individuals interested in donating blood can call 800-733-2767, and organizations that would like to host a drive can call 702-522-3998.
LAS VEGAS RECOVERY CENTER TO OPEN RESIDENCES
The Las Vegas Recovery Center, 7525 W. Gowan Road, plans to host a grand opening for its Residential Level of Care Facility and a dedication ceremony for its Rehmar Recovery Residences April 5.
The center is a nationally recognized provider of chronic pain and addiction treatment programs based on a 12-step approach.
For more information, visit lasvegasrecoverycenter.com or call 888-535-7164.
HEALTH EVENTS SET AT SOUTHWEST MEDICAL ASSOCIATES LIFESTYLE CENTER
A chronic obstructive pulmonary disease workshop is planned from 9 to 11:30 a.m. April 10 at Southwest Medical Associates Lifestyle Center-West, 8680 W. Cheyenne Ave. Look for the entry marked Social Club. A workshop explaining disease management will help participants develop a plan for daily living.
To register, call 702-877-5356.
The Better Breathers Support Group is set for 1 to 2 p.m. April 10. Learn more about living with lung conditions such as asthma, COPD and lung cancer. Friends and family members are encouraged to attend in support of loved ones. To register, call 702-677-3053.
For more information, visit smalv.com or call 800-638-4113.
E BUNNY ANNUAL EASTER BASKET DRIVE UNDERWAY THROUGH APRIL 11
The E Bunny Annual Easter Basket Drive runs through April 11.
Purchase a pre-filled basket at any area store and drop it off at an Opportunity Village location. In the Summerlin area, the two closest locations are Opportunity Village's Main Campus at 6300 W. Oakey Blvd., and the Ralph & Betty Engelstad Campus, 6050 S. Buffalo Drive.
LEARN ABOUT HEALTHCARE DIRECTIVES
A free Healthcare Decision Day is planned from 8:30 to 10:30 a.m April 16 at Summerlin Hospital Medical Center, 657 N. Town Center Drive.
Stop by the admitting/registration department to learn more about the benefits of having an advance directive. Representatives from the Valley Health System and Nathan Adelson Hospice are scheduled to be on hand to answer questions.
For more information, visit nhdd.org.
APRIL 25'S BIG GIVE TO FUND RAISE ONLINE
The third statewide online giving initiative, Nevada's Big Give, is slated for April 25. Nevada's Big Give is a day of online giving that benefits charities across the state. This initiative, launched by NevadaGIVES, is designed to bring new donors and dollars to Nevada nonprofits.
Every registered nonprofit is eligible to participate and receive donations April 25 through nvbiggive.org.
STOP SMOKING WORKSHOP PLANNED THROUGH APRIL 28 AT SUMMERLIN HOSPITAL
A free Freedom from Smoking workshop is planned from 6 to 8 p.m. Mondays through April 28 in Classroom 1B (past the cafeteria) at Summerlin Hospital Medical Center, 657 N. Town Center Drive.
The American Lung Association invites smokers desiring to quit to attend. Create a week-by-week, personalized plan.
For more information, call 702-233-7470.
FRIENDS OF RED ROCK CANYON PHOTO CONTEST OPEN THROUGH MAY 4
The 2014 Friends of Red Rock Canyon Photo Contest is slated to accept entries from 2 to 4 p.m. May 2 and 9 a.m. to 3 p.m. May 3 and 4 at the Red Rock Canyon National Conservation Area Visitor Center, 1000 Scenic Loop Drive. This year's theme is the Nature and Wildlife of the Red Rock Canyon National Conservation Area. Award categories are nature, wildlife, creative, monochromatic and professional.
All photos must be framed. The entry fee is $10 per photo, $8 for Friends of Red Rock members. First-place winners can win $100; second place, $75; and third place, $50.
For entry rules, visit friendsofredrockcanyon.org/photo.php or email photo@friendsofredrockcanyon.org.