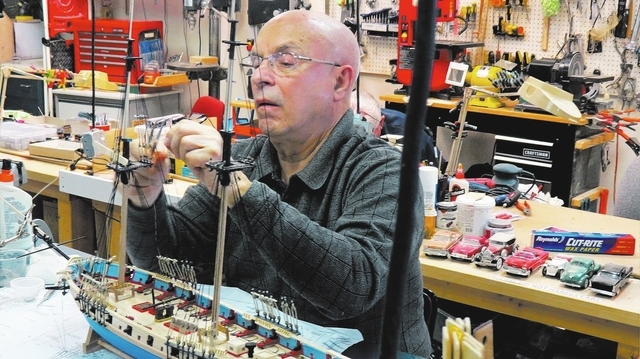 SUN CITY RX PICKUP PLANNED JAN. 29
The Sun City Rx Pickup is planned from 1 to 3 p.m. Jan. 29 in room 5 of Sun City Summerlin's Desert Vista Community Center, 10360 Sun City Blvd. The event is sponsored by Mayor Pro-tem Stavros Anthony and will collect expired medications for proper disposal.
For year-round turn-in of expired medication, a drop box is in the lobby of the Metropolitan Police Department's Northwest Area Command, 9850 W. Cheyenne Ave. Hours are from 9 to 5 p.m. Monday through Friday.
FAITH LUTHERAN BUSINESS ADVISORY COUNCIL TO HOST PROFESSIONAL ATHLETE, COACH
The Business Advisory Council at Faith Lutheran Middle School and High School plans to host 2013 World Series champion and Boston Red Sox outfielder Shane Victorino and head NFL football coach Vernon Fox as guest speakers for its upcoming breakfast, scheduled from 8 to 9:30 a.m. on Feb. 4 at the school's Kalb Student Center, 2015 S. Hualapai Way.
Victorino and Fox plan to talk about the business side of the MLB and NFL, offer insight on their professional successes and share advice on how individuals can achieve their own level of success. The breakfast is open to the public. Admission is $10 and free for advisory council members.
To make a reservation, call 702-804-4410 or visit faithlutheranlv.org.
SUMMERLIN HOSPITAL ADDS CARDIAC REHABILITATION CENTER
A cardiac rehabilitation center is available at Summerlin Hospital Medical Center, 657 N. Town Center Drive. Patients who have survived a heart attack, open heart surgery, cardiac catheterization or other serious cardiac conditions can often benefit from a personalized cardiac rehabilitation program.
Under the direction of supervisor Heather Brookman, a registered nurse, and medical director Dr. Paul Heeren, the center helps patients continue their recovery and educates them on risk factors that can lead to coronary heart disease.
Upon successful completion of Phase II rehab (Phase I takes place during hospitalization), clients have the option to continue with Phase III, an ongoing exercise program with continued assistance with lifestyle changes to adapt to their new health needs.
To participate in Phase II, a physician's order is required and is covered by Medicare and many private insurance carriers. A physician's order is not required for Phase III.
For more information, call 702-233-7470.
TRAVEL CLUB MEMBERS TO GATHER JAN. 28 AT TAP HOUSE
The Las Vegas Singles Travel and Social Club plans to meet at 7 p.m. Jan. 28 at the Tap House, 5589 W. Charleston Blvd. The club is a group of mature singles who are interested in local, national and international travel.
The club meets the fourth Tuesday of every month, with a half-hour of social time planned before each meeting. Meetings consist of a short business portion and a guest speaker. January's scheduled speaker is Joyce Kort, who will offer details about her recent cruise in the Caribbean.
There is a small fee for members and guests to cover light refreshments and the cost of the meeting room. For more information, call 888-324-3928.
LUNCH AND LEARN SCHEDULED AT H2U OFFICE
The next Lunch and Learn session is slated to be "You'd be Surprised to Know What a Stroke Looks Like," planned from 11:30 a.m. to 1 p.m. Jan. 29 at the H2U MountainView Office, 3150 N. Tenaya Way, Suite 114.
Registered nurse Diana Grimmesey plans to discuss how the warning signs of a stroke can look like ordinary symptoms.
This is a free event, but registration is required. For more information, call 702-233-5474.
WARD 2 COUNCILMAN TO MEET WITH RESIDENTS
Residents 21 or older are invited to meet with City Councilman Bob Beers from 5:30 to 7:30 p.m. Jan. 30 at Three Angry Wives Pub, 8820 W. Charleston Blvd., Suite 105. Come talk about what is happening in Ward 2 and the city of Las Vegas.
Beers plans to meet with residents again from 8 to 9:30 a.m. Feb. 13 at Starbucks, 2120 N. Rampart Blvd., and from 5:30 to 7:30 p.m. Feb. 27 at Porchlight Grille, 8416 W. Desert Inn Road (residents 21 or older only).
For more information, call 702-229-2144.
BUSINESS MIXER TO HAVE VALENTINE'S DAY THEME AT SUNCOAST
The Large Vision Business Network Mixer plans to host its next mixer, the Red Hot Expo, from 6 to 9 p.m. Feb. 4 at the Suncoast, 9090 Alta Drive.
The first 100 attendees receive a free Sweet Heart goodie bag with a three-day/two-night hotel getaway good in 20 cities.
Free tickets are available. For more information, visit pjproductionlive.com/LVBNM.html or call 702-639-6964.
JEWISH SINGLES SOCIAL CLUB TO MEET FEB. 5 AT JCC
The Jewish Singles 55 Plus Social Cub for Men and Women plans its next meeting at 6:30 p.m. Feb. 5 at the Jewish Community Center, 1400 N. Rampart Blvd., Suite 205.
Meetings are scheduled for the first Wednesday of each month. The club welcomes anyone interested in entertaining programs, socializing and meeting new friends.
For more information, call 702-243-9482 or 702-243-1761.
NEWCOMERS CLUB TO MEET FEB. 5
The Westside Newcomers Club plans to host a coffee event for prospective members at 9:15 a.m. Feb. 5 at Grace in the Desert Episcopal Church, 2004 Spring Gate Lane. The coffee event is set to take place the first Wednesday of each month.
The club is for women who have lived in the area for 10 years or less or for those who have a life-changing event, such as retirement. It offers a variety of activities. A luncheon with a program is planned for the second Wednesday of each month.
For more information, visit westsidenewcomersclub.org or call Nancy Ovuka at 702-837-8685.
BEREAVEMENT GROUP TO GATHER AT TEMPLE BETH SHOLOM FEB. 5
A bereavement group plans to meet at 10:30 Feb. 5 at Temple Beth Sholom, 10700 Havenwood Lane.
Meetings are open to the public, and coffee is planned. For more information, email vegasrita1@aol.com or call 702-596-4321.
SUMMERLIN HOSPITAL PLANS FREE HEALTH EVENTS
Summerlin Hospital Medical Center, 657 N. Town Center Drive, plans to host free activities Feb. 12-14.
A free yoga class is planned from 10:30 to 11:30 a.m. Feb. 12 in the first-floor conference room of the medical office building on the hospital's campus. Learn specific breathing techniques and movements to benefit cardiovascular health.
A cardiovascular-focused qigong class is set from 11 a.m. to noon Feb. 13 in the same location. Qigong is a combination of gentle movement, breathing techniques and mental focus designed to calm the mind, reduce stress and promote healing.
All levels and abilities are welcome. To reserve a space for either class, call 702-233-7470.
A Cardiac Mini Health Fair is slated from 9 a.m. to 12 p.m. Feb. 14 in the hospital's front lobby. Expect blood pressure checks, body mass index screening, a variety of educational materials, giveaways and an opportunity to talk with the cardiac rehabilitation staff members.
COMFORCARE SENIOR SERVICES OPENS ON LAKE MEAD BOULEVARD
ComForcare Senior Services has opened at 7477 W. Lake Mead Blvd., Suite 150. It is an in-home, nonmedical care provider for seniors and others in need of assistance.
ComForcare offers home care services on an hourly, daily, weekly or live-in basis. Services also are available to individuals with disabilities, accident victims, new mothers or those recovering from recent illness or surgery.
For more information, call Lisa Wensley at 702-997-9477.
NOMINATIONS SOUGHT FOR SENIOR CITIZEN OF THE YEAR AWARD
The Nevada Delegation of the National Silver Haired Congress, in partnership with the Aging Services Directors Organization, is requesting nominations for the Nevada Senior Citizen of the Year Award.
Nominees are considered based on their contributions at the local, state and national level and by excellence achieved through going above and beyond the call of duty, specifically in volunteer work in support of Nevada senior citizens.
Additionally, they are evaluated on the scope and impact of their achievements.
For more information, email herandall@cox.net or call 702-860-6349.
SALUTE TO SENIOR SERVICE PROGRAM TO HAND OUT AWARDS
The Salute to Senior Service program is seeking nominations of Nevada senior volunteers who have performed outstanding service.
The program recognizes the contributions of adults 65 or older who give at least 15 hours a month of volunteer service. The winner in each state will receive $500, and one national winner will receive $5,000 to donate to each winner's charity of choice.
To nominate someone online, visit salutetoseniorservice.com. Completed nomination forms can alternatively be mailed to: Salute to Senior Service, P.O. Box 285, Bellevue, NE 68005.
AARP OFFERS FREE TAX PREPARATION
The AARP Foundation plans to provide free tax assistance and preparation for taxpayers with low to moderate income through its Tax-Aide program, which gives special attention to those 60 or older. Tax-Aide is offered in conjunction with the IRS.
You do not need to be a member of AARP or a retiree to use the free service. The program is offered at approximately 40 sites in Nevada, including senior centers and libraries. In the Summerlin area, the service is available at the Rainbow Library, 3150 N. Buffalo Drive, from 10:30 a.m. to 2:30 p.m. Wednesday and Saturday.
For more information or to locate a site, visit aarp.org/findtaxhelp or call 888-227-7669.
SUPPORT GROUP TO MEET AT SUMMERLIN HOSPITAL
A Parent and Caregiver Support Group is slated to meet from 6:30 to 7:30 p.m. Jan. 28 in the first-floor conference center of Summerlin Hospital Medical Center, 657 N. Town Center Drive.
The group plans to meet on the last Tuesday of the month and is led by social workers, nurses and therapists. It helps parents and caregivers understand and adjust to the hospital experience, network with and support families who have children experiencing special health care needs and share coping skills.
No RSVP is required, and refreshments are planned. For more information, call 702-233-7000.
CHILDBIRTH EDUCATION CLASSES PLANNED
A variety of childbirth education classes are available at Summerlin Hospital Medical Center, 657 N. Town Center Drive.
For more information, visit summerlinhospital.com/community-information or call 702-233-7000.
HELP STOCK RONALD MCDONALD HOUSE PANTRY DURING FOOD CHECK-OUT DAY
In recognition of National Food Check-Out Day, all participating Smith's locations in the Las Vegas Valley plan to host an annual food drive for Ronald McDonald House Charities from 9 a.m. to 3 p.m. Feb. 1.
Ronald McDonald House wish lists will be available as patrons enter each store. In 2013, the effort resulted in 40,000 pounds of food and more than $13,800 in cash donations.
For more information, call 702-252-4663, ext. 5.
APRIL 25'S BIG GIVE TO FUND RAISE ONLINE
The third statewide online giving initiative, Nevada's Big Give, is slated for April 25. Nevada's Big Give is a day of online giving that benefits charities across the state. This initiative, launched by NevadaGIVES, is designed to bring new donors and dollars to Nevada nonprofits.
Every registered nonprofit is eligible to participate and receive donations April 25 through nvbiggive.org.
REALTY GROUP COLLECTS TOYS FOR WILLIAMS ELEMENTARY SCHOOL STUDENTS
EXIT Realty Platinum Group, 3230 S. Buffalo Drive, Suite 106, recently hosted the Christmas en el Barrio Toy Drive 2013 for students at Williams Elementary School, 3000 E. Tonopah Ave.
The goal was providing more than 1,000 children with toys this year. EXIT Realty Platinum Group joined forces with the National Latino Peace Officers Association, Clark County Commissioner Lawrence Weekly, G. Dallas Horton & Associates and more to surpass that goal.
For more information, call 702-436-0323 or visit exitrealtyplatinumgroup.com.