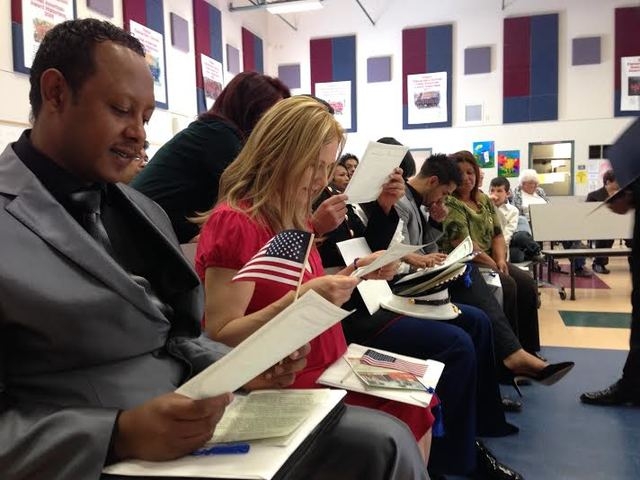 LAS VEGAS FARMERS MARKET ADDS THURSDAYS TO SCHEDULE
The Las Vegas Farmers Market announces has added Thursdays to its scheduled at Gardens Park, 10401 Garden Park Drive.
For more information, visit lasvegasfarmersmarket.com.
RED ROCK CANYON CLOSES CAMPGROUND FOR SUMMER
Red Rock Canyon National Conservation Area's developed campground, Red Rock Campground, is scheduled to be closed through Aug. 29 during the low-usage period.
For more information, visit blm.gov/nv.
HELP OF SOUTHERN NEVADA TAKING APPLICATIONS FOR WEATHERIZATION PROGRAM
HELP of Southern Nevada is accepting applications from low-income households owned by seniors, those who are physically challenged or homes with children for its Weatherization program. Weatherizing between 500 and 700 homes each year, the nonprofit offers various services, including weather stripping, blowing insulation, repairing broken windows, testing gas appliances, heating and air conditioning evaluations, refrigerator efficiency checks and installation of solar screens and other energy-saving devices.
To apply, plan to attend an application assistance workshop, scheduled for 10 a.m. to noon Tuesdays at HELP of Southern Nevada, 1640 E. Flamingo Road, or visit between 7 a.m. and 5 p.m. Monday through Thursday, go online to helpsonv.org or call 702-795-0575.
COFFEE WITH THE COUNCILMAN PLANNED JUNE 6 AT SAMBALATTE
Ward 2 Las Vegas City Councilman Bob Beers plans to host Coffee with the Councilman from 7:30 t0 9 a.m. June 6 at Sambalatte, 750 S. Rampart Blvd., in Boca Park. For more information, call 702-229-2144.
JUNE 8 GOLF TOURNAMENT TO BENEFIT SPEEDWAY CHILDREN'S CHARITIES
The Las Vegas chapter of Speedway Children's Charities plans to host its 12th annual golf tournament, Drive for Charity Presented by Insomniac, June 9 at TPC Las Vegas, 9851 Canyon Run Drive.
Registration is set to begin at 7 a.m., followed by a shamble shotgun start at 8 a.m.
Entry for a foursome is $800 and includes a round of golf, a golf cart, unlimited range balls, a continental breakfast, an awards lunch, a golf shoe bag and goodie bags for each player. Single-player registration is $200.
To register, contact Paulette Anderson at panderson@lvms.com or 702-632-8242.
READING WITH RASCAL SET FOR JUNE 14 AT DESERT SPRING CHURCH
The next Reading with Rascal is slated from 10 a.m. to noon June 14 in the multipurpose room of Desert Spring United Methodist Church, 120 N. Pavilion Center Drive.
Children can practice their reading skills with a certified therapy dog. For more information, call 702-561-4143.
ZOMBIE BOWL FOR KIDS PLANNED FOR JUNE 14 AT THE SUNCOAST
Big Brothers Big Sisters of Southern Nevada plans its annual Zombie Bowl for Kids' Sake for noon June 14 at Suncoast Bowling Center, 9090 Alta Drive.
The event is open to the public and is a chance to raise awareness and funds and increase mentorship rates. Teams of five raise $100 per team member.
The zombie outfits are optional. For more information, visit bbbsn.org.
GENEALOGY PROGRAM PLANNED FOR JUNE 15 at SAHARA WEST LIBRARY
The Jewish Genealogy Society of Southern Nevada plans to meet at 1:30 p.m. June 15 at the Sahara West Library, 9600 W. Sahara Ave.
Ask the Experts is planned, and members can submit their most challenging genealogy problems to a panel of experts in advance of the meeting. These will be researched before the meeting, and the methods used as well as the results will be discussed.
The society meets at 1 p.m. on the third Sunday of each month. Meetings are free and open to the public. For more information, contact society president Abe Simon at abe_simon@cox.net or 702- 523-9874.
BAHA'I DEVOTIONAL SET FOR JUNE 22
Baha'i Devotions are planned from 3 to 4 p.m. June 22 at Las Vegas Baha'i Center, 7035 W. Oakey Blvd.
The theme is Transformational Power of the Word of God. The Sunday program will be followed by light refreshments. It is open to the public.
For more information, call 702-838-9191.
WHITE LINEN AFFAIR SCHEDULED FOR JUNE 28
The sixth annual White Linen Affair is set from 8 p.m. to midnight June 28 at the Suncoast, 9090 Alta Drive.
Expect hors d'oeuvres, music by DJ "Sweet" Lou Collins and a silent auction.
Tickets are $60.
For more information, visit 100blackmenlasvegas.com or call 720-448-8843 or 702-838-8072.
HELP2O PROGRAM TO PROVIDE WATER FOR HOMELESS
HELP of Southern Nevada's HELP2O campaign is seeking donations of bottled water at Whole Foods Market through Aug. 31. Locations in the Las Vegas Valley are at 7250 W. Lake Mead Blvd., 6689 Las Vegas Blvd. South, 100 S. Green Valley Parkway and 8855 W. Charleston Blvd.
Bottled water donations can be purchased in the store and donated or purchased elsewhere and dropped off. The water will be collected on a regular basis and distributed to area homeless.
Monetary donations of change can be dropped into branded HELP of Southern Nevada coin jars at all four locations or by submitting a donation at helpsonv.org.