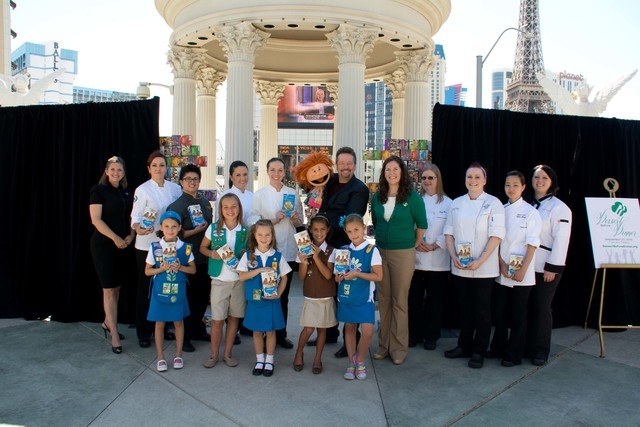 SPRINGS PRESERVE PLANS ANNUAL LANDSCAPING COMPETITION
The Springs Preserve, 333 S. Valley View Blvd., plans to host the 16th annual Southern Nevada Landscape Awards competition.
The event honors residential and professional water-efficient landscapes that are eye-catching and functional. Entries must be received by May 2. Winners are set to be announced June 5.
For more information, visit tinyurl.com/n4qd6wk.
NATIONAL EATING DISORDERS ASSOCIATION WALK SET FOR MAY 3 AT FAITH LUTHERAN
The National Eating Disorders Association plans to host its inaugural Las Vegsas NEDA Walk at 10 a.m. May 3 at Faith Lutheran Middle School and High School, 2015 S. Hualapai Way.
Leashed pets are welcome. Funds will be used for programs targeting eating disorders such as anorexia nervosa, bulimia nervosa and binge eating disorder.
Walk fees are $25 for adults, $15 for students, $10 for children 11 or younger and $5 per pet.
To pre-register, visit nedawalk.org/lasvegas2014 or call 212-575-6200.
SMALL BUSINESS FAIR SET FOR MAY 3 AT SAHARA WEST LIBRARY
A free Small Business Fair is planned from 10 a.m. to 3 p.m. May 3 at the Sahara West Library, 9600 W. Sahara Ave.
Attendees can network with experienced professionals, attend workshops and lectures and obtain information.
For more information, call 702-507-3631.
FRIENDS OF RED ROCK CANYON PHOTO CONTEST OPEN THROUGH MAY 4
The 2014 Friends of Red Rock Canyon Photo Contest is slated to accept entries from 2 to 4 p.m. May 2 and 9 a.m. to 3 p.m. May 3 and 4 at the Red Rock Canyon National Conservation Area Visitor Center, 1000 Scenic Loop Drive. This year's theme is the Nature and Wildlife of the Red Rock Canyon National Conservation Area. Award categories are nature, wildlife, creative, monochromatic and professional.
All photos must be framed. The entry fee is $10 per photo, $8 for Friends of Red Rock members. First-place winners can win $100; second place, $75; and third place, $50.
For entry rules, visit friendsofredrockcanyon.org/photo.php or email photo@friendsofredrockcanyon.org.
BUSINESS EXPO COMING TO SUNCOAST MAY 6
The seventh annual Power of Women & Business expo is set for 6 to 9 p.m. May 6 in the Grand Ballroom at the Suncoast, 9090 Alta Drive.
Fifty business exhibits, a Chefs Corner, entertainment and raffle drawings are planned. The first 200 attendees will receive a take-home bag and product sample from Sam's Club.
The event will honor four women who have excelled in growing their businesses.
For more information, email lvbnmlasvegas@aol.com or call 702-639-6964.
INVESTMENT FRAUD WORKSHOP PLANNED MAY 6 AT SUMMERLIN LIBRARY
A free Outsmarting Investment Fraud workshop is set for 6:30 p.m. May 6 at the Summerlin Library, 1771 Inner Circle Drive. Learn simple steps to protect your finances and family before making investment decisions.
For more information, call 702-507-3863.
WESTSIDE NEWCOMERS TO MEET MAY 7
The Westside Newcomers Club plans to host a coffee event for prospective members at 9:15 a.m. May 7 at Grace in the Desert Episcopal Church, 2004 Spring Gate Lane.
The coffee event takes place the first Wednesday of each month. A luncheon with a program is planned for the second Wednesday of each month.
For more information, visit westsidenewcomersclub.org or call Nancy Ovuka at 702-837-8685.
WESTSIDE CHICAGO CLUB TO MEET MAY 7 AT SAHARA WEST LIBRARY
The Westside Chicago Club plans to meet at 2 p.m. May 7 at the Sahara West Library, 9600 W. Sahara Ave.
The group consists of mostly of people who have retired to Las Vegas. Monthly meetings start with a short business meeting followed by a program.
For more information, call June Edelman at 702-256-9542.
JEWISH SINGLES SOCIAL CLUB TO MEET MAY 7 AT JCC
The Jewish Singles 55 Plus Social Cub for Men and Women plans to meet at 6:30 p.m. May 7 at the Jewish Community Center, 1400 N. Rampart Blvd., Suite 105, inside the Las Vegas Sports Park.
Meetings are scheduled for the first Wednesday of each month. The club welcomes anyone interested in entertaining programs, socializing and meeting new friends.
For more information, call 702-243-9482 or 702-243-1761.
WARD 2 COUNCILMAN PLANS COFFEE WITH RESIDENTS MAY 9
Ward 2 Las Vegas City Councilman Bob Beers invites residents to join him for coffee and conversation about Ward 2 and the city of Las Vegas from 7:30 to 9 a.m. May 9 at The Coffee Bean & Tea Leaf, 10834 W. Charleston Blvd. For more information, call 702-229-2144.
WOMEN'S CLUB OF SUMMERLIN SEEKS GRANT APPLICANTS
The Women's Club of Summerlin is accepting applications for its Dare to Dream grant. Each year the organization awards the grants to women working to improve their lives and the lives of others in the community. The money can be used for assistance with educational opportunities, new skills development, business development, tuition or anything a woman can dream of that will help her move toward her goal.
Grants of up to $3,000 are awarded based on the impact the grant will have on the recipient and others in the community, the merit of the requested program or project and personal need. Applicants must be 21 or older and Las Vegas Valley residents.
The deadline for applications is May 9. To apply, visit womensclubofsummerlin.org.
CHILDREN INVITED TO READING WITH RASCAL MAY 10
The next Reading with Rascal session is slated from 10 a.m. to noon May 10 in the multipurpose room of Desert Spring United Methodist Church, 120 N. Pavilion Center Drive.
Children can read to a certified therapy dog. For more information, call 702-256-5933.
LETTER CARRIERS TO HELP STAMP OUT HUNGER MAY 10
Southern Nevada Letter Carriers plan to collect food May 10 to help those who struggle with hunger. To participate, leave a bag of nonperishable food by or in your mailbox that day. For more information, visit facebook.com/stampouthunger.
SUN CITY SUMMERLIN TO HOST MEET THE CANDIDATES EVENT MAY 10
The Residents' Forum of Sun City Summerlin plans to host a meet-and-greet with candidates for the June 10 primary election from 10 a.m. to 3 p.m. May 10 at the Desert Vista Community Center, 10360 Sun City Blvd. For more information, call 702-255-7755.
JEWISH GENEALOGY SOCIETY TO MEET MAY 18 AT SAHARA WEST LIBRARY
The Jewish Genealogy Society of Southern Nevada plans to meet at 1:30 p.m. May 18 at the Sahara West Library, 9600 W. Sahara Ave.
The society is set to conduct part three of four Beginning Genealogy Methods workshops. This one is set to cover the immigration and naturalization process and the records produced.
The society meets at 1 p.m. the third Sunday of each month. Meetings are open to the public.
For more information, email president Abe Simon at abe_simon@cox.net or call 702 523-9874.
JUNE 3 OPEN HOUSES TO DISCUSS SPRING VALLEY LAND USE PLAN
Open houses to take resident input on the Spring Valley Land Use Plan are planned from 4:30 to 7:30 p.m. June 3 and July 15 at the Desert Breeze Community Center, 8275 Spring Mountain Road.
Input will be gathered on a proposed draft plan before it goes to the Spring Valley Town Advisory Board, the Clark County Planning Commission and the Clark County Commission for review and approval. Spring Valley is in portions of Clark County Commission districts F and A.
Land use plans include maps and policies used to define the development pattern suitable for an area. A link to Spring Valley's existing land use plan and related documents is posted at clarkcountynv.gov.