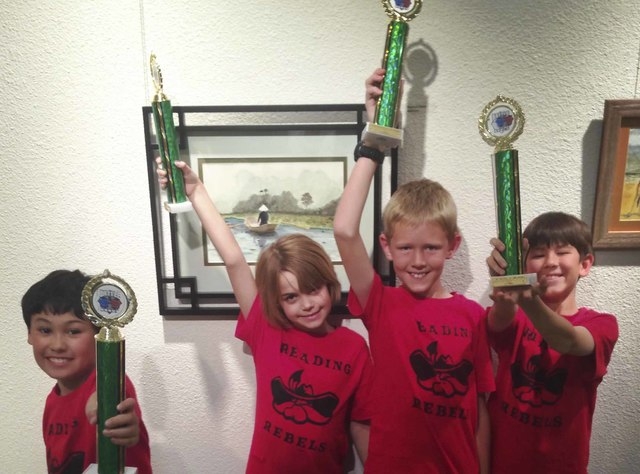 BEERS WITH BEERS SET FOR MAY 22 AT ROADRUNNER SALOON
Ward 2 Las Vegas City Councilman Bob Beers plans to host a Beers with Beers event for those 21 or older from 5:30 to 7:30 p.m. May 22 at the Roadrunner Saloon, 921 N. Buffalo Drive.
Beers invites residents to discuss what is happening in Ward 2 and the city of Las Vegas. For more information, call 702-229-2144.
TRAVEL CLUB TO MEET MAY 27 AT TAP HOUSE
The Las Vegas Singles Travel and Social Club for mature singles plans to meet at 7 p.m. May 27 at the Tap House, 5589 W. Charleston Blvd. Meetings are set for the fourth Tuesday of every month, with a half-hour of social time before the meeting. Meetings consist of a short business portion and a guest speaker. May's scheduled topic is Repositioning Cruises.
There is a small fee for members and guests to cover refreshments and the cost of the meeting room. For more information, call 888-324-3928.
PRESTIGE TRAVEL PLANS RIVER CRUISES PRESENTATION
Viking River Cruises plans to present new itineraries on river cruising at 4 p.m. May 29 at Prestige Travel, 7550 W. Lake Mead Blvd.
Speaker Sandra Marshall is slated to also discuss the new, state-of-the-art longships to Europe, China and Egypt.
For more information, call 702-946-8710.
BOWLING EVENT TO HELP NEVADA PARTNERSHIP FOR HOMELESS YOUTH
The Nevada Partnership for Homeless Youth plans to host a bowling tournament from noon to 2 p.m. May 31 at the Suncoast Bowling Center, 9090 Alta Drive.
Registration is set for 11 a.m. The event will raise funds to increase and improve the partnership's services for homeless youths, including meeting basic needs and helping them transition to long-term self-sufficiency.
Individual registration is $40 and includes five games of Baker-style bowling, lunch, a tournament T-shirt, a gift bag, entertainment and the chance to win prizes. Registration for a team of five is $200.
To register or donate, visit nphy.org/hya. For more information, contact email events@nphy.org or call 702-383-1332.
WESTSIDE NEWCOMERS CLUB TO GATHER JUNE 4
The Westside Newcomers Club plans to host a coffee event for prospective members at 9:15 a.m. June 4 at Grace in the Desert Episcopal Church, 2004 Spring Gate Lane. The event is planned for the first Wednesday of each month.
The social club is for women who have lived in the area for 10 years or less or for those who have a life-changing event, such as retirement. A luncheon with program is planned for the second Wednesday of each month. For more information, visit westsidenewcomersclub.org or call Nancy Ovuka at 702-837-8685.
WESTSIDE CHICAGO CLUB TO MEET JUNE 4
The Westside Chicago Club plans to meet at 2 p.m. June 4 at the Sahara West Library, 9600 W. Sahara Ave.
The group consists of mostly of people who have retired to Las Vegas. Monthly meetings start with a short business portion followed by a program. The group is open to everyone.
For more information, call June Edelman at 702-256-9542.
JEWISH SINGLES SOCIAL CLUB TO MEET AT JCC JUNE 4
The Jewish Singles 55 Plus Social Cub for Men and Women plans to meet at 6:30 p.m. June 4 at the Jewish Community Center, 1400 N. Rampart Blvd., Suite 105, inside the Las Vegas Sports Park.
Meetings are scheduled for the first Wednesday of each month. The club welcomes anyone interested in entertaining programs, socializing and meeting new friends.
For more information, call 702-243-9482 or 702-243-1761.
GOLF TOURNAMENT TO BENEFIT SPEEDWAY CHILDREN'S CHARITIES
The Las Vegas chapter of Speedway Children's Charities plans to host its 12th annual golf tournament, Drive for Charity Presented by Insomniac, June 9 at TPC Las Vegas, 9851 Canyon Run Drive.
Registration is set to begin at 7 a.m., followed by a shamble shotgun start at 8 a.m.
Entry for a foursome is $800 and includes a round of golf, a golf cart, unlimited range balls, a continental breakfast, an awards lunch, a golf shoe bag and goodie bags for each player. Single-player registration is $200.
To register, contact Paulette Anderson at panderson@lvms.com or 702-632-8242.
STATION CASINOS ANNOUNCES MILITARY MONDAYS FOR VETS
Station Casinos has launched a Military Mondays initiative that offers a variety of discounts and benefits for active and veteran military Boarding Pass card holders. Station Casinos also is donating up to $10,000 toward the Las Vegas Fisher House, which provides a free place for military families to stay while a loved one receives long-term medical care.
For more information, visit sclv.com.
CHURCH CHANGES LOCATION
Unity of Las Vegas has opened a new location at 222 S. Rainbow Blvd.
People from all denominations are welcome. The church has its roots in Christianity but recognizes all religions as having a path to spiritual growth.
Sunday services are set for 10 a.m. and Wednesday services for 7 p.m.
For more information, visit unitylasvegas.org or call 702-324-8481.
HELP2O PROGRAM TO PROVIDE WATER FOR HOMELESS
HELP of Southern Nevada's HELP2O campaign is seeking donations of bottled water at Whole Foods Market June 1-Aug. 31. Locations in the Las Vegas Valley are at 7250 W. Lake Mead Blvd., 6689 Las Vegas Blvd. South, 100 S. Green Valley Parkway and 8855 W. Charleston Blvd.
Bottled water donations can be purchased in the store and donated or purchased elsewhere and dropped off. The water will be collected on a regular basis and distributed to area homeless.
Monetary donations of change can be dropped into branded HELP of Southern Nevada coin jars at all four locations or by submitting a donation at helpsonv.org.
LAS VEGAS 51S HOSTING T-SHIRT DESIGN CONTEST
The Las Vegas 51s T-shirt contest is ongoing. The winning design will be printed on the front of the 2,500 T-shirts that will be given out at the June 7 home game. The winning designer will throw out the first pitch. The winning design will be picked May 23.
Designs are to be created using the interactive "design a tee" studio at randyfuhrmandesigns.com. Under the videos tab, a tutorial video on the usage of the "design a tee" studio is provided.
For more information, call 702-943-7206.
PHOTOGRAPHY GROUP TO MEET AT SOUTHWEST MEDICAL ASSOCIATES LIFESTYLE CENTER
Photography: Beyond the Basics, an ongoing group, plans to meet at the Southwest Medical Associates Lifestyle Center-West, 8670 W. Cheyenne Ave., Suite 105. The group is for those already familiar with photography. To RSVP, call 702-677-3056.
SUMMERLIN COUNCIL ANNOUNCES PHOTO CONTEST, SEEKS PARADE PARTICIPANTS
The Summerlin Council is seeking businesses and organizations that would like to participate in the 2014 Fourth of July Patriotic Parade.
To highlight the event's 20th anniversary, residents are invited to enter a photo contest showing their favorite parade memories. Photos can be submitted at summerlin.com in May, and in June, judges will select the best photos to be featured on Summerlin's Facebook and Instagram pages. The winner will be invited to participate in this year's parade with an entry that features the winning photo, and finalists will be invited to watch the parade from the grandstand.
For information, email summerlinpatrioticparade@summerlincouncil.com or call 702-341-5500.
NV ENERGY ANNOUNCES RETURN OF REFRIGERATOR RECYCLING PROGRAM
NV Energy customers who participate in the company's second Refrigerator Recycling Program can have their old appliance hauled away free and receive a $50 rebate. Qualifying machines must be in working condition with a storage capacity of at least 10 cubic feet.
To schedule a pickup, visit nvenergy.com or call 877-289-8260.