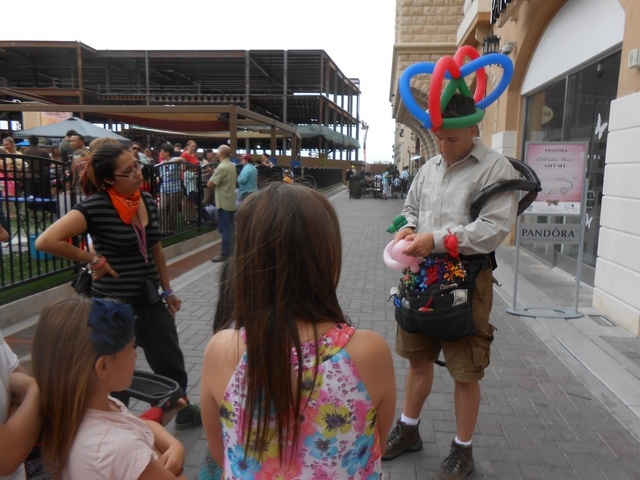 MULTI-FAMILY DEVELOPMENT PLANNED IN SUMMERLIN
The Howard Hughes Corp. has announced plans for the first multi-family residential development in the emerging 400-acre Downtown Summerlin in the Summerlin master-planned community.
A joint venture of Hughes and The Calida Group, the 124-unit, gated luxury apartment complex is expected to begin construction this fall, with a projected spring 2015 opening. It will be situated on nearly 4.5 acres adjacent to the 1.6 million-square-foot, upscale retail destination set to open this year.
The three-story, 170,000-square-foot project is set to feature one-, two- and three-bedroom homes ranging from approximately 1,000 to 2,040 square feet. Amenities are set to include a state-of-the-art fitness center; a spa with tanning services, an on-call masseuse and aesthetician; and a resort-style pool with an outdoor barbecue area and poolside cabanas. Third-floor homes are set to include 20-foot ceilings, a private walk-up to a mezzanine level and a fourth-story rooftop deck. Some residences also are set to include attached garages.
SUMMERLIN COUNCIL ANNOUNCES PHOTO CONTEST, SEEKS PARADE PARTICIPANTS
The Summerlin Council is seeking businesses and organizations that would like to participate in the 2014 Fourth of July Patriotic Parade.
To highlight the event's 20th anniversary, residents are invited to enter a photo contest showing their favorite parade memories. Photos can be submitted at summerlin.com in May, and in June, judges will select the best photos to be featured on Summerlin's Facebook and Instagram pages. The winner will be invited to participate in this year's parade with an entry that features the winning photo, and finalists will be invited to watch the parade from the grand stand.
For information, email summerlinpatrioticparade@summerlincouncil.com or call 702-341-5500.
WARD 2 COUNCILMAN PLANS COFFEE WITH RESIDENTS MAY 9
Ward 2 Las Vegas City Councilman Bob Beers invites residents to join him for coffee and conversation about Ward 2 and the city of Las Vegas from 7:30 to 9 a.m. May 9 at The Coffee Bean & Tea Leaf, 10834 W. Charleston Blvd. For more information, call 702-229-2144.
WOMEN'S CLUB OF SUMMERLIN SEEKS GRANT APPLICANTS
The Women's Club of Summerlin is accepting applications for its Dare to Dream grant. Each year the organization awards the grants to women working to improve their lives and the lives of others in the community. The money can be used for assistance with educational opportunities, new skills development, business development, tuition or anything a woman can dream of that will help her move toward her goal.
Grants of up to $3,000 are awarded based on the impact the grant will have on the recipient and others in the community, the merit of the requested program or project and personal need. Applicants must be 21 or older and Las Vegas Valley residents.
The deadline for applications is May 9. To apply, visit womensclubofsummerlin.org.
CHILDREN INVITED TO READING WITH RASCAL MAY 10
The next Reading with Rascal session is slated from 10 a.m. to noon May 10 in the multipurpose room of Desert Spring United Methodist Church, 120 N. Pavilion Center Drive.
Children can read to a certified therapy dog. For more information, call 702-256-5933.
LETTER CARRIERS TO HELP STAMP OUT HUNGER MAY 10
Southern Nevada Letter Carriers plan to collect food May 10 to help those who struggle with hunger. To participate, leave a bag of nonperishable food by or in your mailbox that day. For more information, visit facebook.com/stampouthunger.
SUN CITY SUMMERLIN TO HOST MEET THE CANDIDATES EVENT MAY 10
The Residents' Forum of Sun City Summerlin plans to host a meet-and-greet with candidates for the June 10 primary election from 10 a.m. to 3 p.m. May 10 at the Desert Vista Community Center, 10360 Sun City Blvd. For more information, call 702-255-7755.
COMPUTER CLUB TO MEET MAY 17 AT TOTAL WINE & MORE
The Clark County Commodore Computer Club plans to meet from 9 to 11 a.m. May 17 at Total Wine & More in Boca Park, 730 S. Rampart Blvd.
The club is for enthusiasts of the Commodore line of computers. Planned demonstrations include the Leapmotion motion controller for PC or Mac.
For more information, contact Forrest Nettles at flnettles@hotmail.com.
JEWISH GENEALOGY SOCIETY TO MEET MAY 18 AT SAHARA WEST LIBRARY
The Jewish Genealogy Society of Southern Nevada plans to meet at 1:30 p.m. May 18 at the Sahara West Library, 9600 W. Sahara Ave.
The society is set to conduct part three of four Beginning Genealogy Methods workshops. This one is set to cover the immigration and naturalization process and the records produced.
The society meets at 1 p.m. the third Sunday of each month. Meetings are open to the public.
For more information, email president Abe Simon at abe_simon@cox.net or call 702-523-9874.
HISTORY PROFESSOR TO ADDRESS TEMPLE BETH SHOLOM ACTIVE ADULTS GROUP
The Temple Beth Sholom Active Adults group has arranged for College of Southern Nevada history professor and author Michael Green to speak at 1:30 p.m. May 20 at the temple, 10700 Havenwood Lane.
The program will be The History of the Las Vegas Jewish Community. Admission is free.
For more information, call 702-233-3785 or 702-382-6456.
NV ENERGY ANNOUNCES RETURN OF REFRIGERATOR RECYCLING PROGRAM
NV Energy customers who participate in the company's second Refrigerator Recycling Program can have their old appliance hauled away free and receive a $50 rebate. Qualifying machines must be in working condition with a storage capacity of at least 10 cubic feet.
To schedule a pickup, visit nvenergy.com or call 877-289-8260.