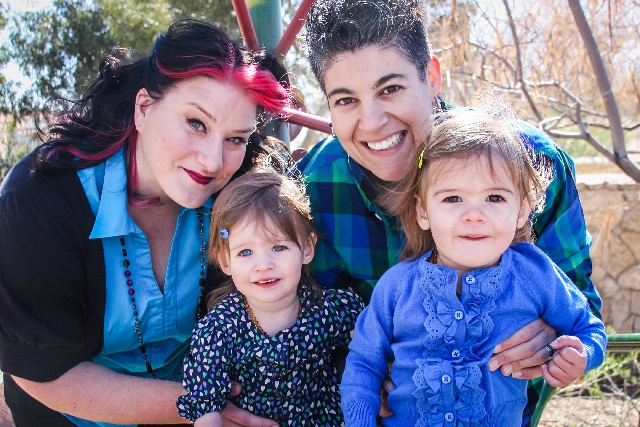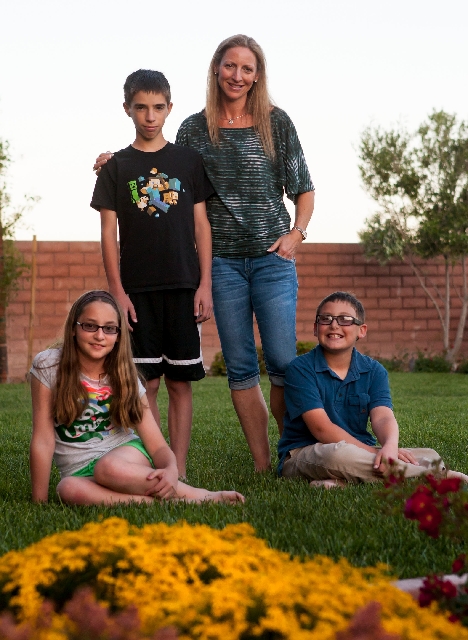 Having twins means twice the work but twice the reward. For Mother's Day, View looks at three Summerlin-area mothers, all with twins, but with very different stories.
AFTER ADOPTION, MOM BECAME PREGNANT WITH TWINS
Lara Stone and her husband, David, were married about three years and wanted a family, but she just wasn't conceiving. One night, a "60 Minutes"-type news show carried a segment on Russian orphanages.
"My husband and I had not even considered adoption," Lara said. "We hadn't even discussed it. The program ended, and a little bit later, we were in the kitchen. The room got quiet. I looked at him, and he looked at me, and we both said, 'Maybe we should consider adopting.' "
They ran into a roadblock: Russia had suspended its program to release children to international adoption. The Stones moved their search to a Ukrainian orphanage program. In October 2000, nine months after finishing the paperwork, they flew to Kiev, Ukraine, and were sent to Odessa, about a 20-hour train ride away.
The language barrier had them interviewing through a translator. They were walking down a hall with a social worker, when all of a sudden they were presented with a baby, a 3-month-old boy they would name Andy.
What was it like to hold him for the first time?
"The whole thing was shocking," Lara said. "I wasn't prepared. It was very emotional, and he was such a beautiful child."
About two weeks later, all their paperwork was cleared, and they brought Andy home.
A year later, Lara discovered she was pregnant. And not just a little pregnant.
"It was with twins, so I got to go through the whole pregnancy process," she said. "I had both experiences to appreciate, so that was kind of neat. … and then we found out it was boy-girl twins, so that was even more exciting, so we'd have one of each."
Most twins tend to be small, but even though labor was induced three weeks early, their weight was in line with full-term babies. Having had a Caesarean section and caring for two infants besides dealing with a rambunctious 2-year-old was a monumental task. The couple hired a baby nurse, Norma. She ended up staying with the couple for 10 months.
Twins Jared and Allison are 10 now, and Andy is 12.
MOMS WERE TOGETHER 11 YEARS
BEFORE STARTING THEIR FAMILY
Lilka Mae and Sloan Annika Weissman, who will turn 2 in July, have the benefit of two mothers. Jay Weissman and Melanie Weissman-Rush, both 30-somethings, have been together 11 years and were ready to start a family. Being a lesbian couple, they opted for in vitro fertilization at the Fertility Center of Las Vegas, 8851 W. Sahara Ave. It took five cycles of trying and $40,000 before the procedure took.
Melanie recalled the day she learned she was pregnant. She was driving from Summerlin to California on business, navigating the Cajon Pass at 20 mph in a snowstorm, when her doctor called with the good news.
"I had to pull over to call and tell Jay," she said. "I just couldn't believe we finally got positive results. It was surreal with the snow falling, just surreal."
After her first ultrasound, they knew she was carrying twins but opted not to know their sexes. The bigger size of one, though, hinted that Melanie was carrying a boy and a girl.
Melanie plays down the obstacles she faced, such as cervical cerclage (when the cervix is sewn closed during pregnancy) and the bed rest that had her in a wheelchair. She delivered at 37 weeks by C-section at Southern Hills Hospital.
They were two girls, fraternal twins. Baby A was Lilka. Baby B was Sloan.
The newborns stayed in the Neonatal Intensive Care Unit for a week due to breathing difficulties. Jay and Melanie checked in every three hours or so to feed them breast milk.
"Every second we had, we were spending in the NICU," Jay said. "But it was good preparation. Having them in NICU was like having a very expensive nighttime nurse."
The homecoming included introducing the twins to every aspect of the house.
The couple said they were so enthralled to have children, they would debate which one of them got to change the babies. The company they work for gave them both maternity leave, plus they work from home, so adjusting to parenthood was that much easier. Working from home means day care is not needed.
Melanie was told by friends to expect a whirlwind of challenges –– constant crying, accidents, being pulled in two directions –– but she said she has found motherhood to be a source of constant happiness as the twins hit developmental milestones.
MOM LEARNED SHE WAS HAVING TWINS
SOON AFTER FIRST CHILD
Before she was a teacher at Rogich Middle School, 235 N. Pavilion Center Drive, Tracy Farley lived in New Jersey. She learned she was pregnant a few months after getting married. She and her husband, Kevin, were thrilled.
"I always wanted kids," she said.
Daughter Kerri arrived in October 2000. The labor pains stretched out.
"I started at 7 o'clock at night, and she wasn't born until noon the next day," Tracy said.
Not long after, in April 2001, Tracy learned she was pregnant again. This time it was twins.
"I cried," she said. "I had a baby who was 5 months old. And twins? I was already overwhelmed."
She had more to cry about. In July of that year, Kevin, a longtime smoker, was scheduled to have back surgery. Pre-admitting X-rays revealed he had lung cancer. It had spread to his hip. The back surgery was canceled and nine months of chemotherapy began.
Five months later, Kevin was in the hospital battling the cancer when Tracy went into labor and was taken to a different hospital. Things were progressing when the doctor noticed a sudden problem.
"Dylan had decided to swim upstream overnight and went up under my ribs," she said.
An emergency C-section was initiated, and Tracy delivered Brett and Dylan. She introduced the babies to their big sister, who was just on the verge of walking. Kevin was discharged three days after the twins arrived home and met them for the first time.
Luckily for the family, Tracy's parents, who had moved to Las Vegas, came back to New Jersey to act as extra hands.
Five months after the twins' arrival, Kevin entered hospice. He died in October 2002.
Suddenly, Tracy was a single mother. She had little time to mourn her husband, not with diaper changes, feeding schedules, babies who didn't sleep and one who put everything in his mouth and chewed on his wooden crib.
"My hands were full. It was like having triplets," she said. "I needed three of everything. My daughter was only 13½ months old when they were born. Luckily, she was ahead of the curve. Like, when we took walks, and I was pushing the stroller, she listened well. I'd have her walk (beside the stroller), and she didn't dart out into the street."
Tracy eventually moved the family to Las Vegas. What did she learn?
"Take help when you can get it," she said. "Take a nap whenever you get a chance. … God only gives you what you can handle."
Contact Summerlin/Summerlin South View reporter Jan Hogan at jhogan@viewnews.com or 702-387-2949.