Summerlin Art Festival scheduled for Sept. 25, 26
September 17, 2010 - 11:00 pm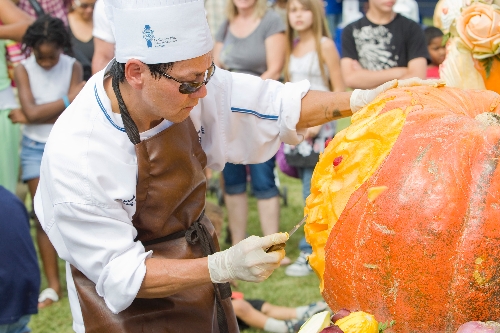 Summerlin Centre Community Park, 1800 S. Town Center Drive, will be transformed into an outdoor gallery during the seventh annual Summerlin Art Festival Sept. 25 and 26 from 10 a.m. to 5 p.m. Festivalgoers are invited to browse and select from the works of 120 artists and craftsman. Other activities slated are chalk art creations, food-carving demonstrations, music and dance performances. The event is free and open to the public.
"We encourage everyone to come out and enjoy the event," said Nikkole Liesse, director of marketing for Summerlin. "Throughout our 20-year history, we've hosted dozens of wildly fun and popular art festivals and cultural celebrations and we expect the same from this event."
One of the event's attractions is sidewalk chalk art. Professional and amateur artists will cover the sidewalks with chalk art. Professional artist, Donovan Fitzgerald, owner of Fitzgerald Artworks, is the 2010 featured chalk artist. Fitzgerald is a local artist who specializes in classical reproductions.
The public is also invited to participate in the chalk art by purchasing a sidewalk square, chalk and kneepad for $5 at the event.
"Anyone can be a chalk artist for the day — regardless of your age or skill level," Liesse said. "Sketching all over the sidewalk is especially fun. It feels a little like you're breaking the rules or coloring outside the lines; yet it's totally legal at Summerlin Art Festival."
In addition to the chalk art; paintings, glasswork, pottery, jewelry, metalwork, sculpture, mixed media, wearing apparel, hand-made soaps, handcrafted dolls and woodcrafts will be available for purchase.
Other entertainment highlights this year include food/ice carving demonstrations by Chef Chanh Boupha from Le Cordon Bleu College of Culinary Arts Las Vegas, Nevada Ballet Theatre, Recycled Percussion, Sergei's Dance Studio, Defending the Caveman, Flash Mob and Jeremy Cornwell Project.
The Summerlin Art Festival is made possible through a partnership with CBS Las Vegas radio, owner and operator of six Las Vegas radio stations: Mix 94.1-FM, KXNT News Radio 100.5-FM and 840-AM, KLUC 98.5-FM, X107.5-FM and KYDZ 1140-AM. Other sponsors include Southern Nevada Heath District, Findlay Kia, Euphoria Institute of Beauty, Suncoast Hotel and Casino, USN Accelerated BSN Program, Dry Dock Boat Sales and American Heart Association.
For more information on the event, visit summerlinartfestival.com. For more information on Summerlin, visit summerlin.com, call 791-4500 or become a fan of Summerlin on Facebook.