Summerlin couples share their true love stories
February 13, 2012 - 1:25 pm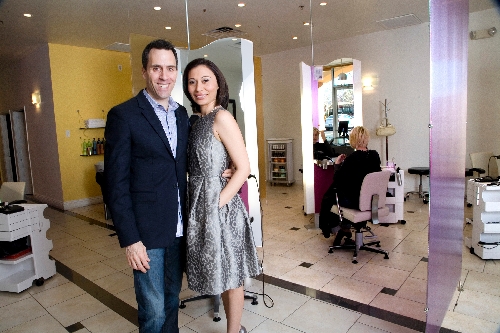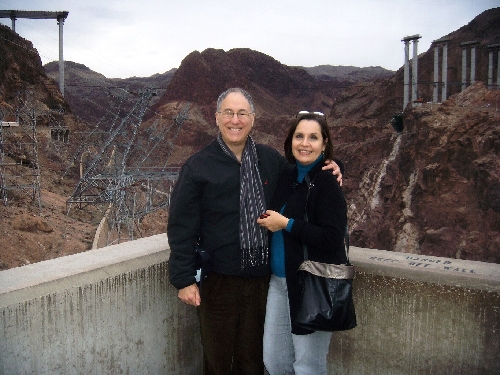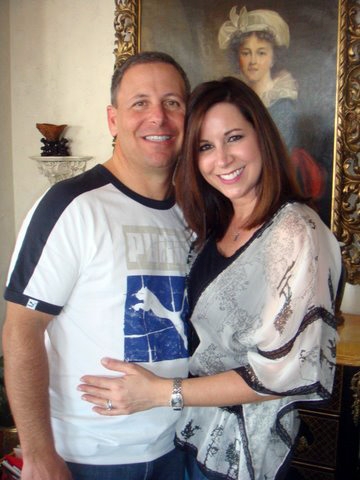 As Cupid readies his bow, couples relate how they met and fell in love, all in time for View's Valentine's Day edition.
The Silvestris
In 1999, Holly Silvestri and the PR firm where she worked were featured in an article in the Nevada Business Journal.
Rob Silvestri, now Holly's husband, was sitting in the lobby of his accountant's office, flipping absentmindedly through the magazine when he spotted Holly's photo. He did a double take.
"I've never had a visceral reaction as when I saw that picture," he said. "There was just something about her."
He started reading the article and discovered a friend of his was quoted in the piece.
Rob called his friend and got him to arrange to meet Holly over lunch. She nearly declined.
"I went on a blind date once in college, and it was a disaster," Holly said. "I had a boyfriend at the time. This wasn't a real blind date; it was a group lunch, about five of us."
They went to Chinatown, and a case of nerves overcame him. He sat across from her, yet he couldn't make eye contact with her, not even once.
"I'd ask him something, and he'd answer by looking at someone else," she said. "I thought, 'That's odd. Why won't he look at me?' When he did talk, he was so nervous, his voice was shaking."
Rob saw it differently, saying he was trying to be professional and that he "wasn't sure what she'd think of me. It wasn't like there was Facebook back then" as a way to learn about someone.
The day after the lunch, he began emailing Holly … a lot. Then he began calling her … a lot. Then he began sending her roses.
"It didn't stop," she said.
"I definitely put my best foot forward and let her know I was interested in more than a casual thing," he said.
Within a few weeks, she and the boyfriend had broken up. Rob became the man in her life. Holly said she watched the way he interacted with people, liked his values and morals and how he was her "biggest cheerleader." They were wed within three years of that first lunch date. They still laugh about how he pursued her.
"I tell people I married my stalker," Holly said.
The couple recently celebrated their ninth wedding anniversary and have identical twins, Ella and Olivia, who will turn 8 in June.
The Labat-Lawsons
Reba Labat-Lawson and her husband, Ralph Lawson, owe their marriage to an online pop-up ad. It was the winter of 2002. Reba was a single mother of two.
"When my daughter went off to college, I figured it was time for me to have a life again," she said.
She went to an online dating site, match.com, posted her picture and filled out the form.
About the same time, Ralph was in Laughlin, trying to purchase an item online but an annoying pop-up ad kept preventing him from accessing the site. The persistent pop-up was for the dating site which Reba had just joined.
"The darn thing kept coming up, no matter what I did," he said.
Just to get rid of it, he went through the steps to sign up, something he would have never done on his own, he said. The very first woman he was matched with was Reba. They spoke on the phone and decided to meet at a club inside Caesars Palace.
"I didn't wear my glasses because I wanted to look cute," she said. "But that meant I couldn't see."
The near-sighted Reba kept scanning the crowd, searching and searching for him as time ticked away.
"I figured he'd spotted me and didn't like how I looked, that I was fat or something, and he'd left," she said.
Her hopes dashed, she began to cry. Actually, Ralph was five feet in front of her. A call to her cellphone confirmed that she was the woman for whom he'd been waiting.
"She thought I stood her up," he said. "We can joke about it now."
They began talking, enjoyed the music at the club and decided to go to dinner.
"Of course, I told my friends that I'd check in with them, just in case he was an axe murderer," she said.
They talked well into the night. Before they knew it, it was 2 a.m., the restaurant was empty of other patrons, and the waiters were casting weary glances their way.
Ralph said "something magical happened," so magical, he could only toss and turn that night. By 6 a.m., they were on the phone talking and made plans for her to drive to Laughlin later that day.
He gave her precise directions. She still missed the turnoff.
"She ended going, like, 30 miles out of her way," Ralph said.
Things progressed quickly after that. They bought a house in Summerlin together and were married in it nine months after meeting. Ralph and Reba will celebrate their seventh anniversary in July.
Seidewitz + Andaluz
Scott Seidewitz and his wife, Beli Andaluz, met in Antigua, Guatemala, in January 2006.
Beli owned a salon and spa there. Scott was invited to the wedding of a good friend, Lisa Potter.
He flew in the day of the wedding and hurried to the gardens where the wedding would take place. When told that Lisa was in the middle of getting her hair done, he decided to stop in and let her know he'd arrived.
"As soon as I walked in … I was struck by the vision of a gorgeous Guatemalan woman doing Lisa's hair," he said. "I was so knocked off my feet that I almost forgot to say 'Hi' to Lisa."
For her part, Beli was concentrating on the thick locks of the bride-to-be, who wanted a French twist.
"She had the longest hair in the world," Beli recalled. "I was like, 'How am I going to do this without making her look like a conehead?' "
She was so busy, she had no time to speak with Scott. In fact, she was concentrating so hard, he was barely on her radar. But Lisa saw his reaction and eventually convinced Beli to be Scott's date for the wedding.
At the reception, Beli also caught the eye of another man, who began flirting with her. The two men began vying for her attention.
"Then Scott went, " 'Hey, John,' or whatever his name was. 'How is your newborn?' " Beli said. "And that was that."
She and Scott went with a group of people to a nightclub and then to a party. The evening included a kiss.
"It was one of those kisses that, when you kiss someone, you feel those fireflies," she said.
They ended up having a romantic three-day weekend in Antigua before he flew back to the United States.
After the wedding, he returned to Guatemala to see her, and they had a great time again.
"But I was a 41-year-old bachelor," he'd said. "I'd been in relationships, but I wasn't the best at making a commitment."
They dropped out of touch for a while, although they would email now and then.
"He'd told me he'd dated a doctor and how he was into politics," Beli said. "I thought he wanted a different kind of woman, a big shot."
Scott bought a ticket to the East Coast to attend a Christmas wedding, this time in Front Royal, Va. Meanwhile, Beli had made arrangements for her and her son Kai to visit her brother over Christmas. Her brother had moved to Front Royal, a town of about 14,000. One kiss, and it was as though they'd never been apart.
"The world kept bringing us together," Scott said. "Can you imagine the coincidence, both of us ending up in the same small town in Virginia?"
They had another romantic interlude but parted again, separated once more by thousands of miles.
Within a year, Beli moved to Las Vegas with Kai, and they visited Scott in New York City. A particularly intimate roof-top dinner cemented their future and set the date. He moved to Las Vegas, they opened a hair salon, Pico Madama, and now call Summerlin home.
"He said, 'I'll never leave you again,' " Beli said. "He made me the happiest person in the world."
The Emorys
Teri Emory and her husband Ken met while teenagers, but theirs is not a high school sweetheart story. They became friends at Great Neck High School in New York when Teri transferred there for her junior year. Ken was a jock and part of her circle of friends. They never dated.
After high school, Ken dated Teri's college friend, Marsha. He'd fly up to Buffalo, N.Y., to see her. He always made sure he stopped in to see Teri, if only for coffee.
Years passed. Teri attended their 10-year high school reunion. Ken did not. By then, she was married and had a daughter, Erica.
Ken, too, married after college, and helped raise his wife's three children before divorcing.
Fast-forward to the school's 40-year reunion in 2006. The light-hearted invitation made reference to the number of alumni who had gone on to become medical professionals and suggested people attend if just for the free medical advice.
"These were kids of privilege," Teri said. "They weren't just doctors and lawyers … they had hospital wings named after them."
At the event, her biography noted that she was a professor at Hunter College and Fordham University. Ken's claim to fame: professional poker player.
"When I saw his bio, I was expecting to see him in pinkie rings and a Hawaiian print shirt," she said.
Teri made the rounds, reconnecting with everyone in the room. Ken spotted her immediately as she spoke with old friends.
"She was attractive and vital, funny and youthful," he said. "And when I got to talk with her, she was a great listener."
Afterward, she sent about a dozen "let's keep in touch" emails to various people from the reunion. Ken received one. He sent back one that was three pages long. Their nonstop correspondence began. Each exchange told her more about this man who'd welcomed her into a new school those many years ago.
"I blame her for not crossing my path often enough in high school, or we might have gotten together then," Ken said.
The reunion was in October. By December, the tone of the emails had changed. Their relationship had evolved into a romantic one.
She'd finish teaching a class, only to run to her office and check her email. By February, she'd agreed to fly from New York City to Las Vegas to meet him.
"I got on that plane and had a long talk with myself," she said. "I said, 'What the hell are you doing?' "
In May, she made plans to move to Las Vegas. Then her family was asking what the hell she was doing. Her daughter, especially, was dead set against the idea. Then Ken flew east and met Teri's inner circle. Everyone, even Erica, was won over.
Ken and Teri bought a house in Summerlin and were married in it. The reunion organizer who suggested that people attend the reunion for the free medical advice? He officiated at their nuptials.
Teri is now writing a book, "Reunion: Couples Talk About Second Chances with Their First Loves."
Contact Summerlin/Summerlin South View reporter Jan Hogan at jhogan@viewnews.com or 387-2949.
MORE VALENTINES
Read other couples' stories of love:
• Jerry and Joy Francomano
• Helmut Landau and Jenny Rosser
• Tom and Rebecca Fay
• Bruce and Rose Marie Irot
• Theron and Naomi Goynes
• Bob and Cathy Navin
• Rob and Holly Silvestri
• Ralph Lawson and Reba Labot-Lawson
• Scott Seidewitz and Beli Andaluz
• Ken and Teri Emory
• Jeff and Abigail McBride
• Keith and Sharon Buck
• Penn and Emily Jillette
• Anthony and Kathleen Cooper
• Javier and Grace Aguirre
• Jerry and Linda Feldman
• Pamela Fava
• Wilbur and Theresa Faiss