Summerlin helps homebuyers find residences on Web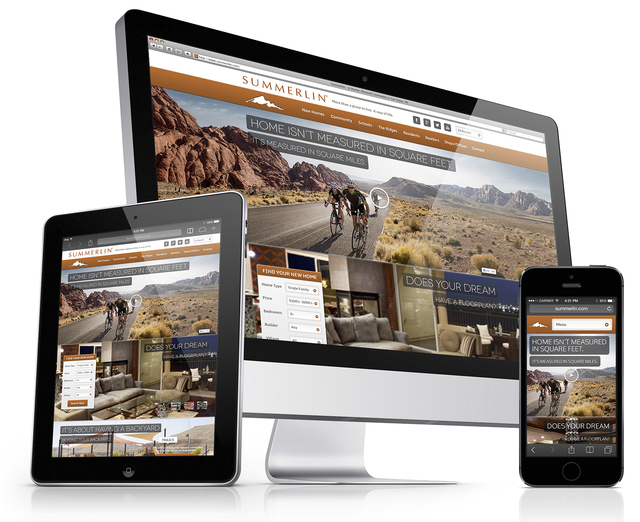 Summerlin continues to blaze new trails with new technology to help new homebuyers find, review and purchase their dream homes — even from the palms of their hands.
The master-planned community's active social media channels, including Facebook, Twitter, Instagram and YouTube, provide significant information for both new-home buyers and residents wishing to learn about the community's homes. Summerlin also offers a mobile app and recently redesigned website.
The redesigned summerlin.com site offers cross-platform compatibility and ease of functionality. Images and text on the redesigned site instantly resize for easy viewing on laptops, tablets and cellphones. Las Vegas-based R+W Advertising designed platforms to complement one another and partnered with local developer Raster Media to create summerlin.com.
With the Summerlin app, users can search new-home inventory by price, builder and village on smartphones and tablets. They can also get directions, view floor plans and model home photos, watch videos, review amenities, map neighborhood locations, save homes for future reference and share homes they like.
"Mobile computers are spreading faster than any other consumer technology in history," R+W Advertising Managing Partner Scott Robertson said. "Smartphones, tablets and wireless data plans are already a trillion-dollar business. You need to be selling where your customers are shopping, and that's from the palms of their hands."
The Summerlin app, developed by Chicago-based Percipia, also lets users connect by phone or email to a builder's sales agent with a tap of the smartphone touch screen.
"When approached about this project we jumped at the opportunity," said Kevin Yarnell, Percipia's global sales director. "The end result is a user-friendly highly customized application that appeals to all audiences involved in the real estate transaction."
Summerlin Marketing Director Danielle Bisterfeldt said, "We know more than 90 percent of all home searches begin online and 53 percent of all Americans have smartphones. With so much moving toward the virtual online world, we wanted to make it as easy as possible for homebuyers and Realtors to find the information they need quickly and conveniently."
To download the free app, search "Summerlin" in your app store. Explore the new summerlin.com and join the social media conversation by searching "Summerlin" and "Summerlinlv" on Facebook, Twitter, Instagram, YouTube or Google Plus.