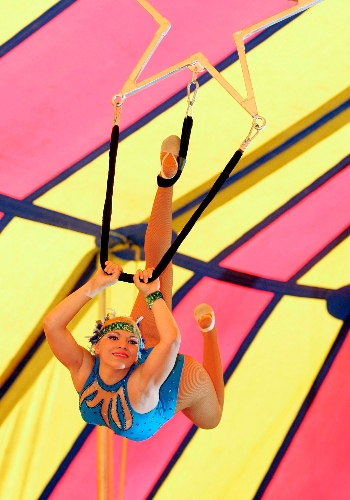 Giant circus tents were spotted last weekend at The Crossing Park in the master-planned community of Summerlin, marking a 16-year community tradition of hosting the Summerlin Circus. Hundreds of residents enjoyed performances by acrobats, aerialists, daredevils, clowns and high-wire walkers at this annual springtime event for Summerlin families.
The Summerlin Circus is one of nearly a dozen annual events organized exclusively for community residents by The Summerlin Council, the nonprofit arm of the Summerlin Community Association that operates similar to a municipal parks and recreation department.
The Summerlin Council, which is funded by residents through the community association, oversees the social, educational, cultural and recreational enrichment of residents in addition to the programming and maintenance of all the community's major parks.
According to Kevin Orrock, executive vice president of master-planned communities for The Howard Hughes Corp., developer of Summerlin, there isn't another master-planned community in Las Vegas that offers a similar lifestyle experience to Summerlin.
"And that's due in large part to the efforts of The Summerlin Council," he said. "The council is comprised of a dedicated group of individuals whose efforts help develop a true sense of community in Summerlin."
Popular resident events organized by The Summerlin Council include the Summerlin Circus, Hometown Holidays, Summerlin Snow Day, Summerlin Pumpkin Festival, Egg Hunt and Friday Night Live summer concerts. In addition, the council coordinates more than 100 classes on a variety of topics for residents of all ages, including health and fitness, arts and crafts and personal enrichment. Youth camps with various themes are planned during spring, winter and summer breaks. In addition, the organization hosts several of the valley's largest sports leagues.
Summerlin residents are informed of the council's many activities and events via a monthly newsletter that is mailed to homes in the community.
"The Summerlin Council's level of activity rivals that of major metropolitan cities," Orrock said. "But it's a private, nonprofit organization dedicated to serving Summerlin residents and enriching the quality of life here. The end result is a vibrant lifestyle and a calendar that's always full of fun and interesting things for Summerlin residents to do."
Summerlin began to take shape in 1990 and has ranked in the country's top 10 best-selling master-planned communities for nearly two decades.
Located along the western rim of the Las Vegas Valley, Summerlin encompasses 22,500 acres with about 7,500 acres still remaining to accommodate future growth within the master plan. The community is currently home to nearly 100,000 residents.
Amenities include more than 150 neighborhood and village parks, more than 150 completed miles of the Summerlin Trail System, 26 public and private schools, 14 houses of worship, nine golf courses, shopping centers, medical and cultural facilities, business parks and more than three dozen actively selling floor plans.
Homes are available in a variety of styles — from single-family homes to townhomes, condominiums and lofts — priced from the mid-$100,000s to more than $1 million. Custom homesites in The Ridges are priced from the high $200,000s. Luxury apartment homes offer monthly rents starting from the $800s. For more information, visit www.summerlin.com or www.facebook.com/summerlinlv.