Summerlin to host art festival today
September 24, 2011 - 1:01 am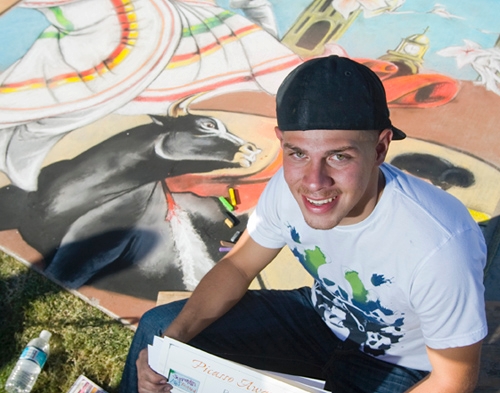 The public is invited to attend one of Las Vegas' largest and most colorful outdoor art events, the Summerlin Art Festival, today and tomorrow 9 a.m.-5 p.m. at Summerlin Centre Community Park, 1800 S. Town Center Drive. The event is free.
The festival features the works of nearly 100 artists and craftsman, chalk art masterpieces and a full entertainment lineup, including fruit and ice carving demonstrations by chef Chanh Boupha, dance performances by The Academy of Nevada Ballet Theatre and Sergei's Dance Studio and music by Jeremy Cornwell Project.
Featured chalk artist, Donovan Fitzgerald, owner of Fitzgerald Artworks, will be working on a classical reproduction throughout the event. Festival goers are invited to join in the chalk art by purchasing a sidewalk square for $5, which includes chalk and a knee pad.
Face painting, interactive children's activities and visits with several costume characters and mascots offer ongoing entertainment for children.
"The Summerlin Art Festival caters to valley residents of all ages and interests," said Nikkole McCartin, director of marketing for Summerlin and coordinator of the annual event. "It's a fun, spectacularly visual event that has become a cherished community tradition thousands enjoy."
In addition to the entertainment offerings, a dozen food vendors will be onsite selling everything from snow cones to burritos.
Participating food vendors include Vintner Grill, Agave, Brentwood Café, Texas Tea Twister, Golden Spoon, Pop Chips, Mickie's Italian Ices, Panda Express, Slindin' Thru, Smoken Sam's and Ma and Pa's Kettle Corn.
The Summerlin Art Festival is made possible through a partnership with CBS Radio Las Vegas, which owns and operates KMXB, KXTE, KLUC, KYDZ, and KXNT AM/FM in Las Vegas. Other major sponsors include KB Home, Findlay Kia, Wyndham and MetroPCS.
Visit summerlinartfestival. com. For more information. For more information on Summerlin, visit summerlin.com or facebook.com/summerlinlv.