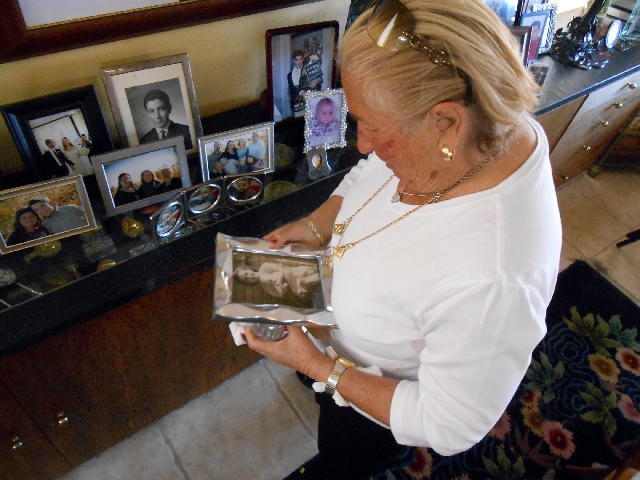 Norman Rockwell put her on the cover of the Saturday Evening Post. Redd Evans and John Jacob Loeb wrote a song about her. A popular poster showed a young woman flexing her biceps with "We Can Do It" penned above her determined-looking face.
Rosie the Riveter was an icon of the World War II era. More than 310,000 women worked in the U.S. aircraft industry in 1943, representing 65 percent of the industry's total workforce (compared to 1 percent in the pre-war years). Back then, the Air Force was known as the U.S. Army Air Forces.
Sun City Summerlin has its own Rosie the Riveter, Rhoda Blau, 83.
She grew up in Manhattan. When she was young, blackouts ensured that the city was dark at night should there be an aerial attack. Blau's younger sister, Carol Altman, recalled it as an exciting time.
"I was 7 years old, and I was a street monitor. I watched to make sure there were no lights on," Altman said. "I went up and down the stairs telling people to close their curtains."
Every Friday, Saturday and Sunday, their father, whose manufacturing business had a T-shirt contract with the military, invited anyone in uniform to the home, where they passed out sodas and sandwiches from a deli called the Tip Toe Inn.
As many as 40 people would show up. Their father let many of them use the phone to make free long-distance calls to family.
"We'd walk along Broadway, and anybody in uniform, we gave them a card inviting them to come over for sandwiches and soda," Altman said. "It was really fun. Our house was always full."
Fast-forward to World War II. Blau moved to San Diego after she married at 19. She and her husband got jobs at Ryan Aeronautical, now Teledyne-Ryan Aeronautical Company. The company had the distinction of making the Spirit of St. Louis, a modified Ryan monoplane, flown by Charles Lindbergh from New York to Paris in May 1927.
She said she felt a sense of patriotism and wanted to help the war effort. Pay was not always equal. According to history.com, the average man working in a wartime plant was paid $54.65 per week, while women got about $31.50.
Blau's job was to install rivets into the ailerons section of the planes, the trailing edge of the wings. Until then, she said, she knew how to use a screwdriver, but that was about it.
It was a big plant with hundreds of workers. Training, Blau said, was "five minutes of instruction, then they handed you the gun."
The women were instructed to wear heavy shoes, a caution that saved Blau from severe injury. The toe of her right shoe got caught in a machine, and she wound up with two broken toes.
"That was my own fault," she said. "I fell asleep. I wasn't accustomed to that 4-to-12 shift."
Her toes were taped together, and she was back at work the next day.
It was not the type of work that challenged her, she said. She'd been working alongside her father, running his garment factories in New York, and longed for something more intellectually challenging than drilling rivets. But she also knew she was helping the war effort. Other plant workers on her assembly line helped the war effort in another way by keeping up morale.
"A lot of girls would write love notes and put them underneath," she said. "They'd rivet one piece to another and stick the note underneath. I was like, 'What? Are you crazy? If the plane crashes, they'll never find that note.' "
About that time, Ryan Aeronautical was awarded a Navy contract for reaction controls of jet aircraft. Blau and others were dismayed to hear their first jet crashed and the test pilot died.
"The cabin couldn't withstand the speed," she said. "It wasn't strong enough for the speed. I think maybe two pilots died before they realized what the problem was and had to reinforce the cabins."
The factory set about making revisions to the jets.
Blau was moved to a shaping machine where she had to slice steel to precise measurements. She was a conscientious worker. She was also a fast one who finished her job as much as two hours ahead of the others. It didn't win her any Brownie points with the factory supervisor, a German man with a limp. He chastised her for working so fast.
"He hated all of us," she said. "Working with women? He thought it was stupid. … He said, 'I told you to bring this back at 10. I don't mean for you to bring it back at 9.' It was very frustrating. I'm an A-type personality."
So she hid out in the factory's large ladies room, sitting on the cool tile floor with the girl from the next machine over, who also finished early, chatting to pass the time.
Blau said she learned the plant operated on a "cost plus" basis. The more the plane cost, the more money the plant got. Turning in her work early thwarted that strategy.
"I had an uncle in the Brooklyn Navy yard, and he told me he used to sit in the john and read the newspaper every night, even though he was being paid," Blau said.
She worked the 4 p.m. to midnight shift. When she got off, the city would still be bustling.
"All of San Diego was open in those days," she said. "It was a 24-hour (place), very much like Vegas is today. Everything was open — movies, restaurants, stores."
Blau worked there eight months. California and its earthquakes didn't agree with her.
"I wasn't accustomed to going to sleep and having my bed shake," she said.
Blau divorced her husband and went on to always be in business for herself. She set up her own factory in Puerto Rico, employing 500 people. She made children's and women's clothing for stores including Kmart and Walmart.
"Running a factory was very different from running a defense plant," she said.
Contact Summerlin/Summerlin South View reporter Jan Hogan at jhogan@viewnews.com or 702-387-2949.