Summerlin's The Paseos village offers seven neighborhoods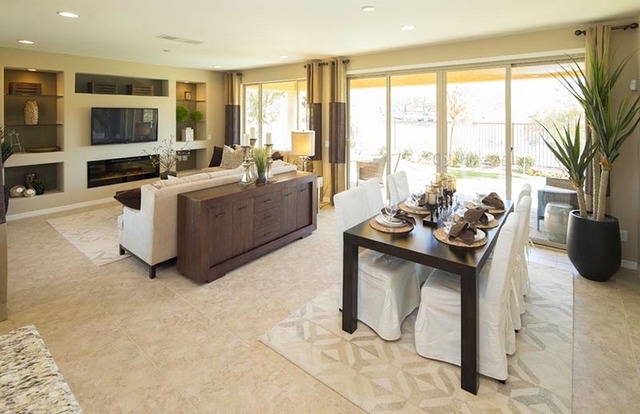 The Paseos, one of Summerlin's most popular villages, is offering seven new neighborhoods by five homebuilders with prices starting in the low $300,000s.
Floor plans include homes with an array of options, including as many as seven bedrooms, a first-floor guest suite, dual master-bedroom suites, wide accordion-style patio doors and, three-car garages, to name a few.
While some homebuyers search for similar features in preowned homes with a smaller price tag, opting for new construction can ultimately give buyers more bang for the buck.
In addition to the obvious advantages of selecting a home that best meets buyers' needs and lifestyles, new homes are built to the latest energy conservation standards and include Energy STAR certified appliances, window sheeting, higher-efficiency insulation and doors and windows that help drop utility bills by double digits in some instances.
New homes offer not only the latest home efficiency standards, they also include technological advances built right into the homes that allow homeowners to seamlessly plug in to desktops and mobile devices.
New homes let homebuyers choose the layout, amenities and personalized design elements that make a house a dream home, said Danielle Bisterfeldt, director of marketing for Summerlin.
Woodside Homes, Toll Brothers, Pulte Homes, Lennar and KB Home are all offering more than 30 one- and two-story floor plans in The Paseos.
All homes come standard with certain amenities that houses built five and six years ago simply can't offer.
"Part of buying a home is finding a house that represents who you are," Bisterfeldt said. "That means being able to pick and choose not just the location and number of floors in the home, but also the color scheme, flooring, wall textures, lighting fixtures the number of bedrooms and bathrooms and overall floor plan. Our builders offer so many options that in many cases, choosing a floor plan can feel almost like designing your own home."
"Think of buying a new home like buying a new car," said Tom Warden, vice president, Summerlin. "You can get a cheaper sticker price for a car built in 2006, but the technology in a 2014 car is far more advanced. Like cars, amenities and safety features included in today's new homes weren't standard, or in some cases, even available just a few years ago. The cost difference in many cases may be marginal, and the homes built today are designed to help you save money in the long run."
For more information about new homes in Summerlin, visit summerlin.com or download the new home finding app by searching "Summerlin" in your app store.