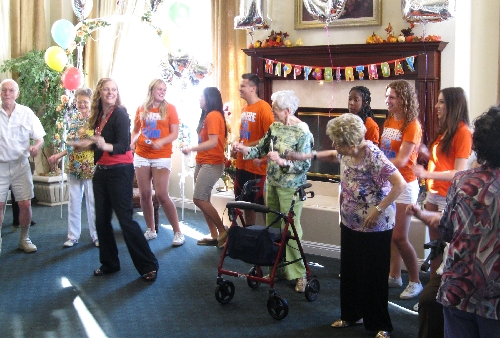 SUMMERLIN HOSPITAL BREAST CARE CENTER TO HOST BREAST CANCER SEMINARS
The Center for Compassionate Care plans to offer two breast cancer educational workshops at the Breast Care Center at Summerlin Hospital Medical Center, 657 N. Town Center Drive.
The Beauty of Essential Oils is scheduled from 6 to 7:30 p.m. Wednesday. Lisa Browder, an internationally certified aromatherapist, will discuss how essential oils can improve your quality of day-to-day living.
Optimizing Your Health is scheduled from 6 to 7:30 p.m. Oct. 24. Dr. Alex Reimann, who practices naturopathic medicine, will focus on naturopathic concepts that can increase the immune system and benefit overall health.
Space is limited. To register and for more information, call The Center for Compassionate Care at 702-796-3167.
SOUTHERN NEVADA CLEANS UP SCHEDULES OCTOBER EVENTS
The first Southern Nevada valleywide community beautification project, Southern Nevada Cleans Up, plans to host events throughout October, leading up to Make A Difference Day on Oct. 27.
Volunteer opportunities will be hosted by Southern Nevada businesses and organizations from Mount Charleston to Lake Mead.
A desert site cleanup is planned for the area of Maule Avenue and Pearland Street from 8 to 11 a.m. Saturday. Join The Howard Hughes Corp. in sweeping the area and removing trash items that impact safety and the aesthetics of the desert environment.
Advance registration is required. To register and for a list of upcoming events and maps, visit donttrashnevada.org/make-a-difference-day-events.
LONE MOUNTAIN REGIONAL PARK EXPANSION TO BE DEDICATED SATURDAY
The dedication of the 20-acre expansion project at Lone Mountain Regional Park is planned from 9 to 11 a.m. Saturday at 9825 W. Lone Mountain Road.
The expansion covers more than 375 acres and nearly doubles the developed acreage of the park from 23 to 45 acres. Improvements include four basketball courts, six tennis courts, seven horseshoe pits, seven bocce courts and 11 new picnic pavilions. There are two new restroom buildings, a 164-space parking lot, a new plaza with barbecue grills and drinking fountains, a walking trail and full landscaping with trees, shrubs and turf play areas. A large shaded playground has two play areas, one for younger children and one for children 5 to 12 featuring a rocks and ropes course and a climbing/balance beam structure.
Visitors should park in the north parking lot off Lone Mountain Road for best access to the event. For more information, call 702-455-4901 or email ccdistc@clarkcountynv.gov.
JEWISH GENEALOGY SOCIETY TO MEET AT SAHARA WEST LIBRARY
The Jewish Genealogy Society of Southern Nevada plans to host its monthly meeting at 1 p.m. Sunday at the Sahara West Library, 9600 W. Sahara Ave. The program Make Your Photos Really Zing! will feature Tom Underhill introducing Photoshop tools he uses on nearly every digital image he touches.
There is no charge to attend, and meetings are open to the public. The group meets at 1 p.m. the third Sunday of each month.
The topic for the Nov. 18 meeting is planned to be Finding Living People with speaker Ron Arons.
For more information, call Earle Malkin at 702-528-4334 or visit jgssn.org.
RED ROCK GOLF CLASSIC TO RAISE FUNDS FOR OPERATION HOMEFRONT NEVADA
The Red Rock Golf Classic is planned for a shotgun start at 9 a.m. Oct. 24 at Red Rock Country Club, 2205 Red Springs Drive. This year's proceeds will benefit Operation Homefront Nevada. Fees are $125 for individuals and $500 for a team. For more information, visit operationhomefront.net/nevada or call 702-449-9987.
FINANCIAL SEMINAR SET AT SIENA GOLF CLUB
A financial seminar, Election 2012, What's at Stake and What Can You Do to Prepare, is planned at 5:30 p.m. Oct. 25 at Siena Golf Club, 10575 Siena Monte Ave. Dinner will be served.
The event is free, but RSVPs are required. To RSVP, call John Leveritt at 702-341-2080.
TOYS 4 SMILES PLANS VOLUNTEER EVENT
Nonprofit Toys 4 Smiles plans to open its doors at 3170 Polaris St., No. 17 and 18, for 24 hours to accommodate all shift workers for a Make A Difference Day volunteer event Oct. 27.
During the 24-hour volunteer period, its saws and drills will not be running for safety reasons, but anyone can donate $1, apply mineral oil to a toy and take the toy with them and give it to a child who needs a smile. For more information, visit toys4smileslasvegas.org.
Shop tours are available for those who want to come back and volunteer more.
COATS FOR KIDS DRIVE GOES THROUGH FRIDAY AT PECCOLE RANCH
A winter coat collection for Coats for Kids is planned from 7:30 a.m. to 4 p.m. through Friday at the Peccole Ranch Association Office, 9501 Red Hills Road.
On Saturday, Boy Scout Troop 377 troop leader Chuck Simons plans to collect coats from 10 a.m. to noon in the parking lot.
Clothing will be dry cleaned and distributed through The Salvation Army. For more information, call 702-233-2417.
DARE TO DREAM FUNDRAISER PLANNED AT JW MARRIOTT
The Women's Club of Summerlin plans to host its annual charity fundraiser to benefit the Dare to Dream grant program from 6 to 9 p.m. Thursday at the JW Marriott, 221 N. Rampart Blvd.
The grant program provides grants of up to $1,000 for women across the Las Vegas Valley. Attendees will enjoy an evening of dancing and entertainment by Shades of Sinatra, as well as a raffle and silent auction of select high-end items. Heavy hors d'oeuvres will be served.
Tickets are $75 for individuals and $700 for a table of 10. For more information and to purchase tickets, visit womensclubofsummerlin.org or call 702-804-5188.
SCREAM! 5K/1-MILE EVENT TO FEATURE COSTUMED RUNNERS
The Scream! 5K/1-mile event is planned for 6 p.m. Oct. 31 at Fleet Feet Sports Las Vegas, 7575 W. Washington Ave., Suite 123. Dress in your scariest costume for a fun run that follows the Bonanza Trail past Kellogg-Zaher Park, then returns for a celebration including treats, games, refreshments and a costume contest.
All participants will receive a T-shirt and raffle entry. Children 12 or younger will receive a Halloween goodie bag with candy and treats.
Registration fee is $30 for the 5K and $20 for the one-mile event. Participants for Scream! must register no later than Friday in order to be guaranteed a shirt in their requested size. For more information, visit elementalrunning.com or call 702-458-3338. Event packets will be available at Fleet Feet Sports Las Vegas.
SMILES FOR SURVIVORS PLANS BLOW OUT BREAST CANCER FUNDRAISER
The Smiles for Survivors Foundation plans to host its second annual Blow Out Breast Cancer fundraising event from 4-11 p.m. Saturday at Square Colour Salon + Spa, 1225 S. Fort Apache Road, Suite 160.
The event is open to men and women and is set to include cocktails, food, a silent auction, live entertainment and beauty treatments. Tickets are $35 in advance for event admission and $50 for admission and a blowout and can be purchased at Square Salon. Admission is $40 at the door. Appointments for salon services are highly recommended and can be made by calling 702-255-7050.
All proceeds benefit Smiles for Survivors, a Las Vegas-based nonprofit that raises awareness of potential oral side effects from cancer treatment.
For more information, visit smilesforsurvivors.org.
COMMUNITY DAY OF SHARING TO ASSIST FIVE NONPROFITS
Albertsons Sav-on's CommUNITY Day of Sharing will combine five nonprofit groups for a donation drive, culminating Saturday.
The effort will unite Catholic Charities, The Salvation Army, Three Square food bank, United Way of Southern Nevada and Goodwill of Southern Nevada, with the goal of impacting the lives of those who need help with shelter, food, employment or other basic needs.
Donate gently used clothing, home goods, nonperishable food items and new hygiene products to any Albertsons location from 9 a.m. to 4 p.m. Saturday.
The Albertsons store at 4055 S. Durango Drive at Flamingo Road will serve as the main event site from 11 a.m. to 3 p.m. that day, with music, prizes and a community barbecue planned.
FLU VACCINATIONS AVAILABLE ACROSS THE VALLEY
The Southern Nevada Immunization and Health Coalition and its partners plan to host no-cost flu immunization and health clinics from 7 to 10 a.m. Oct. 23 at St. Rose Dominican Hospitals Barbara Greenspun WomensCare Center, 7220 S. Cimarron Road, Suite 195; 9 a.m. to noon Nov. 14 at the St. Rose Dominican Hospital San Martin Campus' Aljian Conference Center, 8280 W. Warm Springs Road; and noon to 3 p.m. Dec. 8 at the Clark County Fire Department Station 26, 4030 El Capitan Way.
The Centers for Disease Control and Prevention's Advisory Committee on Immunization Practices recommends that everyone 6 months or older receive the flu vaccine each year. The clinics will provide shots on a first-come, first-served basis. Children older than 6 months, adolescents and adults are eligible for the inoculations.
For more information, visit snicnv.org.
MAYOR'S CUP TO FEATURE YOUTH SOCCER TEAMS FROM AROUND THE WORLD
Everyone is invited to watch 336 youth soccer teams from 12 states, Russia, Mexico and Canada compete in the 13th annual Las Vegas Mayor's Cup International Soccer Tournament, which is scheduled for Oct. 26-28.
It will be held at various venues: Bettye Wilson Soccer Complex, 7353 Eugene Ave.; the Kellogg-Zaher Sports Complex, 7901 W. Washington Ave.;. Ed Fountain Park, 1400 N. Decatur Blvd.; and Centennial Hills Park, 7101 N. Buffalo Drive..
Teams of boys and girls ages 9 to 15 will compete between 6 and 9 p.m. Oct. 26; between 8 a.m. and 8 p.m. Oct. 27; and between 8 a.m. and 6 p.m. Oct. 28. Friday games will feature primarily local teams.
Admission is free all weekend. Spectators should bring their own seating.
The event, co-hosted by the city of Las Vegas and the Downtown Las Vegas Soccer Club, is expected to infuse the local economy with an estimated $5 million.
For schedules, maps, a list of teams, rules and the program, visit lvmayorscup.com.
KOSHER BARBECUE COOK-OFF AND HEALTH FAIR COMING TO JCC CAMPUS
The Jewish Community Center of Southern Nevada plans to host a kosher barbecue cook-off and health fair from noon to 4 p.m. Oct. 28 at its campus, 9001 Hillpointe Road.
The cook-off will have 12 teams face off to determine the best brisket, beef ribs and beans.
Tickets are $10 for JCC of Southern Nevada members 12 or younger, $20 for members 13 or older, $15 for nonmembers 12 or younger and $25 for nonmembers 13 or older.
All proceeds raised benefit the Camp K'helah scholarship program. For more information and to RSVP, call 702-794-0090.
MAKE A DIFFERENCE DAY FOOD DRIVE SET FOR OCT. 28 AT SMITH'S
The 14th annual Make A Difference Day food drive is planned from 10 a.m. to 4 p.m. Oct. 28 at Smith's Food and Drug, 2211 N. Rampart Blvd.
The event is part of the national USA Weekend Magazine Make A Difference Day, a nationwide charity event.
Celebrities and local personalities will lend their support throughout the day. Las Vegans are invited to shop for nonperishable food items to donate.
To date, the yearly food drive has collected more than 44,480 pounds of nonperishable foods and personal hygiene items and was nationally recognized in April by the Make A Difference Day organization Points of Light and the Newman's Own Foundation as one of 10 notable projects from thousands held in 2011.
BRUCE TRENT PARK TO HOST PUPPY UP! WALK FOR CANINE CANCER RESEARCH
The Puppy Up! Walk is planned for Nov. 3 at Bruce Trent Park, 8851 Vegas Drive. Registration is scheduled to begin at 11 a.m. and the walk at 1 p.m.
Registration is $20. Youth registration is free for children 13 or younger. The event supports the 2 Million Dogs Foundation, which seeks to find the link between canine and human cancers through comparative oncology research.
For more information and to sign up, visit 2milliondogs.org.
HELPING HANDS SURGICAL CARE PLANS SECOND ANNUAL CHARITY SURGERY DAY
Dr. Kevin Petersen and his wife, Kelly, co-founders of Helping Hands Surgical Care, plan to host the second annual Charity Surgery Day Nov. 13.
Helping Hands Surgical Care is a nonprofit organization with the mission to fund and facilitate surgeries for uninsured Nevadans without the means to pay for medically necessary procedures. HHSC doctors will provide 10 free surgeries Nov. 13 to uninsured Nevadans without the means to pay and who do not qualify for government assistance.
HHSC is seeking patients who may qualify. Applicants must qualify both financially and medically. To review patient eligibility requirements and apply, visit helpinghandssurgicalcare.com and click on the "How to Apply" link.
JW MARRIOTT'S AQUAE SULIS SPA PLANS DONATION TO MAKING STRIDES
Through October, Aquae Sulis Spa inside the JW Marriott, 221 N. Rampart Blvd., is honoring Breast Cancer Awareness Month with specialty pink-themed beauty treatments that will benefit Making Strides Against Breast Cancer. Aquae Sulis will donate 10 percent of the costs from the specialty treatments to Making Strides through Oct. 31.
The Pretty in Pink Facial, which takes 50 minutes, is $89; the 25-minute Pink Manicure is $29; and the 50-minute pedicure is $45. For more information, call 702-869-7807.
LOW-COST MAMMOGRAMS AVAILABLE
Red Rock Radiology, 7130 Smoke Ranch Road, is offering $75 digital screening mammograms through Oct. 31.
Approximately one in eight women are diagnosed with breast cancer in their lifetime. The best way to reduce the risk is through a combination of regular mammograms, routine breast exams by a health care professional and monthly self breast exams. To schedule an appointment, call 702-731-2888.
RED ROCK CANYON ANNOUNCES FALL HOURS
Red Rock Canyon National Conservation Area plans to close the Scenic Loop Drive at 7 p.m. through October. Beginning Nov. 1, the drive will close at 5 p.m.
The drive opens daily at 6 a.m., and the Visitor Center is open from 8 a.m. to 4:30 p.m.
For more information, visit blm.gov/nv or friendsofredrockcanyon.org.
YMCA OFFERS NEW MEMBERSHIP DEAL THROUGH OCTOBER
Join the YMCA of Southern Nevada by Oct. 31 and save up to $75 on a new individual or family membership.
As a new member, you will also receive a free YMCA logo arm band to keep cards and mp3 players handy while you work out, while supplies last. The offer is good at all YMCA of Southern Nevada locations: Bill & Lillie Heinrich YMCA, 4141 Meadows Lane; Durango Hills Community Center YMCA, 3521 N. Durango Drive; Centennial Hills Community Center YMCA, 6601 N. Buffalo Drive; and the SkyView YMCA, 3050 E. Centennial Parkway, North Las Vegas.
For more information, visit lasvegasymca.org.
WINDER FARMS USING STRAWBERRY MILK TO RAISE FUNDS FOR BREAST CANCER RESEARCH
Winder Farms, Las Vegas' "Farmers Market on Wheels," continues to raise money and awareness for Susan G. Komen for the Cure through sales of its pink strawberry milk. Through October, a portion of strawberry milk sales will benefit breast cancer screenings, treatment programs and research. For more information, visit winderfarms.com.
HEALTH CARD PROCESS CHANGES
As of Oct. 1, the Southern Nevada Health District has streamlined the health card process for most applicants, who will no longer be required to receive hepatitis A immunizations.
As part of the restructuring of the program, the health district will also discontinue providing TB tests for health card applicants as of Nov. 1. Individuals who require a TB test for licensing or other purposes will be referred to other resources for their tests. For more information, visit snhd.info.
As a result of the changes, the cost of the health card has been reduced by $10, with the exception of the child care card, which remains the same at $40. Food handlers and child care staff members must complete the online training before they come to the health district to apply for the card. The cost of the online training is $20 and must be paid at registration, and the $20 balance must be paid at the health district when applying for the card.
HELP OF SOUTHERN NEVADA SEEKS HOLIDAY VOLUNTEERS
HELP of Southern Nevada is calling for volunteers to assist with a number of programs this holiday season. Assistance is accepted from individuals who can donate any amount of time.
Areas where volunteers are needed include: assisting clients with their applications for holiday programs at HELP's main campus, 1640 E. Flamingo Road; assisting in receiving donated Thanksgiving turkeys at various locations (turkeys will be given to more than 1,200 families); and assisting in receiving holiday gifts for selected clients in the Adopt-A-Family program.
To volunteer, contact Joan Lima at jlima@helpsonv.org or 369-4357.