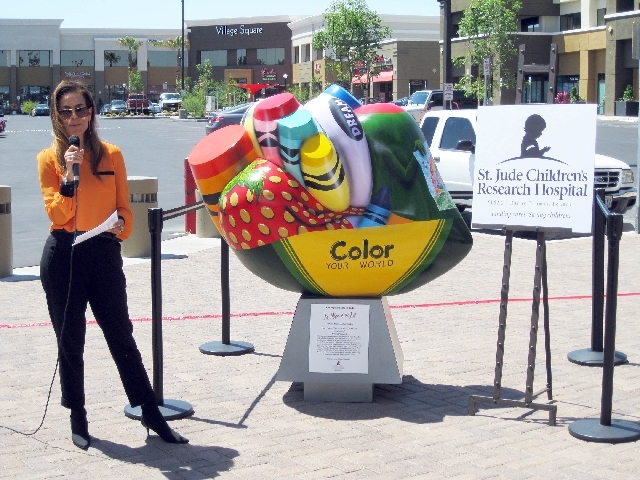 TRAVEL CLUB TO MEET AT TAP HOUSE MAY 28
The Las Vegas Singles Travel and Social Club invites mature adults to its meetings, which are scheduled for 7 p.m. the fourth Tuesday of the month at the Tap House, 5589 W. Charleston Blvd. The next meeting is set for May 28 and will feature the topic "Cruising to and from Hawaii."
The meet-and-greet portion is set to start at 6:30 p.m. in the meeting room. Discussions focus on day trips, local events, in-state and out-of-state traveling, cruises and international traveling. A guest speaker frequently is featured. The meeting closes at about 8:30 p.m., when appetizers are served. A small fee covers refreshments and the cost of the meeting room. For more information, call 888-324-2028.
WESTSIDE NEWCOMERS TO GATHER
FOR COFFEE MAY 29
The Westside Newcomers Club plans to host a coffee event for prospective members at 10:30 a.m. May 29 at Grace in the Desert Episcopal Church, 2004 Spring Gate Lane.
The coffee events are planned for the first Wednesday of each month.
WNC is a social club for women who have lived in the area for 10 years or less or those who have life-changing events, such as retirement. It offers a variety of activities. A luncheon with a program is planned for the second Wednesday of each month.
For more information, visit
westsidenewcomersclub.org or call Laura Gordon at 702-649-3922.
WARD 2 COUNCILMAN BEERS TO MEET
WITH RESIDENTS MAY 31 AT ANGEL PARK
Las Vegas Ward 2 City Councilman Bob Beers invites residents to join him for coffee and conversation from
8 to 9:30 a.m. May 31 at Angel Park Golf Course's clubhouse restaurant, 100 S. Rampart Blvd. For more information, call 702-229-4645. For more information on Ward 2 activities, visit lasvegasnevada.gov/ward2.
JW MARRIOTT TO HOST
WOMEN'S EXPO JUNE 1
The Women's Expo is planned from 10 a.m. to 5 p.m. June 1 at the JW Marriott, 221 N. Rampart Blvd.
More than 100 vendors are scheduled to be on site selling, sampling and demonstrating women-oriented products and services, along with home-based business opportunities.
Admission is $8. To get a $3-off coupon, visit womensexpo.biz. For more information, email info@womensexpo.biz or call 702-331-1350.
CARDHOLDERS GET FREE MUSEUM ADMISSION
Anyone with a Bank of America or Merrill Lynch debit card or credit card can gain free admission to three Las Vegas museums June 1 and 2. The Museums on Us program offers the cardholder complimentary admission to the Las Vegas Natural History Museum, 900 Las Vegas Blvd. North; the Discovery Children's Museum, 360 Promenade Place; and the Springs Preserve, 333 S. Valley View Blvd.
For more information, visit museums.
bankofamerica.com.
BUSINESS NETWORK MIXER SET FOR JUNE 4
AT THE SUNCOAST
The Large Vision Business Network plans to host its next mixer from 6 to 9 p.m. June 4 at the Suncoast, 9090 Alta Drive. The planned theme is Beauty/Fitness/Health Affair Expo. It will include more than 50 area businesses showcasing their products and services. The Chefs Corner will serve bites of international flavors.
The event is open to the public. Admission is $10. For free tickets, visit pjproductionlive.com/LVBNM.html. For more information, call 702-639-6964.
JEWISH SINGLES SOCIAL CLUB TO MEET
JUNE 5 AT JEWISH COMMUNITY CENTER
The Jewish Singles 55 Plus Social Club for men and women plans to host its next meeting at 6:30 p.m. June 5 at the Jewish Community Center building on the property of Temple Sinai, 9001 Hillpointe Road.
The group meets on the first Wednesday of each month. Guests are welcome, and there is no charge.
For more information, call 702-233-8618 or 702-243-9482.
BEREAVEMENT GROUP TO MEET
AT TEMPLE BETH SHOLOM
A bereavement group plans to meet at 10:30 a.m. every other Wednesday in the social hall of Temple Beth Sholom, 10700 Havenwood Lane. The next meeting is set for June 5. The meetings are usually scheduled on alternating Wednesdays. The purpose is to help widows and widowers understand the process of grieving and prepare for lifestyle changes. For more information, call 702-255-0043.
HADASSAH TO HOST KOSHER
WINE AND CHEESE TASTING
Hadassah plans to host a kosher wine and cheese tasting at 7 p.m. June 6 at the home of Sam and Suzanne Green. The cost is $20 per person or $30 per couple. Mail checks to Hadassah, P.O. Box 401255, Las Vegas, NV 89140.
For more information, including the Greens' address, contact Randi Lampert at relampert@cox.net or call 702-838-6099.
CHARCOT-MARIE-TOOTH SUPPORT GROUP
TO MEET JUNE 8
The Charcot-Marie-Tooth Support and Action Group Las Vegas plans to meet at 10 a.m. June 8 at Community Lutheran Church, 3720 E. Tropicana Ave. Mark Willie from Aertex shoes plans to be in attendance to answer any question about their shoes, and he will have catalogs.
For more information, call Jerry Cross at 775-751-9634 or Virginia Mamone at 702-343-3572. For information about the Charcot-Marie-Tooth Association, visit cmtausa.org.
MDA SEEKS VOLUNTEERS FOR AUGUST CAMP
The Muscular Dystrophy Association is looking for volunteer counselors and medical professionals to care for children with muscular dystrophy and related diseases at the Southern Nevada MDA Summer Camp, slated for August 4-10 at Apple Canyon Center in Mountain Center, Calif .
Volunteer counselors must be at least 16. Campers' ages range from 6 to 17. Each counselor is a companion to an MDA camper, helping them with camp activities (sports, horseback riding, arts and crafts, etc.) and day-to-day activities (eating, bathing and dressing).
Also, the association is seeking physicians, nurses, emergency medical technicians, physical therapists and other medical professionals to volunteer for the camp's medical staff. Medical staff members supervise and maintain the health and well-being of all camp participants.
To volunteer, contact the local MDA office by visiting mda.org/locate.
CAMP THAT REUNITES SIBLINGS
IN FOSTER CARE SEEKS DONATIONS
Camp To Belong Nevada, which reunites siblings who are apart due to foster care, needs donations from the public for its summer camp program. Camper supplies such as water bottles, flashlights and cans of Gatorade powder are needed.
A full list can be seen at Child Focus, 2685 S. Rainbow Blvd., Suite 112, or call 702-436-1624.