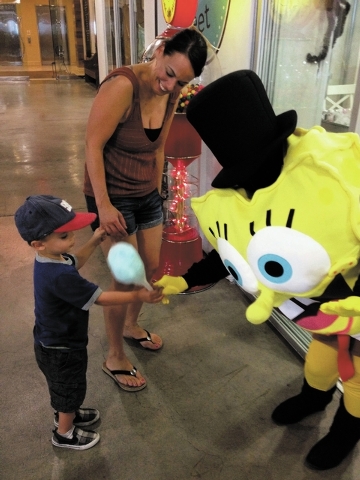 THE SALON AT ULTA PLANS CUT-A-THON FOR BREAST CANCER RESEARCH
The Salon in the ULTA Beauty stores in Las Vegas plan to host a Cut-A-Thon to support the Breast Cancer Research Foundation from 11 a.m. to 6 p.m. Oct. 13.
For a minimum suggested donation of $10, supporters will receive a cut, a shampoo and a blow-dry style by ULTA Beauty's professionally trained stylists. All proceeds will be donated to the Foundation. The offer is for walk-ins only, with no appointments taken.
ULTA locations are at 7265 Arroyo Crossing Parkway, 9857 S. Eastern Ave. and 543 N. Stephanie St. in Henderson and 2186 N. Rainbow Blvd.
For more information, visit ulta.com.
JON RALSTON SET TO SPEAK AT TEMPLE BETH SHOLOM OCT. 15
The Temple Beth Sholom Active Adults group plans to welcome Jon Ralston at its program set for 1:30 p.m. Oct. 15 at its facility, 10700 Havenwood Lane. Ralston has been a political reporter for many years and hosts "Face to Face" on KSNV Channel 3.
The event is free and open to the public. For more information, call 702-233-3785.
COUNCILMAN BOB BEERS TO MEET WITH RESIDENTS AT STARBUCKS OCT. 18
Ward 2 Las Vegas City Councilman Bob Beers invites residents to join him for coffee and conversation from 8 to 9:30 a.m. Oct. 18 at Starbucks, 2120 N. Rampart Blvd. For more information, call 702-229-6405. For more information on Ward 2 activities, visit lasvegasnevada.gov/ward2.
SUMMERLIN HOSPITAL TO HOST BLOOD DRIVE OCT. 18
Summerlin Hospital Medical Center, 657 N. Town Center Drive, plans to host a blood drive from 3 to 6 p.m. Oct. 18. Reservations are encouraged and can be made at redcrossblood.org/make-donation.
HEALTH DISTRICT OFFERS FLU SHOTS
The Southern Nevada Health District is offering the newly available quadrivalent influenza vaccine, which protects against four strains of the flu. It is the only type of vaccine that will be available for adults. The four-strain inhaled vaccine is available for healthy children and adults between ages 2 and 49. Some vaccines available for children between 6 months and 35 months who qualify for the Vaccines for Children program will be the traditional, three-strain immunization aministered through injection.
The quadrivalent shots are $40; the inhaled mist is $43; and both are slated to be available at all Health District locations.
For more information, contact the Health District's immunization clinic at 702-759-0850 or visit snhd.info.
DISCOUNTED MAMMOGRAM SCREENINGS PLANNED IN OCTOBER
Mammogram screenings are being offered weekdays through Oct. 31 for $55 at Centennial Hills, Spring Valley and Summerlin hospitals.
A physician's order is required, and insurance will not be billed. Results will be mailed.
To schedule an appointment, call 702-369-7710.
SHAKESPEARE INSTITUTE TO OFFER ACTOR CLASSES
The nonprofit Shakespeare Institute of Nevada recently launched a series of acting workshops for Southern Nevada residents focusing on teaching students to try new material and prepare audition pieces while receiving feedback from professional actors and directors. The workshops are suitable for all ages and all acting levels and are planned from 6:30 to 9:30 p.m. Wednesday and Thursday at the Hollywood Bound Acting Academy, 7220 S. Cimarron Road.
The fee is $80 for 10 classes. The first class is free to audit.
For more information or to register, email shakesinstnv@gmail.com or call 702-896-9517.
NURSES HEALTH INSTITUTE SPEAKER SERIES, RUN SET FOR OCT. 11-12
The National Nurses Health Institute Speakers Series is planned for 8 a.m. to 6 p.m. Oct. 11-12 at Red Rock Resort, 11011 W. Charleston Blvd.
A select group of speakers, exhibitors and vendors are planned in support of good health, fitness and nutrition. Topics are set to include weight loss, nutrition, exercise, Pilates, Zumba, surviving cancer, motivation, holistic nursing and more. The series is free and open to the public. Nurses can earn up to 10 credits at $10 each.
The National Nurses Half Marathon and 5K is set for 5:30 a.m. Oct.13. The route will travel through Red Rock Canyon.
The cost for the half marathon or 5K Race is $55 by Sept. 30 and $65 after Oct. 1. The cost of the half marathon is $70 by Sept. 30 and $80 after Oct. 1.
Volunteers are still needed to work the half marathon. Contact Helene Neville at heleneneville@hotmail.com or 480-299-5748.
SHRINERS OPEN PLANS ANNOUNCED
Shriners Hospitals for Children plans to host the FedExCup PGA Tour and related events Oct. 12-21 at TPC Summerlin, 1700 Village Center Circle.
The schedule is set to begin with the Las Vegas Golf Hall of Fame induction ceremony planned for 6 p.m. Oct. 12 and followed Oct. 13 by the Goodie Two Shoes Foundation Rockin' Walk.
The Women's Day: Third Annual Kick Off Your Heels Luncheon presented by Wells Fargo is planned from 11:30 a.m. to 1:30 p.m. Oct. 15. Women can enjoy lunch provided by Buca di Beppo and meet hostess Tricia Kean of KTNV Channel 13.
The Championship Pro Am is slated for Oct. 16, where PGA Tour professionals will join Pro Am players as they pair up and compete at TPC Summerlin.
The PGA tournament is set for Oct. 17 -20.
The Tough Day Challenge is planned with 7 a.m. and 12:30 p.m. shotgun starts Oct. 21.
For more information, visit pgatour.com.
ROCKIN' WALK SET FOR OCT. 13 AT TPC SUMMERLIN
The fourth annual Rockin' Walk is slated for 8:30 a.m. Oct. 13 at TPC Summerlin, 1700 Village Center Circle. All attendees must park at the Suncoast, 9090 Alta Drive, and take the free shuttle.
Choose a 1-mile, 2.5-mile or 5-mile option. The event benefits the Goodie Two Shoes Foundation.
Early sign-ups can register at reduced rates. For more information, visit goodietwoshoes.org.
GOLF TOURNAMENT TO BENEFIT FIVE CAUSES
The Charley Hoffman Foundation Las Vegas Pro Am is scheduled for Oct. 14 at TPC Summerlin, 1700 Village Center Circle, the host course of the Shriners Hospitals for Children Open, an official PGA Tour FedEx Cup event.
Registration is set to start at 10 a.m., with the shotgun start set for 11 a.m.
In the past three years, the Pro Am event in Las Vegas has raised more than $225,000 to benefit these local charities: Blessings in a Backpack; the Cystic Fibrosis Foundation; the Goodie Two Shoes Foundation; the Juvenile Diabetes Research Foundation of Las Vegas; and the Transportation Fund of the local Zelzah Shrine Temple.
Entry fees are $2,100 per player and $7,400 for a foursome. Space is limited. For questions or to register, contact Megan Mahoney at 619-571-2390 or megan@sdjga.org.
LIONS CLUB TO HOST MEET AND GREET
The annual Meet & Greet Lions is set for Oct. 16 at the TPC Golf Clubhouse Grill, 9851 Canyon Run Drive.
Registration is scheduled for 6 p.m., followed by a buffet and program.
Reservation for the buffet is required by calling 702-763-5156 or emailing lvsummerlinlions@gmail.com.
BLM ASKS FOR PUBLIC INPUT ON PROPOSED LAND SALE
The Bureau of Land Management has asked the public to weigh in on the proposed sale of 440 acres of public land in 28 parcels across Clark County.
Funds generated by the sales would be used for park, trail and public land restoration projects around the state.
Written comments should be mailed to the BLM Las Vegas Field Office, 4701 N. Torrey Pines Drive, Las Vegas, NV 89130 by Oct. 28.
For more information, contact BLM realty specialist Manuela Johnson at 702-515-5224 or manuela_johnson@blm.gov.
HISTORICAL LECTURE ON 'DOWNTON ABBEY' SET FOR NOV. 9 AT SUMMERLIN LIBRARY
The lecture "Historical, Cultural and Social Links to Downton Abbey" is planned from 1:30 to 4 p.m. Nov. 9 at the Summerlin Library, 1771 Inner Circle Drive.
In this illustrated lecture, Dr. DiAnn Ellis plans to cover everything from the real Highclere Castle, where the PBS series was filmed, to the Charles Worth of Paris gowns and the real work day of those in service.
The event is free and open to the public. To register, call 702-507-3863.