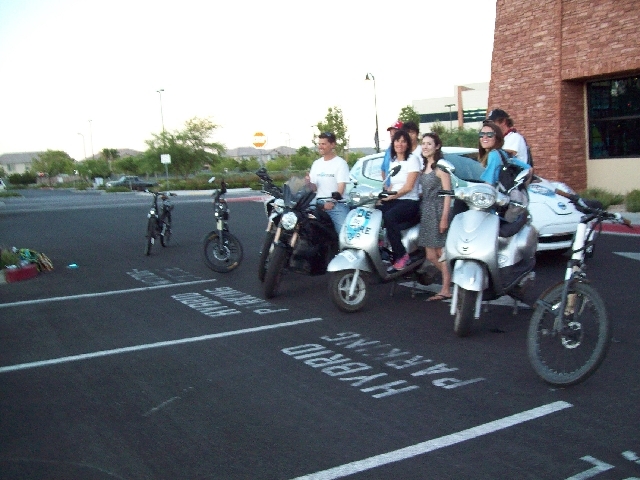 On Tuesday , the Center for American Progress will convene the sixth-annual National Clean Energy Summit 6.0 at Mandalay Bay . The theme of the summit is "Energizing Tomorrow."
More than 25 speakers will include Energy Secretary Ernest Moniz, Interior Secretary Sally Jewell, U.S. senators, governors, federal administrators and energy policymakers.
Other sponsors for the event are the University of Nevada, Las Vegas, the Clean Energy Project and MGM Resorts International.
Last month, MGM Resorts unveiled a forward-looking energy innovation by announcing the company will be covering Mandalay Bay Convention Center's rooftop with 20 acres of photovoltaic solar panels, creating a 6.2 megawatt electric-generation system. The Mandalay Bay installation can provide enough electricity for 1,000 homes and will supply about 20 percent of the resort's daily operational needs. The solar array will be the largest convention center installation of its kind in the United States and is to be completed by next summer .
When Mojave Desert temperatures exceed 100 degrees Fahrenheit during a typical August day, many air-conditioning systems in Southern Nevada run at full power. About 2,000 megawatts of additional electricity must be activated by NV Energy to keep up with the surge in demand, then deactivated as power requirements drop off at night.
The Mandalay Bay system will help relieve peak demand on NV Energy's grid , allowing the utility to better manage energy requirements for 1,000 residential customers during hot summer days.
MGM Resorts also has installed electric vehicle supply equipment in the valet parking lot of The Shoppes at Mandalay Place. Two Level 2 plugs and a Level 1 outlet are available for visitors to recharge the battery packs of electric cars .
The Southwest Energy Efficiency Project recently released a study that compared the electric-power quality in Colorado, Wyoming, Utah, New Mexico, Arizona and Nevada in 2013. It also projected changes to the power generation quality by each of the states during the next seven years. The study drew correlations between the type of fuel used for power generation, the type of fuel used for personal vehicles and the effect of each choice on air quality . Transportation fuels compared were gasoline, compressed natural gas and electricity.
States that generate electricity by using more than 50 percent coal-powered plants could improve air quality by switching transportation fuels from gasoline-powered vehicles to compressed natural gas vehicles. States using less than 50 percent coal-powered plants to generate electricity would improve air quality even more by employing electric vehicles .
The Nevada Legislature and NV Energy have agreed to phase out coal-powered plants in the next few years. Electricity will be generated primarily from natural gas and renewable energy : wind, sunlight and geothermal hot springs. NV Energy's grid is expected to become one of the cleanest in the West, paving the way for further development of electric-powered transportation and infrastructure.
For more information, visit www.swenergy.org.
On Aug. 4, the Ride the Future Tour passed through Las Vegas on its way from South Carolina to California. A caravan of electric vehicles included a Nissan Leaf, a Zero electric motorcycle, two Xenon electric scooters and two Metro motorized electric bicycles. T our members started their journey July 4 and have traveled about 100 miles a day during the past month.
While in Las Vegas, the tour was hosted by Las Vegas Cyclery and Element Las Vegas Summerlin, which provided lodging for the night. Both facilities have installed ChargePoint electric vehicle supply equipment that recharged the vehicles while their owners slept. The next morning, the caravan headed for Primm and Baker, Calif., en route to its destination: the Google campus in Mountain View, Calif.
You can follow the Ride the Future Tour at http://ridethefuturetour.com/.
Stan Hanel has worked in the electronics industry for more than 30 years and is a long time member of the Electric Auto Association and the Las Vegas Electric Vehicle Association. Hanel writes and edits for EAA's "Current Events" and LVEVA's "Watts Happening" newsletters. Contact him at stanhanel@aol.com.