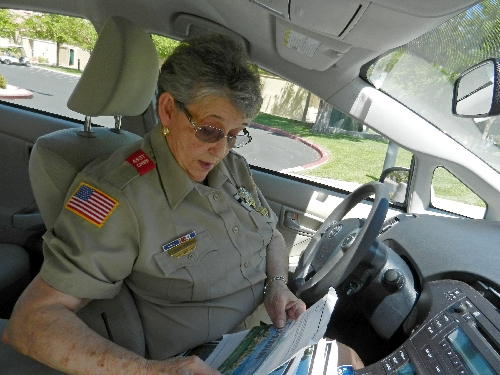 Sun City Summerlin is a quiet retirement community, and the Sun City Patrol helps make sure it stays that way.
The Patrol is a group of approximately 230 volunteers who keep watch on things 24/7, using five marked cars to cruise the 361 streets. The Patrol stops to do visual checks on homes of vacationing residents and, in general, looks for anything in the community that's not quite right.
One of the things that's not quite right is spotting the distress lights built into every home. A wall switch near the front door activates the blinking of the outside light, signalling for help.
In April, it responded to 179 instances of emergency blinking lights, and nearly all were false alarms. One, for example, was triggered by visiting friends who thought they were turning on the porch light.
Another task the Patrol takes to heart is alerting residents whose garage doors are left up —- an open invitation to thieves.
"It only takes a second for someone to jump out of their truck and grab a set of (golf) clubs," said Judy Hunt, who does double duty as assistant chief and watch commander.
It also discourages parking on the street. Thieves can bust out a window and remove items in plain sight. Lap tops have been stolen from such vehicles, and so have garage door openers.
The Patrol is not armed, and it does not have the authority to detain anyone. It does, however, have a good relationship with the Metropolitan Police Department, which it calls if needed. But the police department says Sun City Summerlin is a pocket of the city that enjoys a low crime rate. It credited the Patrol as being a factor in that.
"We've always enjoyed and appreciated the relationship we have with them (the Patrol)," said Kathy Perkins, a crime prevention specialist at the police department 's Northwest Area Command, 9850 W. Cheyenne Ave. "They have a lot of life experiences and expertise that they put to good use."
The Patrol often receives calls from people in other states who cannot contact their family member. They want to ensure that their relative is all right. The Patrol will look into it and take appropriate action.
Sometimes the residents are so busy, they're often not home. Sometimes the homeowner has died, a scenario for which the Patrol has to be mentally prepared. Sometimes, they're home safe and sound, oblivious that anyone has been trying to reach them.
"You have to remember, this is a senior community," Hunt said.
Other calls are for less than imminent danger —- the smoke detector chirping that it needs new batteries, a neighbor's dog barking or for directions to a church.
The aging of the 55-plus Sun City Summerlin community means it's bound to lose residents. Not all are lost to death, as some are apt to wander off, victims of Alzheimer's disease or dementia. The Patrol receives four or five such calls a year.
"Usually it's the spouse who calls us to say they're missing," Hunt said. "It's not a 'big thing' until it happens. Then it's a big thing."
Last year, the Patrol changed its insurance policy so Patrol volunteers, when necessary, could transport the missing person back home, instead of waiting for a neighbor or family member to arrive.
Sun City Summerlin has 73 miles of roads. In April, the Patrol's five marked cars logged 15,949 miles on them. To keep costs down, the Patrol uses mostly energy-efficient Toyota Prius H ybrids.
Lottie Tabor took over as chief of the Patrol in January. She praised the former chief, Jerry Weiser, for using his electronics know-how to implement new gadgetry, bringing the Patrol into the 21st century. Tabor said she encourages people to "step up and take on another responsibility."
While some volunteers have a background in police work, the majority do not. Husbands and wives often will work as a team, riding in the same car.
Men make up 57 percent of the Patrol .
Some people volunteer to be part of the Patrol so they can give back to the community. Some do it because they want to keep busy. Still others find the plethora of clubs and activities offered at Sun City Summerlin are just not their cup of tea.
In addition to its regular monthly general meeting, the Patrol holds regular get-togethers and annual events such as an ice cream social and a pizza party.
"I have a second family with the Security Patrol," said Connie Daugherty, volunteer and instructor.
Perry Cohen mans the information center at the entry to Sun City Summerlin. Mostly he helps people needing directions. One woman was looking for the pie shop.
"She offered to bring me one, but I took a pass on it," he said.
What don't people outside the community understand?
"We make a difference, and I know we make a difference," Tabor said. "Our crime rate is almost nil … and that's the bottom line."
Contact Summerlin and Summerlin South View reporter Jan Hogan at jhogan@viewnews.com or 387-2949.