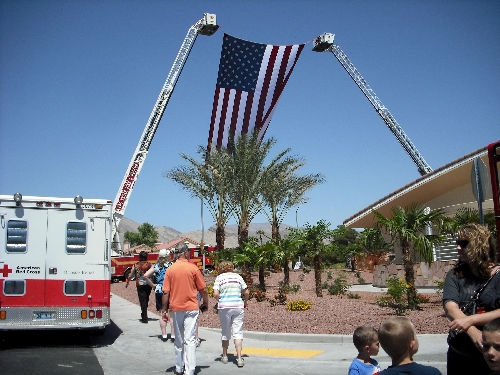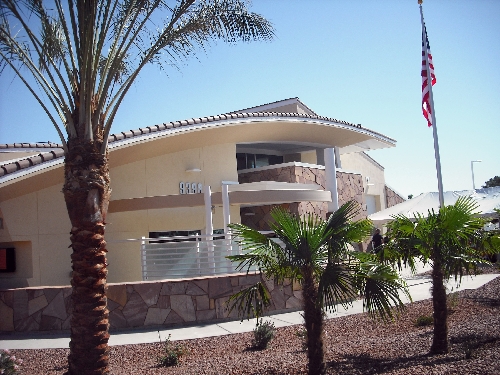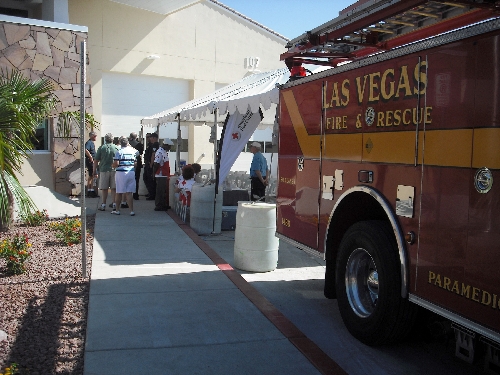 Outside, ladder trucks' extenders formed an arch, and an American flag hung between them. Inside Las Vegas Fire & Rescue Station No. 107, it was standing room only.
On June 19, Sun City Summerlin residents arrived nearly two hours early for the official opening of the station at 9398 Sundial Drive. An estimated 250 people showed up, so many that the bay doors had to be opened to accommodate them all.
"They told me we were over occupancy, but I told them, 'Don't worry, I know the fire chief,' " joked Las Vegas Fire Chief Mike Myers as he began his remarks.
The event saw dignitaries, including Mayor Carolyn G. Goodman and Mayor Pro Tem Stavros Anthony, making speeches. Goodman grabbed two unsuspecting firemen to parade on each arm, a nod to her husband Oscar's signature showgirl entourage.
Instead of a ribbon cutting, fire station openings are signified by the uncoupling of two fire hoses. The pomp and circumstance included the posting of colors and a bagpipe performance by the Las Vegas Firefighters International Association of Firefighters Local 1285 Honor Guard. The Silvertones provided music under the direction of George Pucine.
Richard Ramsdell donated a painting to the station. It depicts stylized construction equipment at the site. The quote below read, "Happy to have a job."
Sun City residents were just happy to have the station. The project hit a number of speed bumps at nearly every step, prompting some to wonder if it would ever be built.
David Steinman, former Las Vegas city councilman and treasurer for the Sun City Summerlin Community Association Inc. Board of Directors, was credited with forging ahead and seeing it come to fruition after four years, despite an unsecured location and uncertain financing.
"This project is finally off my bucket list," he said. "I believe it's the best asset we have in our community."
He added that the fire station will pay for itself, dropping $1,000 per transport in the city's coffers. The station is expected to average three transports a day.
Tours were given of the facility, including the control room, exercise room, sleeping quarters and oversized kitchen. There was also a large room decorated with a big-screen TV and six chocolate brown recliners, a private donation from Steinman and his wife, Madeleine.
A rescue truck is planned to come on board in about six months. That vehicle will have the ability to transport patients to a hospital. The station sits just inside the boundaries of the age-restricted community but will serve the general area.
Station No. 107 came in $1 million under budget at $4.3 million after breaking ground last July. Part of the savings involved the equipment. The city skirted the expense of a new truck by reassigning one from another station.
The architecturally stylish building is a cost saver in another way. It includes energy-saving measures and materials such as bamboo wall coverings and solar energy technology, which has earned it a silver Leadership in Energy and Environmental Design (LEED) designation.
LEED is a rating system developed by the U.S. Green Building Council that is the industrywide standard for environmentally sustainable construction.
Area residents said they were pleased with the new facility.
"They made it beautiful," Liz Miller said. "The stonework on the outside is just beautiful. Everything is."
She called the exterior facade on par with a community center. Her husband Ron agreed.
"You'd never know it was a fire station, driving by," he said.
The 7,800-square-foot, two-bay building will be staffed with six paramedics, six firefighters, three captains and three engineers.
Steve Klein is one of the engineers and drives the rig. Before this assignment, he worked out of Station No. 7 near Summerlin Hospital Medical Center. That was where the engine came from, as well.
"We just added a one and a zero to it," he said of the paint job.
When he was assigned to Station No. 7, Klein said Sun City was the destination for roughly 90 percent of its calls. He estimated that the new station will handle between eight and 10 calls a day, with 90 percent of them medically related.
"It'll be the heart attacks, the strokes, the assisted lifts and things like that," he predicted. "… We actually moved in a week ago, (but) we (didn't begin taking calls) until 3 o'clock, and we had our first service about 3:30 or 4."
It was a medical call. Some residents cited the peace of mind factor to having the station so close.
"There are 7,800 homes here," resident Carol Sworsy said. "So there are people who are on the brink of trouble, probably, a lot of times, and it's good to know that, when you're the troubled person, they can get to you and help you fast."
Twelve years ago, Sworsy was the one needing medical assistance and was grateful for being helped. She agreed most people think a medical emergency won't happen to them.
"I think that, up here, they know that it's going to happen to them," resident Esther Paquette said.
Contact Summerlin/Summerlin South View reporter Jan Hogan at jhogan@viewnews.com or 387-2949.