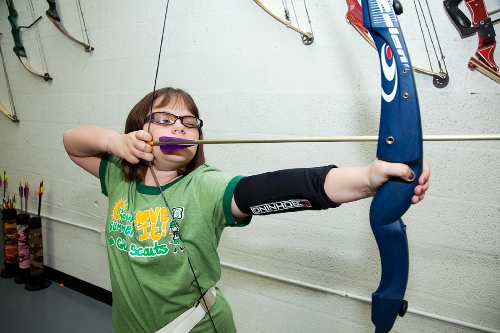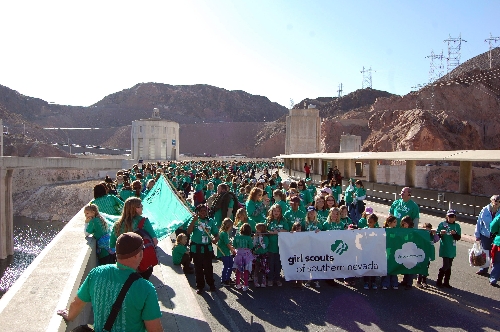 When Sunrise-area resident Zoe Buntjer went to the Girl Scouts of Southern Nevada's Camp Foxtail, she met new friends, learned responsibility and developed a greater love of the outdoors. She also came away with a love of archery, Olympic aspirations and the ability to hit a bull's-eye at 70 meters.
"I've met 60-year-old women who spent their lives working outdoors in things like the (U.S. National) Park Service because their time in the Girl Scouts sparked their love for environmentalism," said Emily Smith, chief marketing and development officer at Girl Scouts of Southern Nevada. "Camp does wonderful things, but when you see a girl take up a sport with the goal of making it to the Olympics, that's pretty amazing."
Ten-year-old Zoe has been practicing her archery skills about twice a week at Pacific Archery, 4084 Schiff Drive.
"I loved the archery program at (Girl Scout) Council and started taking private lessons," Zoe said and added modestly, "I'm pretty good at it."
Gabe Bozarth, owner of Pacific Archery, had a more effusive opinion of Zoe's skills.
"She's awesome," Bozarth said. "She's very dedicated to what she's doing, and she's slowly building herself up."
Bozarth contends that archery helps develop important skills, including sportsmanship, discipline, patience, concentration, execution and learning to take things to completion.
Zoe works with a 26-pound recurve bow. The Olympics have yet to incorporate modern compound bows with the pulleys that provide additional mechanical advantage. That means when Zoe fires an arrow, she has to pull back with 26 pounds of force and hold it for seven to 10 seconds.
"It's a series of steps," Bozarth said. "You pull back to your anchor. You aim. You pull through. There's a little device called a clicker on your bow, and it clicks when you reach a certain point, and that's a mental key to let you know it's time to release the arrow. Once you key the mechanics, it's just repetition, repetition, repetition."
The Girl Scouts of Southern Nevada has an outdoor archery set up at the offices at the Donald W. Reynolds Girl Scout Leadership Center, 2941 Harris Ave.
Smith said that in addition to traditional camp events such as campfire songs and s'mores, Camp Foxtail offers classes geared toward the girls' interests.
"We have mountain biking, hiking, photography and other activities in addition to leadership classes and activities," Smith said. "We're very happy and proud that Zoe found her love of archery here."
Contact Sunrise/Whitney View reporter F. Andrew Taylor at ataylor@viewnews.com or 380-4532.
Girl Scout Resources
Camp Foxtail, in the Humboldt-Toiyabe National Forest in the Spring Mountains, is open to registered members of the Girl Scouts 8 to 17 years old. Sessions run through August. In honor of the 100th anniversary of Girl Scouts, fees at Camp Foxtail have been reduced by $100.
The Girl Scouts of Southern Nevada plan to celebrate the international organization's anniversary with a birthday bash from 10 a.m. to 2 p.m. Sept. 15 at the Cashman Center, 850 Las Vegas Blvd. North. Event plans include live entertainment, hands-on activities, leadership workshops, a sing-a-long and more. For more information, visit girlscoutsnv.org.