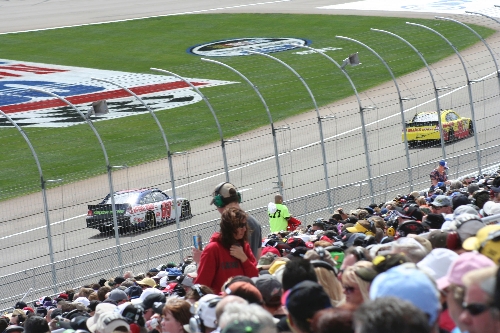 Recreation center to offer day camp
A Spring Break Day Camp is planned from 7 a.m. to 6 p.m. Monday through April 6 at the Walnut Recreation Center, 3075 N. Walnut Road. The camp for kids 6 to 12 will focus on mining in Nevada with games, crafts, computers and outdoor play. The cost is $15 per day or $70 for the week. Participants should bring breakfast, lunch and a snack. To register, call 455-8402.
Libraries to host spring art camp
The Las Vegas-Clark County Library District plans to offer art workshops for youths 11 to 18 from 1 to 3 p.m. Monday through April 4 at the Whitney Library, 5175 E. Tropicana Ave., and the Sunrise Library, 5400 Harris Ave.
At the Whitney workshop, instructor Stacy Rice plans to show kids how to make head and stick fabric puppets, books and comic strips. To register, call 507-4015.
At the Sunrise workshop, instructor Dikka Rian plans to show kids pen, ink and watercolor art traditions of China, Japan and Korea. To register, call 507-3905.
Poster contest art show planned
A reception for the Avoid the Dark Cloud of Debt, Use Credit Wisely: 2012 CCCS Financial Literacy Poster Contest is scheduled from 5 to 6:30 p.m. April 3 at the Sunrise Library, 5400 Harris Ave.
Middle and high school students from across the valley submitted works to the contest. Selected entries are set to be on display April 3 through May 5. For more information, call 507-3900.
Skating rink plans Spring Break hours
Boulder Crystal Palace Skating Center, 4680 Boulder Highway, plans spring break hours from noon to 6 p.m. Monday and noon to 10 p.m. April 3–6. Admission is $8 or $9 with skate rental. A meal special also is planned from 11 a.m. to 5 p.m. that includes two slices of pizza, a soft drink and four video game tokens. For more information, visit skatevegas.com or call 458-7107.
Horseman's Park set to host
ROping and reining events
The Lucky 13 and Perfect 10 roping events are scheduled for Friday and Saturday at Horseman's Park, 5800 E. Flamingo Road. The Lucky 13 saddle-roping event is set to start at 5 p.m. Friday. The Perfect 10 team-roping event is scheduled for all day Saturday. For more information about the events, visit diamonderoping.com, or for more information about Horseman's Park, visit equineeventlv.com or call 455-8206.
The park is also set to host the Nevada Reining Horse Association Affiliate Shows beginning at 8 a.m. April 5 and ending at 7 p.m. April 7.
County commissioner Giunchigliani
to host Town Hall Meeting
Clark County Commissioner Chris Giunchigliani plans to host a town hall meeting at 6 p.m. Wednesday at the Hollywood Recreation Center, 1650 S. Hollywood Blvd. County staff members and representatives from surrounding municipalities are to be on hand to answer questions and respond to concerns from residents. For more information, contact the District E commission office at 455-3503.
Egg-Stravaganza to return
The Egg-Sighting Egg-Stravaganza, an event featuring carnival rides, egg hunts, vendor provided food and more, is scheduled from 11 a.m. to 2 p.m. April 7 at the Sunrise Park baseball field, 2240 Linn Lane. The event is limited to the first 600 participants, and registration is required. Visit clarkcountynv.gov or drop into any Clark County recreation facility. For more information, call
0455-7600.
Easter Eggstravaganza Planned
The Grace Baptist Church plans to host a free Easter Eggstravaganza from 10 a.m. to noon April 7 at Keller Middle School, 301 Fogg St. The event is set to include egg hunts, train rides, bouncy horse races, food, drinks and music. For more information, visit gracebaptistchurchlv.org or call 457-2619.
Income Tax Help Preparation offered
Free income tax preparation assistance from AARP volunteers is scheduled from 10 a.m. to 2 p.m. Friday and Saturday at the Whitney Library, 5175 E. Tropicana Ave.
Assistance is on a first-come, first-served basis with no appointments.
Bring your picture ID, Social Security card and your previous year's return with any other tax information. For more information, call 507-4010.
Dodgeball challenge planned
The Las Vegas Corporate Challenge is scheduled from 6 to 8 p.m. today through Thursday at Sky Zone indoor trampoline park, 4915 Steptoe St., Suite 400. For more information, visit skyzonesports.com.
or call 436-6887.
Whitney Town Advisory Board
seeks two new members
The Whitney Town Advisory Board is seeking two new members. The advisory board meets every two weeks to assist the Clark County Commission in an advisory capacity focused on the unincorporated township of Whitney. Residents interested in applying for the position can complete an online application at tinyurl.com/whitneytab.
Lego Club to Meet at library
Teen Lego Club is set to meet from 3:30 to 4:30 p.m. Friday at the Whitney Library, 5175 E. Tropicana Ave. The completed projects will be displayed in the Teen Zone of the library. For more information, call 507-4010.
Meet the Police at First Tuesday
The Las Vegas Metropolitan Police Department's monthly First Tuesday event is scheduled from 7 p.m. to 8 p.m. April 3 at the Northeast Area Command substation at 3750 Cecile Ave. The event features a presentation on a different subject each month and allows residents to meet the police who patrol the neighborhood and ask questions. The topic of discussion for April will be sexual assault. For more information, call Bella Scholes at 828-3340.
Free spay and neuter clinic
The local Heaven Can Wait Animal Society is offering a special on low-cost spay/neuter procedures for cats at The Spay and Neuter Clinic, 546 N. Eastern Ave, Suite 175. Surgery scheduled by Saturday and completed by April 30 will be available at the reduced cost of $35 for a female spay or $20 for a male neuter. Vaccines will be available for an additional cost. This special offer is for owned pets only and age/weight restrictions may apply. For more information and to schedule an appointment, call 227-5555.
Pool to offer toddler safety program
Instant Toddler Safety Swim is scheduled from 8 a.m. to noon April 2 and 4 at Hollywood Aquatics Center, 1650 S. Hollywood Blvd. The 2 day program is set to certify parents and caregivers of infants and toddlers under 3 in American Red Cross Infant/Child CPR and teach basic water safety skills. The first day is set to be a 45-minute parent/child swim lesson where children will be introduced to basic water skills through fun and games. The second day is set to be a four-hour CPR certification class for adults only and no children should attend. (Please note this.) For more information visit clarkcountynv .gov or call 455-8508.