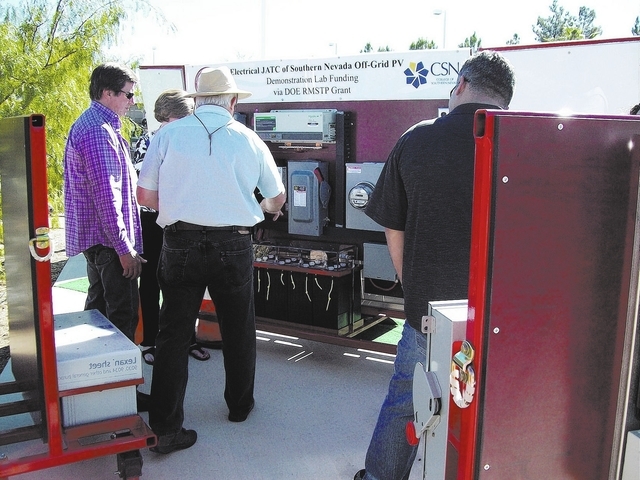 Congratulations to the University of Nevada, Las Vegas and its student team for placing first in the nation and second in the world overall during a Solar Decathlon competition sponsored by the U.S. Department of Energy. Go Rebels!
More than 50 UNLV students were aided by community sponsors during the past two years to create DesertSol, a net-zero energy house that also served as a comfortable habitat within the arid climate of the Mojave Desert.
Each team in the Solar Decathlon was scored for the quality of its integrated design and construction efforts in 10 competitions that included architecture, engineering, communications, affordability, market appeal, comfort zone, hot-water usage, appliance efficiency, home entertainment and energy balance. The UNLV team was awarded 948 out of 1,000 points, placing first among all U.S. entries, and second in the world to a team from Vienna, Austria, which accumulated 952 points.
DesertSol featured innovative technologies that harnessed the sun for energy and made efficient use of scarce water resources.
The house will return to Las Vegas as a permanent display at the Springs Preserve to continue its educational mission on behalf of its student design team. For more information, visit the UNLV website at http://solardecathlon.unlv.edu
Energy-conscious homeowners in Southern Nevada are learning to harness the desert's abundant sunshine to power their homes and personal transportation.
Solar NV, the local chapter of the American Solar Energy Society, hosted a solar home tour at 11 different sites during early October, followed by a Solarbration event in Henderson that featured plug-in, electric vehicles.
Several Solar NV members have realized the synergy of using the sun to provide power for their home and transportation through a grid-tied, photovoltaic system with net-metering. Residents can earn monetary credits from NV Energy when their house produces more electric power than it consumes from the local utility grid. As those credits accumulate, the purchase of a plug-in electric car for personal transportation becomes viable.
Green Alliance of Nevada has led a local effort, with the support of the U.S. Green Building Council, to encourage builders, Realtors and homeowners to focus on making homes more energy efficient. Even before adding photovoltaic solar cell arrays to a rooftop, there are multiple energy-saving modifications that can be completed to reduce a home's daily energy consumption. The Green Alliance organization also has begun integrating transportation as part of a sustainable home environment. For more information, visit the group's website at www.greenalliancenv.org.
Green Chips, a nonprofit organization sponsored by Caesars Entertainment and the Las Vegas Convention &Visitors Authority, is developing an information portal for its website that would link together green lifestyle and transportation resources throughout Southern Nevada. Visit www.greenchips.org for more information.
Southern Nevada homeowners who want to go solar and also adopt an electric-drive lifestyle can take advantage of several federal tax credits. A 30 percent federal tax credit is available to homeowners through 2016 to install photovoltaic solar cell arrays at their homes.
The purchase of a plug-in electric vehicle also can qualify for a federal tax credit of $3,500 to $7,500 depending on the size of the vehicle's traction battery.
An alternative fuel vehicle refueling property tax credit of 30 percent, to as much as $1,000, is available for the installation of electric vehicle supply equipment in the home, but it must be purchased by the end of 2013.
Stan Hanel has worked in the electronics industry for more than 30 years and is a longtime member of the Electric Auto Association and the Las Vegas Electric Vehicle Association.