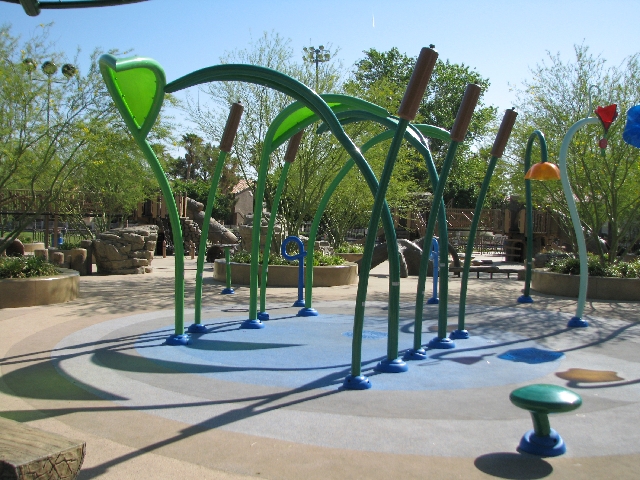 Sunset Park, 2601 E. Sunset Road, has been undergoing renovations since 2009. On Saturday, people from across the valley are invited to see all the changes.
A public park reopening ceremony is scheduled at 11 a.m. Saturday at the new water play feature near the park's administrative offices.
The park improvements range from subtle to major. On the major side, the aging pool is gone, replaced by a water play feature.
The lake, a Sunset Park stalwart, at first glance appears unchanged, but a closer inspection reveals that the stonework has been repaired and refined.
Many of the familiar elements of the park remain. It is still one of the few places in the valley where people can see old growth trees, and several new large trees have been added. But now shade is also provided by several steel and canvas gazebos on large concrete pads.
"We've added power boxes and tie-downs for bounce houses near some of the picnic areas," said Steve Corry, assistant director of Clark County Parks and Recreation. "When they're not in use, the tie-down spots are in boxes flush with the lawn."
Walking paths have been widened and reinforced, and the dog park has been moved to an area separated from the main park by railroad tracks and the last remnants of the Paradise Dunes, which once covered a large part of the area.
"Really, what this does is tie it all together and make it one integrated park," Corry said.
Sunset Park already has played host to several community events in the last few weeks, and special events supervisor Brian Saliba said the county is on track to host more, including the Age of Chivalry Renaissance Festival, scheduled to return to the park Oct. 11-13.
"It will be great to have it back at Sunset Park," Saliba said. "People just didn't want to go out that far (to Silver Bowl Park, the festival's two-year home). Sunset is more centrally located, and people missed the trees and the lake."
The reopening of Sunset Park is part of Clark County Parks and Recreation's yearlong celebration of the department's 50th anniversary.
The county had already been operating Camp Lee Canyon on Mount Charleston for four years when it established Clark Count Parks and Recreation in 1963. Elmer Anderson, a former superintendant of the Washington Parks Commission, was brought in to administer it.
Initially, Camp Lee Canyon was leased from the U.S. Forest Service, so Paradise and Parkdale were the first two official county parks, acquired in 1964.
The history of Sunset Park goes back a bit further.
John F. Miller, who built the Hotel Nevada, which became the Golden Gate, acquired the property from the federal government in 1909. At the time, land was being given away for agricultural development. He drilled three wells and built the Miller Ranch.
Miller tried to sell the property in 1932, but there were no buyers. He hired Bert Gibbs as caretaker, and Gibbs' wife, Cecilia, gave birth to their second son, Rollie, there.
"I was pretty young when we lived out there," said Rollie Gibbs, who recently retired from his crane business. "It was a great place then, and I still go back when I can. We tried to get Horseman's Park out there before they decided it would be where it is now, out behind Sam's Town."
In 1939 the ranch was sold to John Kell Houssels, an investor in the Overland Hotel, which became the Las Vegas Club. He established a horse breeding and training facility called the Las Vegas Stock Farm. He sold the property to a group of investors in 1963. The county bought the land in 1967 and turned it into the valley's third county park.
The county operates more than 75 urban parks, 30 urban and rural centers, 16 special-use facilities and 17 urban and rural aquatics centers.
For more information, visit clarkcountynv.gov/parks.
Contact Sunrise/Whitney View reporter F. Andrew Taylor at ataylor@viewnews.com or 702-380-4532.