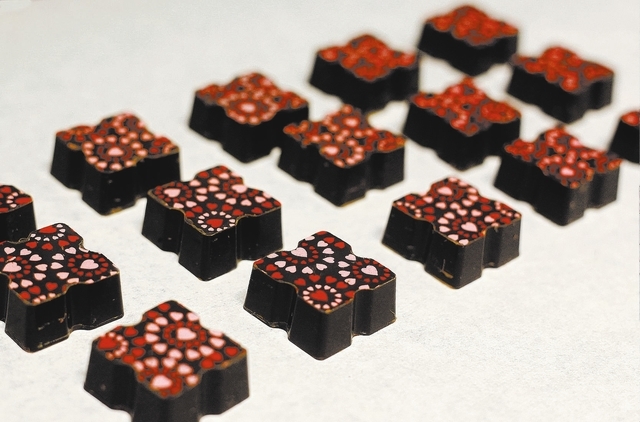 Becoming a chocolatier was never a goal that Xenon Mallari aimed for until he watched the Food Network's "Throwdown! with Bobby Flay." After watching Flay lose the chocolatier competition, Mallari decided to look into the profession.
Mallari admits it was the challenge of making chocolate that caught his attention. After viewing the show in 2007, he started experimenting with his own sweet creations.
"The show interested me because the profession seemed like something that is highly specialized," Mallari said. "When Flay lost, it showed that becoming a chocolatier is not easy."
He started practicing tempering and melting chocolate into specific sizes, shapes and shines.
"The fact that it was so hard made me stick with it," Mallari said. "I didn't go to culinary school, but the amount of money that I spent on products and messing up probably amounted to the same as tuition."
Mallari, who at the time was in school and working in the restaurant industry, started bringing chocolate samples to his co-workers, family and friends.
He said the positive feedback he received drove him to start a business in 2008 called Happy Ending Chocolate Inc.
He picked the name because he wanted something eye-catching that set him apart from other chocolatiers.
"I didn't want the company to be about me or named after me," Mallari said. "I wanted it to be about the product."
He sells chocolate truffles and bonbons that range in flavors from sweet and salty caramel with aged rum to brown buttered and dark chocolate blended with candied pecan to creamy hazelnut espresso.
He uses ingredients such as basil and chipotle to add a special twist to his creations.
The square-shaped chocolates are decorated with patterns and designs such as flowers, swirls, circles and square figures. He also creates Christmas and Valentine's Day designs during the holidays.
His father, who owns a silk screen-printing design company, lets Mallari experiment with different designs with colored cocoa butter.
When he first started his company, he said he was off to a slow start. He started by making chocolates for weddings and catering events.
He also began emulating different chocolatiers from places that he visited, such as New York and San Francisco.
At the same time, Mallari was also going to school full-time and working as a bartender at a strip club, where he met his friend Joshua Walter, now owner of Sunrise Coffee, where Mallari's chocolates are sold.
"We get enormously good feedback from our customers," Walter said. "His chocolates sell off the counter before he can replenish it."
After he graduated with a degree in business from UNLV, Mallari pursued his business more intensely and opened his shop online and began distributing his chocolates at Sunrise Coffee.
He enrolled in chocolate expertise classes at the French Culinary Institute in New York.
"He's experimented really wildly with so many rare and (international) ingredients," Walter said. "He's very creative with what he's doing."
The self-taught chocolate entrepreneur said he read a lot of books and learned about techniques through posing questions to the owners of a chocolate supply company.
Mallari said he receives the most demand for chocolate around Christmas and Valentine's Day.
He has been gaining exposure through networking with chefs at different restaurants who may be interested in pairing his chocolates with wine or other foods.
"Many chocolatiers have worked in casinos," Mallari said. "I didn't have many connections at first. I had to force people to try my creations by just giving chocolate away."
He claims that despite his lack of marketing and connections, business has been unexpectedly good. He continues to reach out to local chocolate- and wine- or beer-pairing businesses.
Mallari works as a bartender on the Strip but hopes to pursue his chocolate endeavors full time.
"My one and only employee quit on me recently," Mallari said. "He was my adopted little brother (from the Big Brothers Big Sisters program). He's 18 and went off to college. I taught him everything that I knew."
Future plans for the chocolatier include creating a line of chocolate bars and distributing them wholesale. Mallari is also looking for a larger space to operate his business. He hopes to find a place within a year and hire people to help him with his work.
"I stumbled upon it," Mallari said. "I was at the point of my life where I didn't know what I wanted to do. The passion grew from me being so bad at making chocolates. I wanted to get the technique down, and I just took off from there."
For more information, visit happyendingchocolates.com.
Contact Sunrise/Whitney View reporter Sandy Lopez at slopez@viewnews.com or 702-383-4686.